Virginia: The White Crowds Are Gathering to Defend Second Amendment
No matter what they tell you, and no matter what minuscule exceptions they trot out, this is a White people's movement. As Virginia's cities have fallen to the non-White invasion and anti-White tyranny including "gun control," White Virginians are massing to defend themselves.
A Second Amendment Sanctuary is any locality that says it will not enforce any unconstitutional (federal or state) gun laws! Many sheriffs are going to take the County's lead on this and county police could be told not to enforce such laws either. (Law enforcement officers do not have to, and shouldn't, enforce any unconstitutional laws.)
NOTE: Just because a locality is a sanctuary doesn't mean you can't be arrested. We must stop the gun-control bills from ever becoming law. This fight will take at least two years, so stay engaged! Attend Lobby Day to help convince the General Assembly to defeat all gun-control bills.
Since November 6, 2019, we now have 101 Second Amendment Sanctuary counties, towns, and cities!
Alleghany
Amherst
Appomattox
Augusta
Bath
Bedford
Big Stone Gap
Bland
Bluefield
Botetourt
Bristol
Brunswick
Buchanan
Buckingham
Campbell
Caroline
Carroll
Charlotte
Chesapeake
Colonial Heights
Craig
Crewe
Culpeper County
Cumberland
Dickenson
Dinwiddie
Town of Exmore
Floyd
Fluvanna County
Franklin (City)
Franklin (County)
Frederick
Galax
Giles
Gloucester
Goochland
Grayson
Greene
Greensville
Town of Grottoes
Halifax
Hanover
Henrico
Henry
Isle of Wight
James City
King and Queen
King George
King William
Lancaster
Lee
Louisa
Lunenburg
Madison
Martinsville
Mathews
Mecklenburg County
Middlesex
Mineral
Montgomery
Nelson
New Kent
Northampton
Northumberland
Norton
Nottoway
Orange
Page
Patrick
Pittsylvania
Poquoson
Powhatan
Prince Edward
Prince George
Prince William
Pulaski
Rappahannock
Richmond County
Roanoke County
Rockbridge
Rockingham
Rocky Mount
Rural Retreat
Russell
Scott
Shenandoah
Smyth
Southampton
Spotsylvania
Stafford
Strasburg
Surry
Sussex
Tazewell County
Vinton
Warren
Washington
Westmoreland
Wise
Wythe
York
A whole lot more are on the way.
Accomack
Albemarle
Amelia
Arlington
Bowling Green
Charles City
Chesterfield
Clarke
Essex
Fairfax
Fauquier
Loudoun – failed
Lynchburg – failed, may retry in January
Newport News
Radford City
Roanoke CIty – declined
Salem
Staunton
Suffolk – declined
Tazewell town
Virginia Beach
Winchester
Don't see your county? Send an email with each Board of Supervisors' name, email address, and phone number in the body of the message (ie, no screen shots or attachments please) to:  president@vcdl.org
You can also contact your Supervisor and send them this link to VCDL's model Second Amendment Sanctuary resolution:
https://www.vcdl.org/resources/Resources/Model_Resolution.docx
Massive turnouts for Board of Supervisors meetings!
Amelia County – standing room only, with crowd overllow through the hall and down to the front of the building. Estimated 600 people.
Shenandoah County — estimated 1,000 gun owners at the meeting, which overflowed into the parking lot!
Louisa County — estimated 600 to 800:
August County — estimated 2,000 people. Massive overflow outside, too:
Virginia Beach — estimated 1,500 people. Overflow outside:
Floyd County — estimated over 1,000
Prince George — estimated 600 to 800
Colonial Heights
Spotsylvania County — estimated well over 1,000
Prince William County — estimated well over 1,000
Smyth County — over 1,000
Caroline County — over 600
Bedford County — 1,500+
Chesapeake — over 1,000
Rockingham County — 2,000+
Russell County — over 1,000 in attendance
Fauquier County — 2,000+ in attendance
Lancaster County
Chesterfield County — 1,500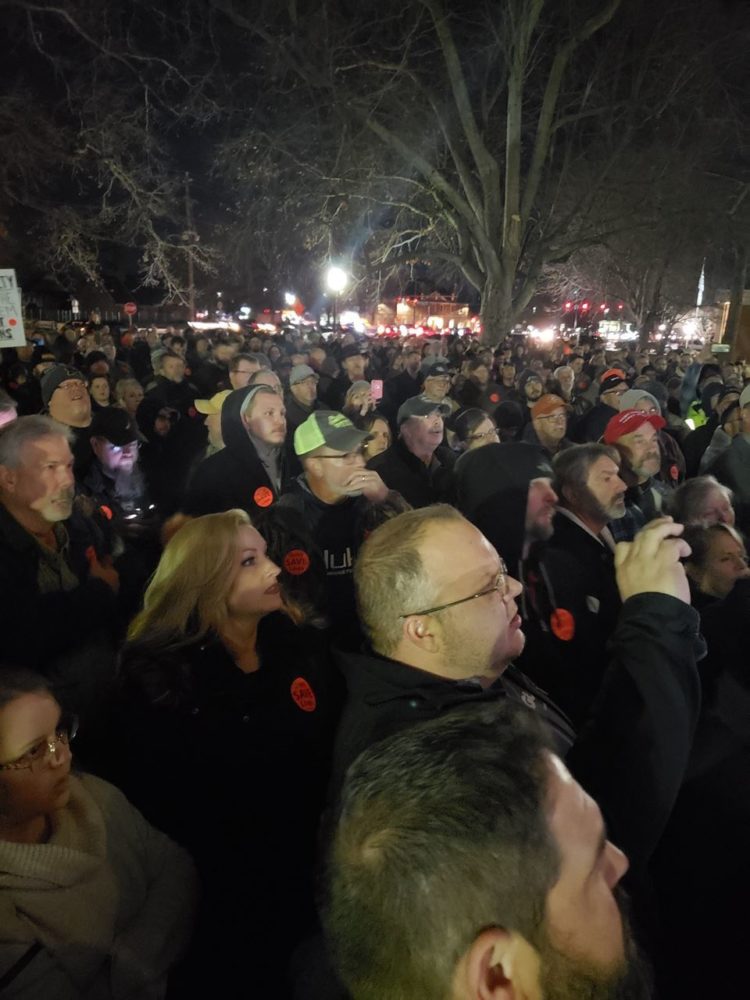 * * *
Source: Virginia Citizens Defense League