Trump Almost Got It Right: Some People Were Arrested for Celebrating 9/11 — But They Were Israeli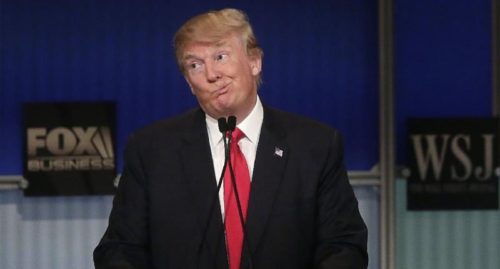 AS DONALD TRUMP continues to insist that he saw "thousands" of Muslims cheering the destruction of the World Trade Center — let's pause to remember that several Israelis were arrested and eventually deported for acting suspiciously on 9/11. (ILLUSTRATION: Donald Trump is leading the race for the 2016 Republican presidential nomination.)
Trump has said he personally witnessed large numbers of Muslims holding "tailgate parties" in New Jersey on Sept. 11, 2001, and his campaign manager suggested that "special interests" who control the media have conspired to bury video footage to back the Republican candidate's claims.
The GOP frontrunner has dug himself in so deep defending those claims — which are not supported by law enforcement or media accounts — that he mocked a disabled reporter who questioned his recollection.
Police detained, questioned and eventually released a number of Muslims in the New York City area who were accused of behaving suspiciously following the terrorist attacks — but investigators found most of those claims to be unfounded.
A New Jersey woman, however, reported some suspicious men she saw recording video from a moving van that actually did result in arrests.
The woman, identified by police and news reports only as Maria, said she spotted three men kneeling on the roof of a white van outside her New Jersey apartment building as she watched the towers burn through binoculars.
She called police, who arrested five men — identified as Sivan Kurzberg, Paul Kurzberg, Oded Ellner, Omer Marmari and Yaron Shmuel — later that day near Giants Stadium while driving in a van registered to Urban Moving.
Although it's never been confirmed, the company and the men are widely believed to have been part of an undercover operation set up by Israel's intelligence agency, Mossad, and they have been the subject of numerous conspiracy theories about the terrorist attacks.
Their case was transferred out of the FBI's Criminal Division and into its Foreign Counterintelligence Section shortly after the men were jailed, and they were held ostensibly for overstaying their tourist visas.
An immigration judge ordered them deported two weeks later, but ABC News reported that FBI and CIA officials put a hold on their case.
The men were held in detention for more than two months and given multiple lie detector tests, and at least one of them spent 40 days in solitary confinement.
Intelligence experts suspect the men may have been conducting surveillance on radical Islamists in the U.S., but Israeli officials have denied the men were involved at all in intelligence operations. …
* * *
Source: Read the article at Raw Story