Germany Still Occupied: Ursula Haverbeck Sentenced to Ten Months for Doubting Jewish "Holocaust" Stories
by Michael Walsh and National Vanguard staff
IS THERE neither honor nor a modicum of courage in today's Germany? What other nation on earth would sentence an 87-year old lady to ten months in prison for expressing an opinion? Today marks Germany's deepest humiliation.
On Thursday, 12 November 2015, Mrs, Ursula Haverbeck (87) was sentenced to ten months in prison without parole by the magistrate Björn Jonsson (48) at the District Court of Hamburg.
She had expressed publicly, during the so-called "Auschwitz trial" of Lueneburg against Oskar Gröning (94) in the spring of 2015, that she ands many others do not believe in the criminally-defined "historical fact" of the so-called "Holocaust" or in the supposedly "established historical fact" that there had been, in the German concentration camps such as the camp Auschwitz-Birkenau, "gas chambers" for the systematic mass killing of Jews.
In her view, all the scientific evidence speaks against these quasi-legally imposed "obvious facts."
Mrs Haverbeck does not accept the verdict of the judge and will file an appeal. The verdict against Ms. Haverbeck will therefore not be imposed immediately.
* * *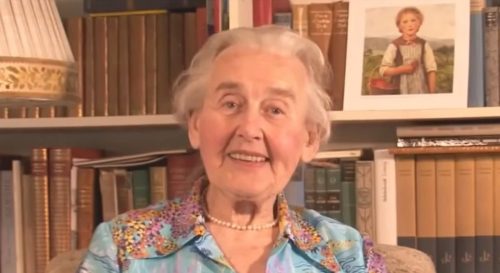 87-year-old Ursula Haverbeck (pictured) has been sentenced to imprisonment in Germany for doubting that people were "exterminated" by "gassing" in the Nazi concentration camp in Auschwitz.
The defendant, in good spirits, reiterated her doubts in the courtroom. She arrived without a lawyer, and defended herself. Some fifty of her supporters crowded the courtroom and the hall outside.
She was accused of giving an interview to the German magazine Panorama in which she stated that Auschwitz was not an extermination camp but a labor camp. The mass murder of Jews had not taken place, she said.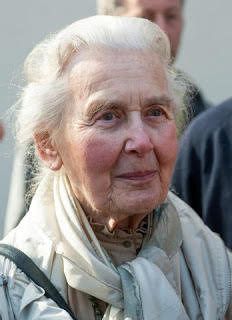 Haverbeck, former chairwoman of the now-banned freethought association, "Collegium Humanum," told the judge,"Here, I stand."
Turning to the prosecutor she asked, "How do you as a lawyer prove the accusation that Auschwitz was an extermination camp?" Her request for a revisionist historian to give evidence that at Auschwitz no one had been gassed, was rejected by Judge Jönsson who stated: "It is futile to argue with people who do not accept the facts."
The German government prosecutor maintained that the defendant's "fanatical delusion" had not abated and that, despite her advanced age, Ursula Haverbeck must be sentenced to 10 months in prison without parole. The judge agreed and the sentence was imposed.
In 2009, Haverbeck was fined thousands of dollars in the District Court of Bad Oeynhausen, for having given offense to Charlotte Knobloch, president of the Central Council of Jews.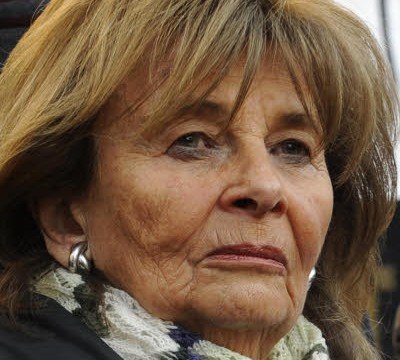 * * *
Source: Renegade Tribune