Vultures Circling Over a Dying Vulture: Sumner Redstone's Deathbed Woes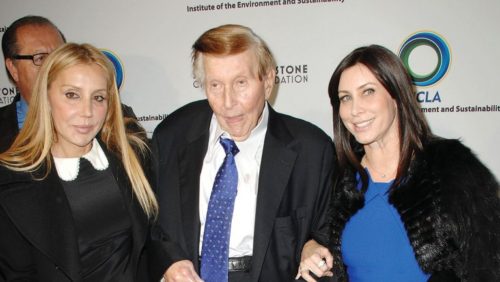 by John I. Johnson
JEWISH MEDIA monopolist Sumner Redstone (real name Rothstein), who turns 93 later this month, has been having troubles of late. (ILLUSTRATION: Co-mistresses Herzer, left, and Holland, right, with "Redstone" / Rothstein, wearing toupee)
It's a reminder that even evil people die, surprisingly. You just don't notice it in a world where evil proliferates like an out-of-control virus. One old villain dies and is replaced by a hundred or a thousand young ones.
From the New York Times:
Redstone trial is set to begin: For the last five months, the ailing media mogul Sumner M. Redstone has been the subject of a salacious legal battle over his mental capacity. On Friday, a public trial is scheduled to begin. The suit was filed in November by Manuela Herzer [a Jewess from Argentiana — Ed.], a former companion to Mr. Redstone. [Such creatures used to be called mistresses.] Ms. Herzer claims that Mr. Redst one, 92, was not mentally competent in October when he removed her from a directive that would have given her supervision over his health decisions. On the same day, Mr. Redstone removed Ms. Herzer from his personal estate, in which he had planned to leave her $50 million and his Los Angeles mansion, valued at $20 million.
Ms. Herzer has said that she has fought the legal battle out of love for Mr. Redstone and that she is concerned for his well-being. Lawyers for Mr. Redstone have called the suit meritless and have said that she is after his money.
While the courtroom drama concerns Mr. Redstone's personal life, it could have broad implications for Viacom and CBS, the two media companies he continues to control.
A few months earlier, another Jewish mistress of Redstone's, Sydney Holland, was evicted from the Redstone estate amid dueling lawsuits that were eventually settled for an undisclosed amount. Holland and Herzer shared Redstone's affections for a time. A former driver for Redstone has published an article which detailed Holland's effective control of Redstone and his money, which persisted until Redstone's partially-estanged family intervened.
* * *
Source: Author