New Jersey: Blacks Who Think They're Jews Encouraged by Rabbi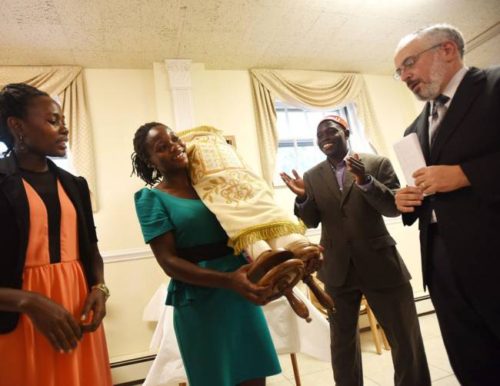 Some Jews are indeed swallowing the purple Kool-Aid intended for us.
IN THE basement of Temple Emanuel of North Jersey on Sunday morning, three visitors from Uganda beamed as Rabbi Joseph Prouser presented them a gift for the little-known Abayudaya Jewish community: a Torah scroll wrapped in embroidered fabric. (ILLUSTRATION: From left, Shoshanna Nambi, Sarah Nabaggala and Yoash Mayende from the Abayudaya community of Uganda, celebrate after receiving a Torah with Rabbi Joseph Prouser.)
Yoash Mayende, 29, of the Ugandan town of Namutumba rested the Torah against his right shoulder as everyone rose and sang the Hebrew song "Etz Chayim Hi," which translates as "the Torah is the tree of life."
Shoshanna Nambi, 27, and Sarah Nabaggala, 24, both of Nabugoye Hill, sang along and posed for photos.
"I'm just so happy that one of our communities got a Torah," Nabaggala said afterward. "It is beautiful."
The three, who have spent their summer traveling and working at Jewish camps in the United States, come from a community of Jews in Uganda who have been practicing the religion for nearly 100 years, said Harriet Bograd, president of the non-profit organization Kulanu.
The 21-year-old, volunteer-based Kulanu — whose name means "all of us" in Hebrew — works with more than 30 isolated and emerging Jewish communities around the world.
Several of the communities Kulanu works with in El Salvador, Spain, India, Portugal and the southwestern United States are likely descendants of "lost" Jews — lost as a result of 15th-century forced conversions to Christianity, and also the Assyrian defeat of 10 northern Israelite tribes in the eighth century B.C.E.
But there are also communities, like the Abayudaya, who have begun practicing more recently, and on their own.
In 1919, Christian missionaries gave a Bible to a Ugandan local governor named Semei Kakungulu, Bograd said. Kakungulu focused on studying the Old Testament, and began observing all of Moses' commandments.
In later decades, a community of practicing Jews emerged, and they learned modern rituals from American, European and Israeli Jewish visitors, Bograd said. In the 1970s, the Abayudaya were outlawed amid the anti-Semitic violence of then-President Idi Amin, who openly praised Hitler and vilified Israel. Human rights organizations estimate that his regime murdered hundreds of thousands of his perceived opponents, including religious and political leaders.
The Abayudaya Jewish community was decimated, but has since rebounded and grown to about 2,000, mainly in the Mbale region in eastern Uganda, Bograd said.
Now, Jews, Christians and Muslims live in peace in their villages, the three Ugandan visitors said in interviews. Though there can be disagreements — when one person might shout at another that he is going to hell — violence is not part of them, and children from all three religions attend school together, Nambi said.
Kulanu first visited the Abayudaya in 1995, and has since worked with the community on such programs as micro-credit small business loans, water and sanitation projects, and women's empowerment. In 2002, the group helped arrange for a rabbinical court to affirm the Judaism of hundreds of Abayudaya through conversion ceremonies.
Bograd said Abayudaya write Jewish symbols on their homes, and have used sugarcane poles to build chuppahs — wedding canopies — that children can nibble on after marriage ceremonies.
Nambi, who travels around her country conducting cervical cancer screenings as part of RAIN-Uganda, said the opportunity to connect with other Jews has been deeply meaningful for her. "How good and lovely is it for brethren to dwell together in peace," she said, translating the Hebrew song "Hinei Ma Tov" she sang earlier.
Without Torah scrolls, the Abayudaya have for years been using a printed version known as a chumash, Mayende said.
The temple's president, Susan Bograd Yudin, said it has about 21 scrolls, and only three are needed at a time. "The Torah doesn't belong in a closet, we have so many," she said.
The three Ugandans return home this week, and Mayende will be delivering the donated scroll to the village of Nasenyi — just in time for Yom Kippur.
Mayende said he's a bit worried about the logistics of getting the Torah back to Uganda, but plans on speaking with airport personnel and bringing the scroll on the plane as a carry-on.
"I know I'll get it home," he said.
* * *
Source: North Jersey News