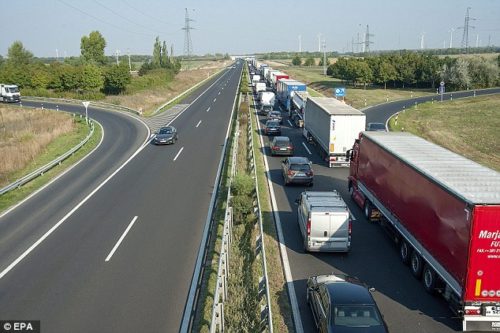 As bureaucratic protocols and paperwork and weak-kneed enforcement fail, more and more will agree with the National Alliance: No non-Whites in our living space.
A CRACKDOWN on migrants has caused tailbacks of 20 miles on the Austrian border with Hungary today. (ILLUSTRATION: A long queue of vehicles on the M1 motorway near Mosonmagyarovar, 158 kms northwest from Budapest.)
Border police discovered 200 asylum seekers and five people traffickers due to the enhanced searches, Austria's Interior Minister Johanna Mikl-Leitner said.
Elsewhere, hundreds of other migrants in Hungary attempted to reach Germany by cramming themselves into trains heading across the border.
Hungary has now completed its barbed-wire barrier and 13ft high fence along its border with Serbia.
Construction workers finished the barrier after hundreds of people scaled the unfinished 13ft high fence and evaded the . . . → Read More: Austria: Migrant Invasion Spurs 12-Mile Traffic Jams