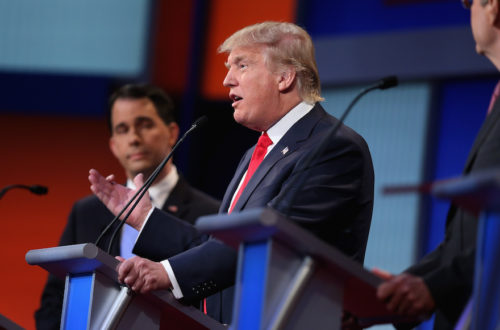 Despite his stance on immigration, Donald Trump is just as heavily influenced by the Jewish elites as any other presidential candidate running in 2016.
AMONG THE expansive field of 2016 Republican presidential candidates on display in the party's first debates, Donald Trump may be the most closely connected to the Jewish people. (ILLUSTRATION: Donald Trump participating in the first Republican presidential debate for the 2016 race, at the Quicken Loans Arena in Cleveland, Aug. 6, 2015.)
Trump is from New York, works in professions saturated with Jews and long has been a vocal supporter of Israel. His daughter and two grandchildren are Jewish, the executive vice president of his organization is Jewish — and Trump certainly has chutzpah.
But you won't find Jewish donors of influence in Trump's . . . → Read More: When it Comes to Jewish Ties, No GOP Candidate Trumps Trump