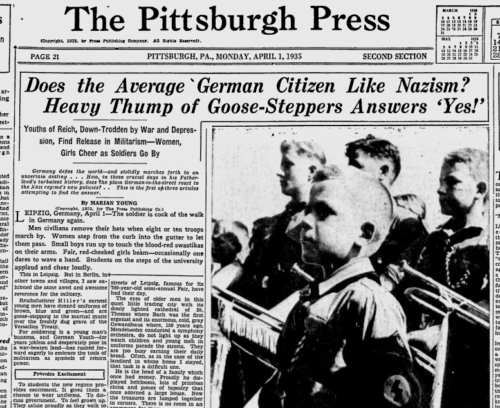 by Hadding Scott
THE BLURB promoting the reports in advance, which appeared in the Pittsburgh Press the day before the first installment, portrays what Marian Young wrote as entirely negative, when in reality her reports contained a mixture of positive and negative views. There was complaining from some sectors, after these reports were published, that they were insufficiently negative.
The fundamental sin committed here is that the reports look at Hitler's policies from the perspective of ordinary Germans, rather than exclusively from the perspective of Jews and other discontents.
The reports contain information about Hitler's social policies: about how the economy was stimulated, the lives of workers were improved, and marriage and family were promoted.
The National-Socialists of course never . . . → Read More: Marian Young on Life under National-Socialism (1935)