ExoMars Spacecraft Launched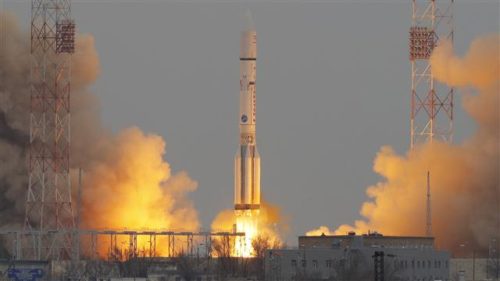 AN UNMANNED European-Russian mission to Mars blasted off successfully from a Kazakhstan cosmodrome on Monday, beginning a projected seven-month voyage that originally was supposed to showcase cooperation in space between the U.S. and Europe.
But budget problems years ago prompted the National Aeronautics and Space Administration (NASA) to pull out of the ExoMars mission, sparking frustration and anger among European space officials while opening the door for Russia to replace the U.S. in the endeavor.
Launched by a Russian Proton rocket, ExoMars consists of a methane gas-sniffing orbiter and a landing demonstrator module, named Schiaparelli, together weighing nearly 10,000 pounds. They separated successfully from the rocket and, after partial deployment of solar arrays and initial communication with Earth, appeared to be well along on their long coast toward the red planet.
Three days before arrival, the lander is supposed to break away from the orbiter and then zoom toward the planet in a bid to test its re-entry, thermal-protection, parachute and liquid-propulsion braking systems by touching down on Mars.
The orbiter is designed to circle the planet through 2022.
The U.S. initially agreed to launch the twin spacecraft aboard one of its rockets, but President Barack Obama's administration ended its role in the $2 billion project in 2012 due to budget problems that resulted in deep cuts to funds earmarked for future robotic missions.
U.S-European space cooperation has been somewhat rocky in the years following that decision, though Europe is contributing a big part of the manned Orion deep-space exploration capsule now under development by NASA.
After the U.S, pulled out of the first phase of ExoMars, Jean-Jacques Dordain, the director general of the European Space Agency told reporters "I was lucky to find Russia to help us and continue ExoMars."
Since then, cooperative efforts have increased among the Kremlin and European governments and aerospace companies.
The second phase of ExoMars is slated for 2018, and also involves a partnership between Russia and the ESA. Scientists anticipate landing a rover on Mars to study organic molecules in an attempt to determine whether life ever existed on the planet. But European budget issues could delay that mission to 2020. NASA plans to have its own robotic rover on Mars around the same time, with the capability to extract soil samples for later return to Earth.
Ultimately, the goal is to return samples from the surface of Mars.
NASA is working toward that same eventual goal with its own rover around the same time, but at this point both the agency and congressional leaders envision limited foreign involvement in that mission or others stretching past 2025.
Meanwhile, Russian and European space groups are looking to expand joint undertakings. Roscosmos, the Kremlin's primary space enterprise, less than two weeks ago announced it agreed to expand its partnership with Airbus Group SE, covering commercial-satellite development and manufacturing of civilian space hardware. As part of the closer working relationship, Russian officials highlighted using European know-how to build high-precision satellites for Earth observation, navigation, and communications missions.
For Airbus, the pact is a way to gain a share of Russia's expanding appetite for such new satellites and potentially sell some of the models or subsystems to foreign customers.
* * *
Source: Wall Street Journal