Making it to the Moon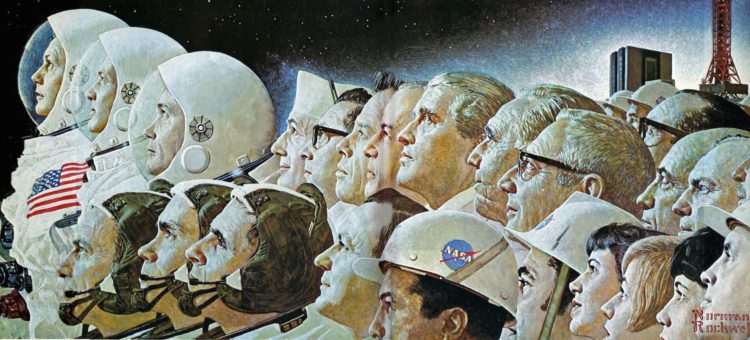 by David Sims
THE QUESTION was asked "Does it ever bother Europeans when they look up to the Moon at night realizing their flags aren't the ones planted there?"
What really counts is the race of the people who landed on the Moon. The Apollo program was conceived of, initiated, and carried out by White people.
Neil Armstrong was being politely generous when he said "We came in peace for all mankind." But "we" = White.
Only White people have been to the Moon. Nobody from any other race has been there in person. Only the White race has proved that it has what it takes to go there.
So when White Americans landed on the Moon, they represented their race at least as much as they represented their country. Because the Europeans are our cousins, with whom we share recent common ancestry, they can claim a share of the glory.
It is a claim that, say, Black Africans do not have.
Not only that, we (Whites) went to the Moon early, with technology that would be considered clearly inadequate, substandard, and unsafe for such a risky venture. We (Whites) made it work anyway.
After his very substantial part in that momentous achievement, the Jews punished Arthur Rudolph — designer of the Saturn V rocket which propelled the Apollo astronauts into space — based on the pretext that he had committed "war crimes" while working for the National Socialist government of Germany during World War 2. (There were many real war crimes committed by the US and its Soviet allies during and after that war, but that is a subject for another day.)
Jews pressured the US Department of Justice to accuse him of being a war criminal in 1984. Arthur Rudolph was forced back to Germany to face a possible trial. He had been a spectacularly productive US citizen for 30 years, whose work was vital to the success of the Apollo program.
The German government did its best to find dirt on him, but they failed. They released Rudolph in 1987 because there was insufficient evidence to try him for war crimes. But his life of freedom in the United States was finished. All because of the Jews and their vicious, made-up accusations.
Meanwhile, a Jewish attorney named Eli Rosenbaum, who represented the run-mostly-by-Jews Office of Special Investigation (OSI), claimed that he had proof that Arthur Rudolph was a war criminal, even though the German government couldn't find any such proof during their three-year investigation.
It just goes to show that you have to be careful whose hands your information has passed through. If a Jew was anywhere in the pipeline, there could be a sizeable percentage of lies and distortions introduced into that body of so-called "facts."
* * *
Source: Author