Accused "Hollywood Vampire" Blake Leibel Refuses to Attend Court
Girlfriend was found murdered in his apartment, tortured, beaten, with blood drained from her body; Leibel, son of a prominent Jewish real estate mogul, was "living the dream" in Hollywood before the killing
BLAKE LEIBEL, the Jewish producer accused of torturing and killing his girlfriend in West Hollywood, missed a court appearance in Los Angeles Tuesday after he refused to leave his jail cell, officials said. (ILLUSTRATION: Blake Leibel is accused of torturing, mutilating and murdering his girlfriend, 30-year-old Iana Kasian.)
Leibel, the 35-year-old son of a wealthy Toronto real estate developer, has pleaded not guilty to torture, mayhem and murder in the death of Iana Kasian, the mother of his newborn daughter. At an arraignment late last month, Leibel's legal team questioned his fitness to stand trial. Had Tuesday's appearance, at the L.A. mental health courthouse, gone ahead, it's likely a doctor would have been assigned evaluate Leibel's mental health.
The hearing was rescheduled for June 23.
Leibel's attorneys declined to comment on why he refused to leave his cell.
The watch commander at Twin Towers Correctional Facility, where Leibel is held, said guards can't force inmates to go to court.
"Do inmates refuse to go to court? Yeah, of course," watch commander Joe Reveles said. "If he didn't show up in court, then he's a court no-show."
Sheriff's deputies arrested Leibel on May 26 after finding him barricaded inside his West Hollywood apartment with Kasian's corpse. Prosecutors later said Kasian's body showed signs of torture and mutilation. She had given birth to a daughter, her first child and Leibel's third, earlier in May.
Leibel, the scion of two prominent Toronto families, styled himself a "creator of worlds" in Los Angeles. He funded obscure, often-violent graphic novels, wrote screenplays, worked on a television series and directed a straight-to-DVD feature film — all the while relying on hefty injections of cash from his wealthy parents, who separated when he was young.
Friends told the National Post that Leibel seemed to be dismantling his Hollywood life over the past year. He filed for divorce from his wife Amanda Braun last summer, who was then pregnant with their second child. He cut off friends, and moved into an apartment with Kasian in West Hollywood — a modest place compared to the Beverly Hills mansion he kept with his wife and first-born son.
Sheriff's deputies went to that apartment on May 26, after Kasian's mother reported her missing. Deputies arrested Leibel and found Kasian's mutilated body drained of all blood in a bedroom, according to the district attorney's office.
On Tuesday, Lt. David Coleman said detectives were still waiting for the coroner to determine Kasian's time of death. "It's very difficult," he said.
For now, officials can only say she died between May 23 and 26 — leaving it unclear how long she was allegedly tortured and mutilated before her death.
On May 20, days before the killing, Leibel was arrested on suspicion of sexual assault and released on $100,000 bail. Kasian was not the victim in that case. Speaking through a relative, Kasian's mother told the Post that Kasian left Leibel after she learned of the arrest, but later went back to the apartment to speak to him. She was never seen alive again.
* * *
Source: National Post
* * *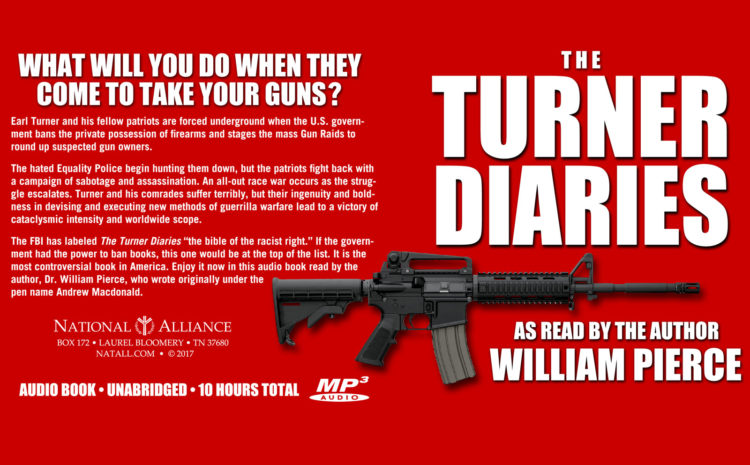 Listen: Turner Diaries commercial
OUR NEW, remastered audio book edition of The Turner Diaries read by the author, Dr. William Pierce, is now available. You can get your copy now — the CDs are are shipping as soon as orders come in.
The original recordings, made by Dr. Pierce and Kevin Strom on reel-to-reel tape in 1995, had been digitized in the early 2000s, but that digitization process was primitive compared to what we are capable of today; we have remastered this important work using the latest software — and we did it the careful, slow, difficult, craftsman-like way — the way Dr. Pierce would have wanted it.
We are proud to offer you the result, which can be ordered online via http://natall.com/td or by postal mail from National Alliance, Box 172, Laurel Bloomery TN 37680 USA. The fidelity of the disc is excellent: On a good speaker system, it sounds as if Dr. Pierce is with you, reading his book to you personally. There is nothing quite like hearing the man who created The Turner Diaries read it to you himself. And, by purchasing this mp3-CD, you will be supporting the important work of the National Alliance.
Listen: Turner Diaries commercial
* * *