Postmates Shamelessly Broadcasts Cartoon Advertisement Promoting Anal Sex to Children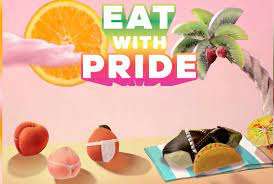 by Dissident Millennial
I THOUGHT I was cynical enough that nothing could surprise me anymore, that America couldn't sink any further into the gutter. Thus, when I came across a post this morning on the Daily Stormer titled "Food Delivery Company Releases Children's PSA on How to Take a Dick in Your Ass Without Blowing Shit Everywhere," I thought surely Anglin must be exaggerating for satirical effect: There was no way this could possibly be a real thing. Anglin must be going way over-the-top and using unnecessary profanity to boot. But whattaya know, lo-and-behold, the confirmation from Fox News:
Postmates slammed over 'Bottom Friendly' Pride month menu
The Postmates 'bottom-friendly' menu drew a great deal of criticism on social media from users who criticized the company's pride month move

By Louis Casiano | Fox News

A Postmates ad campaign featuring a "Bottom-Friendly" menu in celebration of Pride Month has generated mixed reviews on social media, with some users criticizing it and others praising the food delivery app for its inclusivity.

The company partnered with sexual health and wellness expert Dr. Evan Goldstein to develop the menu and comedian Rob Anderson, who narrates the ad. A "bottom" refers to someone who engages in certain sexual positions.

"What are you eating this pride? Well, if you're a top, it seems like you can eat whatever you want," the narrator states as an eggplant dressed in what appears to be dominatrix-style clothing eats a taco. "But if you're a bottom, you're expected to starve?"
You shouldn't miss a good meal for a good time. That's why this Pride, we've teamed up with @DrEvanGoldstein and @smartthrob to create the world's first Bottom-Friendly Menu (yup, it's real). #EatWithPride pic.twitter.com/03Fm8YJlAP

— @postmates (@Postmates) June 9, 2022
The bottoms are portrayed as peaches and the ad lists various types of foods one should avoid such as whole grains, wheat bran, cauliflower and potatoes. The reason, according to the ad, is that those foods don't dissolve in water, causing a "traffic jam in the digestive system," which can make "a mess of your evening."
Whether seriously or not, a Twitter user responded to the ad by saying: "Honestly, this is the level of Pride other corps should strive for. If you're not literally helping us have sex, can you really call yourself an ally?" Incredibly, Postmate then responded to this tweet by writing: "Exactly. We're tired of heterosexual sex being the main focus of sexual education. Homosexual sex, specifically bottoming, is all too often omitted and stigmatized. Not this year. Happy Pride!"
Now I wonder what race this so-called "sexual health and wellness expert" Dr. Evan Goldstein is? Also, isn't it strange that establishment Christians, conservatives, and Republicans aren't howling with rage on Fox News and preparing to march on Washington with pitchforks over this corporate-sponsored targeting of children for anal sex?
I guess this is what happens when you allow Jews to run your country, but I'm taken aback nonetheless. Despite all my world-weariness and cynicism I never imagined America could possibly reach this level of Weimar-esque depravity.
* * *
Source: Author