Occupied Germany: Ursula Haverbeck Seized and Imprisoned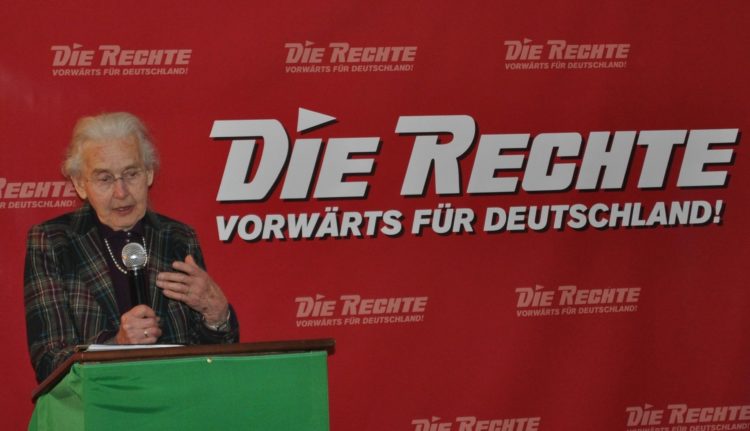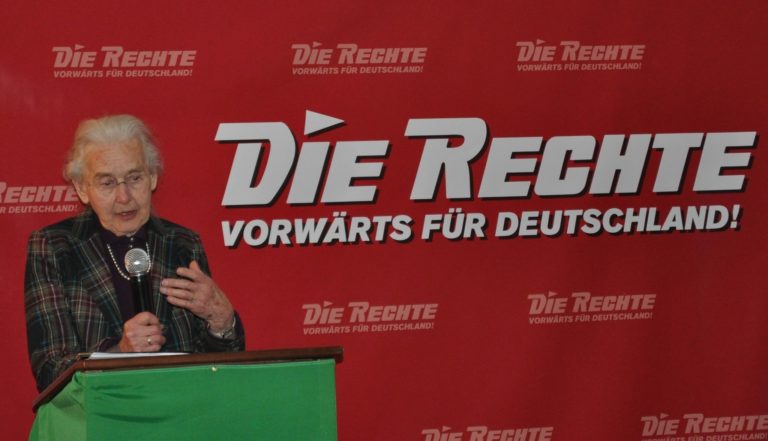 URSULA HAVERBECK, the courageous 89-year-old German woman who dared to speak the truth about the mostly-fictional Jewish "Holocaust," is in prison only because she spoke her mind. An honorable and brave woman and grandmother, rotting in prison (again!) — while real violent criminals, subversives, and invaders roam free in Germany or receive microscopic sentences for raping or attacking Germans.
On orders of the prosecutor Verden, the police on Monday afternoon stormed the property where she was staying and the 89-year-old was seized. Mrs. Haverbeck had, until recently, been in attempts to negotiate a postponement of her sentence based on her ailing health and her candidacy for the European parliament, had refused to appear on those grounds. The Jewish-controlled press had called stridently for the brutal seizure which took place today.
Ursula Haverbeck has been incarcerated in the prison Bielefeld-Senne. Whether she will remain there or be transferred to another prison is still unclear. Stand in solidarity and show Ursula Haverbeck that she is not alone. Fill the mailboxes of the prison with expressions of solidarity:
Write to:
JVA Bielefeld-Senne
(third house Ummeln)
Zinnstr. 33
33649 Bielefeld
Germany
Mrs. Haverbeck was convicted of violating the alien-inspired laws forbidding the questioning of Jewish World War 2 atrocity stories. She did not show up for her scheduled incarceration a few days ago, but government thugs, responding to Jewish demands, invaded the home where she was staying today and carried her off to prison.
The "Holocaust" (as the Jews style their exaggerated alleged sufferings in World War 2) is used as a psychological weapon by Jews to inculcate self-hatred and guilt in Whites, especially White children, so they will be morally disarmed and unable to fight against their own dispossession and genocide.
Patriots are organizing nationwide solidarity actions all over Germany to support this courageous lady: We are in your cities and in your neighborhoods with the aim of drawing attention to this madness and tyranny, and also to give Ursula Haverbeck strength for the heavy prison term that could last, in the worst case, until the day she dies.
Watch for announcements on ursula-haverbeck.info; there will be organized and coordinated protests in the coming days. Out on the streets, we show solidarity!
* * *
Source: http://ursula-haverbeck.info