The Doom of Nations
by Revilo P. Oliver (pictured)
I DO NOT KNOW WHAT, if anything, can be done to preserve a species that some judicious observers believe to be driven by a largely subconscious, but irresistible, death-wish.
In 1914, although we had the Jews on our backs, we were indubitably the dominant race on earth; we are now a despised and degraded species of anthropoids on whom all other species, including the very lowest and most brutish, joyously feed. When I see that our people are either too doltish to perceive their degradation or too craven to care, I am close to despair. Even a few decades ago, I should not have believed it possible that here in the United States Aryans would willingly see their children hauled to "schools" to be defiled by enforced association with savages and to be robbed, beaten, raped, and mutilated by the animals.
Even today, I am almost incredulous when I hear chiefs of police on the radio urging the white rabbits to minimize the chances that they will be mauled or killed by the savages whom they tax themselves to nourish and whom they subsidize to breed faster: in the jungles that were once our large cities, the cringing white inhabitants are told they should not venture out of doors after dark, should walk only in the middle of sidewalks so that Congoids are less likely to pounce on them from doorways or from automobiles in the street, and must not show themselves in large areas of their own cities. Are creatures that accept such degradation capable of survival or even fit to live? Is it only that they have been enslaved by foul superstitions, or have their brains been so clotted by centuries of systematic poisoning that they have been rendered permanently and irremediably imbecile?
When the Jews invade a nation, their first concern is, as prudence demands, to acquire control over the minds of their victims. In the middle of the Nineteenth Century, Lord Harrington told Parliament that the Jews already controlled "a large portion" of the British press, and, of course, in other Aryan countries they had been equally or more successful. Less than a century later, their control over all the means of communication within every Aryan nation had become virtually absolute, although a few small journals are still permitted to publish some articles that the occupying power has not approved. In this connection, it is well to remember the dictum of Dzhugashvili (alias Stalin) that a periodical with a circulation of 10,000 or less was not worth capturing or suppressing. It is also true that the Jews need to have a little open opposition to maintain the fiction that they are "persecuted," and it is possible that they have encouraged on a small scale the more absurd and impractical forms of "anti-Semitism" for precisely that purpose. But they seem now to feel that they may safely exhibit their arrogance and to have resolved that no Aryan cur shall be permitted to bark at his owners or even to whimper audibly.
For all practical purposes, the natural aristocracy of our race, which once gave it some sense of direction, has been totally destroyed, by revolutionary massacres, by contrived wars for hallucinatory ends, by economic looting under the guise of "democracy," by internal corruption through the fostering of its vices, and by miscegenation. We are left with what is, on the whole, an Aryan proletariat, differentiated only by income, and, especially if the income is somewhat above average, willing to submit to anything and even to do anything for a few additional dollars, pounds, or rand.
Our entire population, with almost no significant exceptions, is now at the mercy of, and therefore enslaved by, the economic pressures which the Jews exert at the first signs of disaffection. Our race's traditional suspicion of "tradesmen" was only realistic. The man whose income depends on vending to the masses is always subject to temptations to profit that are likely to be stronger than any moral restraints he may theoretically acknowledge, and today he is no more than a slave at the mercy of his masters. Even more precarious is the status of those who have no material goods to sell, such as authors, journalists, actors, clergymen and other soothsayers, salesmen, advertising agents, teachers, and the like, whose livelihood depends entirely on the sale of words, mere sounds whether spoken or written, to masses whose tastes have been formed by the formidable machinery that controls their minds. These facts of economic enslavement lead many acute observers to the conclusion that our race's only chance of survival lies in the chance that the Jews, blinded by their own arrogant confidence in their absolute superiority, will permit or precipitate a total collapse of organized society into the anarchy in which the strong and resolute will again survive at the expense of the weak and foolish.
* * *
Source: The Jewish Strategy by Revilo P. Oliver
* * *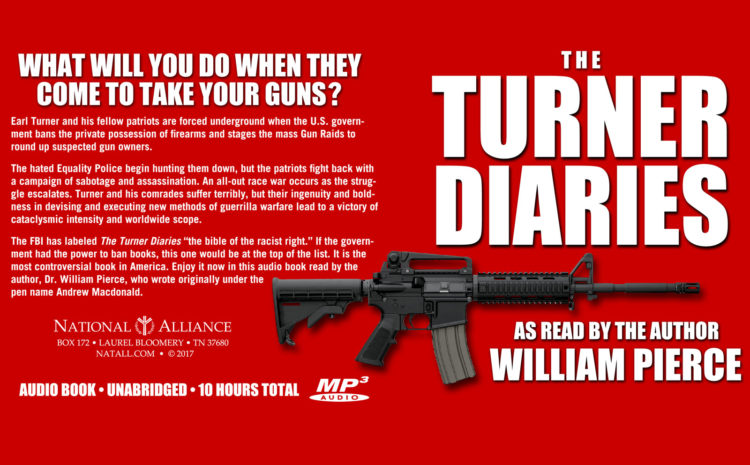 Listen: Turner Diaries commercial
OUR NEW, remastered audio book edition of The Turner Diaries read by the author, Dr. William Pierce, is now available. You can get your copy now — the CDs are are shipping as soon as orders come in.
The original recordings, made by Dr. Pierce and Kevin Strom on reel-to-reel tape in 1995, had been digitized in the early 2000s, but that digitization process was primitive compared to what we are capable of today; we have remastered this important work using the latest software — and we did it the careful, slow, difficult, craftsman-like way — the way Dr. Pierce would have wanted it.
We are proud to offer you the result, which can be ordered online via http://natall.com/td or by postal mail from National Alliance, Box 172, Laurel Bloomery TN 37680 USA. The fidelity of the disc is excellent: On a good speaker system, it sounds as if Dr. Pierce is with you, reading his book to you personally. There is nothing quite like hearing the man who created The Turner Diaries read it to you himself. And, by purchasing this mp3-CD, you will be supporting the important work of the National Alliance.
Listen: Turner Diaries commercial
* * *