Liking Jews and "the Holocaust"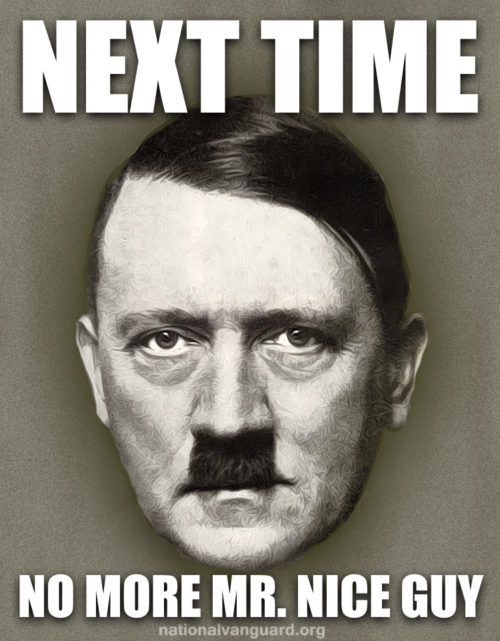 by David Sims
A QUESTION WAS asked on Quora:
"If Hitler didn't kill the Jews, how would he have been remembered?"
Some of what constitutes officially standard World War 2 history is misinformation. The winners do write the history books, and, in this case, much of what was Allied propaganda during the war passed uncorrected into the historical narrative regarding the war. "The Holocaust" is the best example. A narrative created by the Soviet propaganda minister, Ilya Ehrenberg (who was Jewish), transferred uncritically into a political dogma that Jews have been using ever since to morally bludgeon the people of the West into granting special favor and special protections to Jews.
Now, hear me. Adolf Hitler certainly did not like Jews. But he had good reasons. He was aware that the economic crisis and the cultural degeneracy of the Weimar Republic was caused by Jews and by the unfair terms of the Treaty of Versailles that the Jews had a hand in crafting. Germans starved to death. Germans died of diseases spread by degenerate behavior. Germans pushed into alcoholism by the difficult economic times that Jews created with their bogus money manipulations and unjust "war reparations." It is no wonder that Hitler didn't like Jews.
If you knew even a fraction of what Jews have done to your country, then you probably wouldn't like them, either. Preventing you from learning that information is why Jews push for "hate speech" laws, and for laws against "anti-Semitism."
But much of what are passed off as "Holocaust atrocities" aren't true. The Germans weren't exceptionally cruel prison guards. Auschwitz wasn't the kind of place you were told it was. Jews did die in Auschwitz during the war, but most of the deaths were from diseases that could not be controlled because the Allies bombed the German railroads going to their prison camps in Poland, stopping food and medical supplies and many other necessaries. The deaths were not caused by gas chambers.
The only gas chamber suitable for killing people that ever existed in Auschwitz was built by the Soviets after the war ended. They built it for propaganda purposes, and, at first, they tried to pass it off as the real thing. Later, after dated aerial photography proved that it was not there during the war, the Jews admitted that it was a mock-up — but then they began asserting that the Germans "destroyed the original" when they knew that they were going to lose the war. This, also, is a Jewish lie.
* * *
Source: Author