Nothing Else Will Do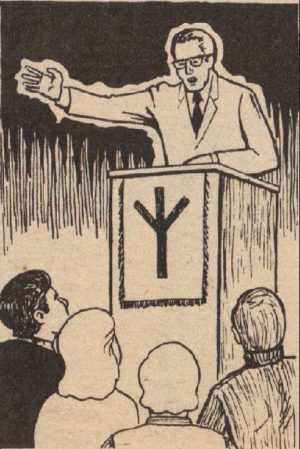 American Dissident Voices broadcast of 9 April, 2022
by Kevin Alfred Strom
THIS WEEK a man named H. Bergeron, commenting on National Vanguard, took us to task for not allowing the kind of speech he wants to use — speech, evidently by the context of his remarks, that advocates violence. He said, in full:
Take note of the rules of this Web site. You're not even allowed to say the words that will lead to the actions you desire. No one will act, ever. And no one will even talk about it, ever. Because it's against the rules. And Whites don't break the rules. We might get called bad names. It's that simple. Feelings hurt by that? Oh well. Too bad. It's not like we were going to act, anyway.
Mr. Bergeron, I believe, is wrong about several things. Not all Whites are totally subservient to consensus or perceived authority, as he implies. The men and women of the National Alliance certainly aren't. And we're already "talking about it." Does Mr. Bergeron think that all of our discussions are done in the National Vanguard comment section? Does he think that all of our conversations are done in public? That would be very foolish.
Mr. Bergeron is right in his implication that believing we can survive as a race and never engage the enemy physically, militarily is foolish — and we are not so stupid as to believe that. It's equally foolish to act without discipline, without a plan worked out by our best minds, without having done the hard and possibly long work required to lay the foundation for success. And it would also be foolish to throw away our media, like National Vanguard, by allowing them to be a place for grandiose or undisciplined calls to physical action.
Will we one day need to make the laws for our own society, beginning with a society within a society? Yes. Will we need to have the ability to enforce those laws, and defend that society, with physical force, deadly force if necessary? Yes, of course. No society can exist for long if it answers "no." Will we eventually need a military capability? Yes — same answer, same reason. We in the National Alliance know exactly what is needed. A new society — nothing else will do.
But before any of that can happen — before we can even dream that we'll see it happen in our lifetimes — we need to reach millions upon millions more of our people. We need to win the hearts and minds of hundreds of thousands of them — to the point where all of them are supporting us through tithing or the equivalent. To the point where thousands of them are gathered in National Alliance and Cosmotheist communities scattered across this continent; places where a plurality of local officials and jurors are members or sympathizers. To the point where an attack on us by the System is seen by a significant fraction of the public — at least in certain areas — as treason and insurrection, to be put down by any means necessary. To the point where — at least in our communities — almost no one would dare to cross us. Now is not the time to throw away your life in a fruitless act against the System or its weaponized mobs. Now is the time to join the National Alliance — devote more and more of your time and life-energy to the Alliance — to help the Alliance build its community in Tennessee — if you're single, to find a mate among fellow Alliance members and supporters (I did) — to get married in a Cosmotheist ceremony — to bring new children into the community — to build our library and research center — to get on our homeschooling committee — and a thousand other things that will make us stronger and stronger with each passing day. Our goal is our own racial state, our own living space. A place where we make the consensus. A place where we are the authority. Nothing else will do.
What did our founder William Pierce have to say on the matter? He said in his "Terror Breeds Terror":
It's really too bad that innocent people will die — especially innocent children. It's too bad that people will be maimed and injured. It's too bad that people will be made fearful. If people could act in a rational way, all of that could be avoided. But they never do. When a civilization is dying, when the soul of a people is being poisoned, all sorts of irrational behavior takes place. The government does bizarre and destructive things. Individual citizens do bizarre and destructive things. And bloodshed and suffering are inevitable. It will become worse. There is nothing the government can do to stop it…. So what ought people like us to do: people who approve of neither government terrorism, such as the Waco massacre or the bombing of Baghdad, nor private terrorism, such as the Oklahoma City bombing? Should we just sit on our hands and watch the government terrorists and the private terrorists fight it out?

That, unfortunately, is what most of us have been doing until now. We've watched it all on television, but we haven't done anything about it. I believe that it's time for a few of us to begin shouldering a little responsibility for what's going on in the world around us. After all, it's our civilization they're destroying….

We need to help people understand that a good bit, if not all, of the private terrorism we'll be seeing in the future will be a protest against the government's destruction of America. And most of the government terrorism will be an effort to frighten the government's critics into silence and inactivity. More and more, the government will lash out at dissidents, at anyone who is not Politically Correct. And the two sides will feed on each other: the more repressive and terroristic the government becomes, the more individuals there'll be who'll engage in terrorism to get back at the government. And the more individual terrorism there is against the government, the more terroristic the government will become in turn. And the rest of us will be caught between them….

Violence breeds violence. I wish there were a way we could stop it, but I think that about all we can do now is understand it and try to help other people understand it too. The bond of trust between the U.S. government and its citizens has been broken, and it's far too late to mend it….

Our task is to help… people understand who America's real enemies are, by helping them understand the underlying causes of terrorism, and by encouraging them to stand together in a united front against government terrorism. We must begin laying the groundwork for an America in which there is no terrorism.
Laying the groundwork for an America in which there is no terrorism. Indeed. And that means replacing the rotten System that rules over us. And that is a task that random acts of violence do nothing to advance.
The System is dying. Its death is coming far too slowly for my liking, but it is coming just as surely as a man who thinks he can eat poison every day is sure to die. For but one example of many, the System's law enforcement and justice system is breaking down — to deal with the non-White onslaught we can choose a police state or Somalia-like anarchy — or the National Alliance alternative: a racial state, White living space. Nothing else will do.
Let's look at what's going on right now in South Africa — a portent for the future of a darkening America. Since the White government was overthrown there in 1994 and 'democracy' was established at the behest of the Jews and their deluded White followers, there have been systematic, planned murders of Whites on a scale that boggles the mind. The level of violence against White farmers there is admitted to be the highest level of murder in the world — over 300 per 100,000 population per year — higher than in many war zones. The rate for England and Wales, for example, is 1.3 per 100,000 — almost 300 times less. Even the pro-Black media in that part of the world admit that thousands of White farmers have been murdered there. These attacks by Blacks on the productive White farmers are usually called 'farm killings,' 'farm murders,' or 'farm invasions.' You almost never hear about them on television or in your local newspaper.

Many thousands of White people have been killed in this racially-motivated murder spree in South Africa alone. Yet the Jewish-run "mainstream" media give us crickets — accompanied by banner headlines that go on for weeks about the latest crude Negro antics at the Oscars.

The point I am making today about the genocide of Whites in South Africa is this: Every few days a White man, a White woman, a White child, or an entire White family is abused and raped and tortured and killed in this ongoing campaign. If the media were in White hands this would be an issue. It would be an issue discussed every day on the television and on newspaper editorial pages in terms of outrage and demands that these killings cease immediately and that the guilty be punished. But it is not. Whites are instead encouraged to be concerned about alleged wrongdoings by their ancestors 150 years ago. They are encouraged to get excited about some Muslims who might have a microscopic chance of having a weapon they've never used. And they have the latest George Floyd equivalent shoved in their faces for weeks and months and years on end, and are encouraged to think of 'White racist violence' (which is almost nonexistent) as some kind of major threat requiring new 'hate crime' legislation to take away even more of our precious rights.

Think of all the media stories dealing with the death of a single Black drug user. And how many stories are the media carrying about the 'farm murders' of Whites in South Africa? How many such stories have you heard? Three? Two? None? The media bosses want you to think that the White people killed yesterday on the veld don't exist.
Last week we talked about the Jews' racial state, Israel. Well, White people need a racial state, too — and achieving that goal, whatever it takes, is the purpose of the National Alliance. Nothing else will do.
* * *
You've been listening to American Dissident Voices, the radio program of the National Alliance. The National Alliance is working to educate White men and women around the world as to the nature of the reality we must face — and organizing our people to ensure our survival and advancement. We need your help to continue. Please send the largest contribution you can afford to National Alliance, Box 4, Mountain City, TN 37683 USA. You can also help us by visiting natall.com/donate. Once again, that address is Box 4, Mountain City, TN 37683 USA. Until next week, this is Kevin Alfred Strom reminding you to never give up.
This radio program and 24/7 radio network are entirely listener supported, and have been for almost 30 years. We received more than 200,000 visits to our site last month, more than some medium-size "mainstream" news outlets. Our outreach is constantly growing. But we totally depend on that responsible, caring, adult fraction of our listeners to stay on the air. Won't you join their growing ranks?
All we ask for is a donation of $50 each year — less than $1 a week. Are we giving you personally at least that much value? Simply visit natall.com/donate — and choose the $50 option to give online.
For a donation of $250 a year, under $5 a week, we'll send you our printed National Alliance BULLETIN each month. It's America's longest-running pro-White publication. Just choose the $250 option at natall.com/donate and let us know you want to receive the BULLETIN. If you prefer to donate via postal mail, just write us at National Alliance, Box 4, Mountain City, TN 37683 USA. That's Box 4, Mountain City, TN 37683 USA. And thank you for your help!