Anti-Racist Jesus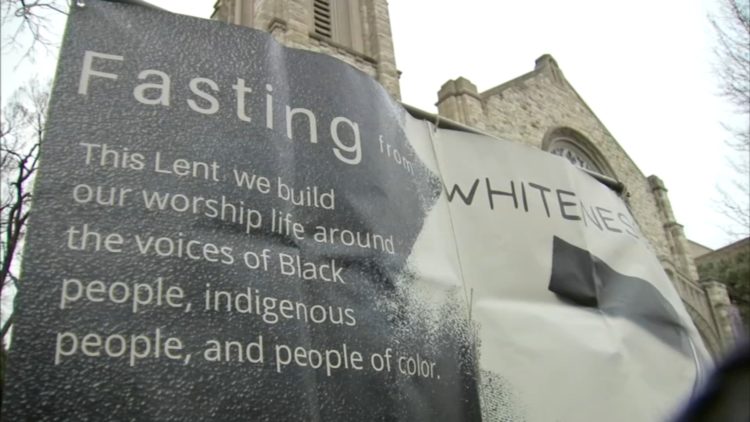 by Douglas Mercer
THAT ITINERANT VAGABOND AND Jewish sky god Jesus of Nazareth is at it again, taking the measure of White people and knocking them down to size. Some of the peripatetic religious zealot's followers in Illinois have taken to heart the anti-White message of today and are "giving up Whiteness" for Lent.
This Lenten self-abnegation is a bizarre ritual which (they brazenly and bizarrely claim) aids in the mortifying the flesh once a year, and Christians perform it as a kind of virtue signaling for the benefit of their Lord.
Millions of people do this during Lent as a sign of sacrifice and to test their self-discipline. Christians believe that this is to represent Jesus Christ's sacrifice when he went into the desert to pray and fast for the 40 days before later dying on the cross.
In order to purify their souls this Lenten Season the "liberal" insects at First United Church of Oak Park are going to "give up Whiteness" by playing some Negro music at their services, saying "Black lives matter," being incredibly obsequious, and tearing down their White ancestors and White heritage. It's a revolting and disgusting display, but it's not them really sacrificing anything — on the contrary, they will get all the kudos and "attaboys" of the wider culture as they take this "brave stand". No, what they are sacrificing is the once-living memory of their ancestors, and the future of their race, on the altar of a Politically Correct Jewish ideology.
Is there anything more tawdry and sickening than that?
This moral preening and pious grandstanding leads them to make pretentious and stupid statements like this:
First United Church of Oak Park announced on its website that it is doing a mix of giving something up and taking something on.
Since they hate being White are they really giving something up? To them, Whiteness is the sin nonpareil. It is the sin of all sins. To these deformed mutants, being White is a sin and liking being White is an even greater sin — and a White man who loves his race is the sinner of all sinners for whom no grace shall be abounding.
They think being White is the sin sine qua non.
That is the core of their belief. The mind of a decent man or woman, of course, recoils in horror.
You all know what that muddled Jewish expositor of the also-Jewish sandal-wearing preacher said:
There is neither Jew nor Gentile, neither slave nor free, nor is there male and female, for you are all one in Christ Jesus.
In addition to being an unsupported claim, this of course is juvenile lunacy — and is, further, a license to racemixing, transsexualism, and "equality" — and the mind recoils in horror.
Why White people ever glommed on to such obvious bilge is a matter of grave concern.
But now, in the leadership of our mainline Christian churches, it's rainbows and racemixing all the way down, as they lie prostrate before the Moloch of the age — all the while deeming themselves "apostles of the Lord."
A matter of grave concern indeed.
Edgerton said Lenten season also means taking on something, but in this case that included taking on backlash. In a statement, the church said it received white supremacist backlash, including more than 1,000 hateful messages.
This Edgerton fellow is the leading self-hating White at the church, and when they say "hateful messages," if anyone politely suggested that an unwarranted anti-White animus might not be the right road to take that would count as "hate." If anyone dared to point out that Whites are the current victims of discrimination and not the perpetrators of it, that would count as "hate." If anyone even quietly tried to suggest that it is Blacks who are the main cause of the crime and unrest in our country, or that the Jewish media just might have had some role in the breakdown of the family, that would be counted as incendiary hate. Whereas a real message of (completely justified) hate would be that the leaders of this church have betrayed their country and are little more than fellow travelers of blood-sucking Jews. The latter message would also possess the virtue of being absolutely true.
There is also that bit about "loving your neighbor" in the claimed Good Book, a neighbor being defined not as racial kith and kin living near one's home and hearth, but as anything walking on two legs, no mater how misshapen the body and the mind, now matter how genetically distant the creature is.
A church in suburban Chicago said it is fasting from whiteness during Lent, the 40-day period preceding Easter — by abstaining from performing hymns composed or written by white musicians.
Everyone knows that when the majestic organ swells you want the White man's music; anything else is poor man's tripe. No sane musical connoisseur prefers monotonous jungle beats to ethereal and complex harmonies. If it's not Bach or one of his racial kin, you know it will be banal. And the weird thing is by saying they are fasting from Whiteness for 40 days they make it sound like the rest of the year they are binging on it — and they are not. In fact, they are year-round starving themselves from Whiteness, which is one reason they have that unhealthy moral pallor.
In our worship services throughout Lent, we will not be using any music or liturgy written or composed by white people. Our music will be drawn from the African American spirituals tradition, from South African freedom songs, from Native American traditions, and many, many more,
Many, many more! Hell, they'd bring us some murderous rapper to freestyle about "raping bitches and hos" before they'd play a profound musical meditation by a White man. They'd bring in a knuckle-dragging Jazz negro before they'd give us the White music of the spheres. As always, they'd sooner kill us than look at us. Is there anything more diabolical than a suburban White person who hates White people? Is there anything more cursed than a truckling White man who thinks that "freedom" is what Black rule in South Africa means — even after nearly 30 years of chronic corruption, dysfunction, crime, the murder of White people, and the putrid smell of corpses wrapped in burning tires?
For Lent, it is our prayer that in our spiritual disciplines we may grow as Christians, united in the body of Christ with people of all ages, nations, races, and origins.
The old "all men are equal in the eyes of the Lord" routine. Which is similar to "there is only one race, the human race" in being both a wild conjecture with no empirical basis and a form of browbeating to take down the White race. According to Cosima, toward the end of their lives Wagner and Gobineau would stay up late into the wee hours and she could hear them yelling at each other throughout the house. She said that Wagner said that Christianity needed be purged of its Jewish elements, and that Gobineau would always counter that the entire edifice of the religion was rotten and that it needed to be wholly thrown over.
Gobineau got the better of that one.
The house of worship also erected a Fasting from Whiteness sign on its front lawn, which reported that the church is using reflections and thoughts called evotionals for the fast.
House of worship? House of horrors is more like it. And this ersatz word evotionals is used because they don't believe in devotion or fidelity — they believe in an ever- and rapidly-evolving creed that always ends up exactly where the Negro employees of Jewish MSNBC happen to have arrived at any given moment.
We honor our fast from whiteness this Lent by prioritizing the voice of Bruce Reyes-Chow through a chapter of his book In Defense of Kindness. Another of Reyes-Chow's books is But I Don't See You as Asian: Curating Conversations about Race.
They'll kill us with this kindness.
Apparently Reyes-Chow believes that people who oppose violent protests by Blacks "speak from a place of privilege" — and should therefore refrain from trying to stop them. In other words, the Blacks can burn cities, rape, rob, pillage, and loot — and the White man must just take it on the chin — the chin if he's lucky. As a recently deceased sage once said: You don't want to make the monkeys mad.
For many of us, being uncomfortable about public protests or what we perceive as aggressive expressions of frustration simply identifies our privilege and our ability to shield ourselves from the struggles that others are facing.
Ha! "Gibs me dat" does not exactly constitute "struggle." These takers are indolent, shiftless, and lazy — and they get endless trillions of our wealth given to them for free. That sounds like the proverbial good deal. The fact that they whine and bitch so much is not an indication of their "frustration," but of the fact that they have been given perverse incentives in terms of unwarranted coddling and appeasement which only whets their insatiable appetite for more bitching and whining as a prelude to the murdering and the raping. When they perceive our weakness (which these days is nearly all the time) their natural predisposition to aggression kicks in, and they go on crime sprees that never fully stop. They are like constantly boiling kettles of water, which the authorities try to cool down from time to time by emptying them a little bit — but in the end they always blow up, and all the subservient cowards can do is treat their burns and try to clean up the mess without offending the erecti too much.
Most people do not engage in public protest or in expressing anger that may put risk on their life, work, or status. So when groups of people are pushed to their boiling point, the least helpful thing to do is to silence them.
(Funny, you never hear anyone say this about Whites resisting their own dispossession.) This is propitiation is it rawest form — first, it assumes that the Blacks' squealing grievances are legitimate (they are not), and second it's the equivalent of letting a child's tantrum not only go unchecked but of mollifying the child by giving him what he wants. Naturally, this will only breed more tantrums and mollifications and the child will never learn. Silencing such brutes is what a sane society does; when no quarter is given you stop the behavior cold. (Better, of course, to put the brutes on boats and wave a final goodbye.)
In the summer of 2020, Trump could easily have met the rioting with the National Guard but he knew that would mean some dead Negroes in the street, and thus media "outrage" on every telescreen and even more ramped-up rioting, and he most likely figured he didn't need that headache.
But as Ronald Reagan once said in response the chaos at Berkeley (this is before he lost his testicular fortitude), If there has to be a bloodbath, let's have it now.
The bloodbath is inevitable; the only question is when.
For the church, however, such an appeal to strong gods would not be the "Christian" thing to do. The "Christian thing," apparently, is cravenly crawling before violent, murdering savages, giving them what they want — because, well, "we" deserve the punishment.
First United Church's members were encouraged to view the whiteness-free services on its YouTube channel.
Whiteness-free?
The real question is: Can there be too much Whiteness?
In a video posted by the church, the Rev. Lydia Mulkey, identified as the associate pastor of education, explained the fast from whiteness, of course, by saying she cannot change the color of her skin or the way that allows her to move through the world but she can change what she listens to, whose voices she prioritizes.
The "Reverend" is saying here that, unfortunately, she's stuck being White; there is not one thing she can do about that; it's just her burden, but it is very much within her power to hate being White, to revile her own race, and to detest everything associated with it. She can, however, be a supplicant to Blacks and cater to them and worship them — and, of course, that is exactly what she plans to do.
And so that is kind of the place for our worship services, through Lent, that we would fast for a time from prioritizing white voices. I find it's like a reversal of the racialized reality in which we live. Where, in this reality, the assumption is that what is to be known, is what the majority culture, the white culture, determines or says these are the rules.
An alternate world where Blacks rule and Whites are the servants, such is the Utopia offered to Blacks and sick Whites by Jews. Reversing racial reality is a code for White genocide. The first shall be last, saith the Jewish lord; the last shall be first.
The more you think about it, those Romans really did us a solid; but they should have taken out the whole crew and made it so the poison in the egg could never come back. It certainly would have settled their hash.
It sounds to me that they're kind of flipping it, saying instead of making the majority voice the loudest voice, we're going to listen to the minor players who have not been heard in the past, and make them the primary players again.
Yes sir, restoring the Blacks to their rightful place, just like when they were — well, kangz. All this time Whites have just been unjust usurpers, allocating to themselves all that unearned power. You see, back in Africa, there was an advanced civilization of scientists, mathematicians, and ingenious engineers but then those inferior and envious Portuguese came and ruined it.
They did not say, we're going to ignore the white voice. We're just going to now just tone it down and see what voice has come to the top and see what message we may get from those voices,
Certainly they plan on ignoring the White voice. You can bet your bottom dollar on that.
In practice with the Lenten spiritual discipline of fasting, our intent was to lay aside our usual frames of reference and open ourselves to hearing the Gospel message through the voices of Black People, Indigenous People, and People of Color. Our worship services in Lent have been diverse and beautiful.
Jesus Christ and the United Colors of Benetton.
If there is anything more insidious than that, I for one have never heard about it.
We at First United love the diversity of this community in Oak Park, we love the racial and economic diversity, the bringing together people who are not the same, and that is what America is supposed to be about.
No, what America is supposed to be about is a White man's land, a White paradise. But more and more deluded White people will abstain from their race, put on their hair shirts, flagellate themselves, and "fast from Whiteness" as if they were abjuring some contagion.
And so the kettle continues to boil.
* * *
This religion is too far around the bend; it is corrosive of morals and is demoralizing to the race. It preaches a doctrine that "the last is first and the first last," it exalts the low and hates the high, promotes the foolish over the wise, the weak over the powerful, lauds fear and trembling rather than courage and strength. It is a religion of the scum of the Earth.
All that drivel is right there, in the appendix to the Torah.
The madness of the First Oak Park Church may seem risible, but they are simply taking the core ideology of this religion and taking it to the nth degree — to its logical conclusion.
In the end, this this religion cannot be purged of its Jewish elements; it is Jewish. It is a sinister and malevolent Jewish vehicle for dissolution and death, foisted on the European race to rot us slowly from within.
Gobineau saw this clearly and wanted no part of it. His pessimism for the future of Europeans knew no bounds; he thought that even Cassandra was a cockeyed optimist. Way back in the 1830s, he predicted White genocide. His prediction still looks stellar nearly two centuries later. He lamented over the White race's future in these words:
It is winter and you have no children.
Which leads one to the question: Was he ever wrong?
* * *
Source: Author