Hitler and the Holocaust: You've Been Lied To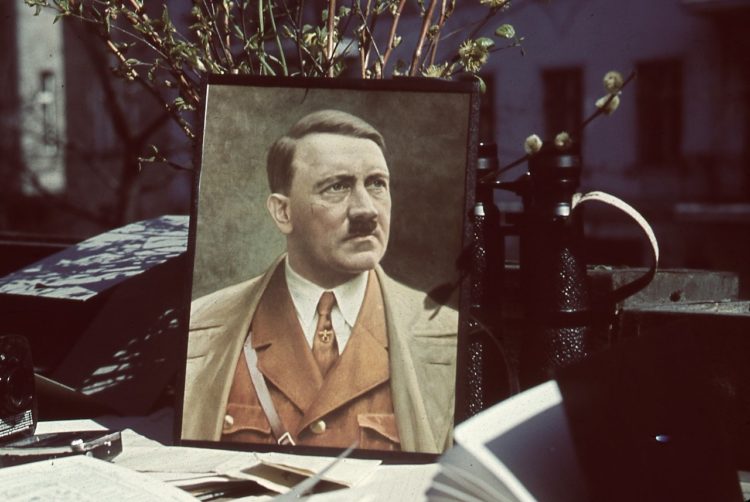 by David Sims
IF YOU WANT TO understand Adolf Hitler's point of view, the best thing to do is buy a copy of his book, Mein Kampf.
Here's a short summary of Adolf Hitler's background.
Hitler was a corporal in the German Army in World War 1. For a while, Germany was doing very well in that war. England was out of money and out of bullets. The Kaiser, leader of Germany, made England an offer, which basically said "Let's call off the war. We'll demand no reparations from you, and you'll demand none from us. We will both just quit fighting and bring our soldiers home." Germany made this offer even though it knew the advantage was theirs.
England's leaders believed that they would have to accept. They didn't think they had any choice. But at that moment the Jews came forward and told the British government, more or less, "Don't accept the German offer. We can arrange for the United States to enter the war on your side, and Germany will be defeated." And that's what happened.
And Hitler would later find out.
After WW1 was over and Germany was unable to fight anymore, the "Allies" imposed harsh reparations on Germany. (Notice how much more generous Germany had been willing to be earlier!) Germany was stripped of a good bit of agricultural land that it needed to feed its 80 million people. It was also required to pay the winning countries heavy reparations, which limited Germany's ability to buy food to make up its agricultural deficit. [There was widespread starvation.] This is what gave Hitler a strong appeal to the German people and made another war preferable to continuing to labor under the unfair burden of the Treaty of Versailles.
It also seems that the Jews were involved in the creation of the Treaty of Versailles. It was not crafted by the political leaders of the Allied powers. In other words, the Jews caused Germany to lose WW1, when otherwise it would have won. And they so contrived the treaty that ended WW1 that another world war became certain. Adolf Hitler found out about that, too. Is it any wonder that he didn't like Jews?
Hitler was elected Chancellor of Germany, and he became Fuehrer, which means "Leader," by proclamation. His intention was to help Germany to recover from the poverty and human suffering of WW1 without accepting any loan-money from the international Jewish banks to do it. The Jews had rather counted on Hitler playing their financial game and were sharply disappointed when Hitler found other ways to subsidize the postwar German economic recovery. One of them sent Hitler a letter of warning, that he had better return to their "Gold Standard," or there might be another war. Hitler ignored this warning.
Hitler arranged for a barter system, at the international level, in which German industrial goods were traded for food. And Germany prospered. While other countries were foundering in the Great Depression, Germany was having moderately good times. Within Germany, Hitler had caused to be issued a debt-free money system that was backed by German labor power, not by Jewish "credit." Hitler's financial system worked so well that it prompted Viscount Lymington to declare (with reference to the Jewish debt-money system that had been imposed on the rest of the West) (The New Pioneer, May 1939): "If we have a period of peace for only three years, the financial system of Messrs. Frankfurter, Warburg, and Baruch and most of Wall Street, will topple of its own accord."
And there you have the real reason why World War 2 happened. Because the Jews feared the loss of their global financial hegemony, they forced Hitler into choosing between the surrender of German sovereignty and going to war. Hitler basically invented a better money system that threatened to make the Jews uncompetitive and run them out of business, and the Jews didn't like it.
Then the Jews counterattacked with a worldwide boycott of German exports. The boycott was organized by a Jewish banker (Bank of England) named Montagu Norman and a Jewish demagogue named Samuel Untermeyer. Germany could no longer get the food it needed by trade, and, because of the farmland lost by the Treaty of Versailles, it couldn't grow the necessary food, either. Hitler had to choose: Accept the Jews financial system, and the Jewish control that came with it, or else go to war again. He decided to go to war.
On a related topic: There are people who have good reasons to doubt that the "Holocaust" happened. This is one of those things that "everybody knows" but might not actually be true. One of the reasons to suspect that it might not be true is the fact that there are laws in some countries which compel people to espouse belief in it. The truth never needs to be supported by laws. Only lies do.
Besides that, there are known frauds in at least some of the photographic documentary evidence for the Holocaust. Certain photographs that Jewish groups have said showed a big pile of dead Jews at Buchenwald really showed a big pile of dead Germans at Dresden. Another photo claimed to be showing German soldiers killing Polish civilians turned out to be a picture of Soviet soldiers, dressed in German uniforms, killing Polish civilians. The Jews had miscaptioned these photographs in order to fabricate Holocaust evidence.
Certain other alleged Holocaust photos were, in fact, photographs of high-quality drawings, and the photographs were deliberately made a little out-of-focus. Some actual photographs were altered to add "victims," alive or dead, who weren't really there, either by pasting from a different picture or by drawing them in carefully and then re-photographing the result.
And some of the "eyewitnesses" have given testimony in self-conflict, in conflict with other eyewitness testimony, in conflict with known physical evidence, and even in conflict with the laws of Nature. It is true that the Allied soldiers who "liberated" some of the German labor camps found many dead bodies. However, those soldiers did not see any "gas chambers." Those who died there died mostly from a disease called typhus. The gas chamber on display at Auschwitz today is a fabrication built after the war as faked evidence of German war-crime guilt.
Also, the Holocaust has not always been in the form that you hear about it today. In the years following 1945, the Holocaust tales were different, and the gas chamber idea had yet to be thought of. In one of the Jews' "trial balloon" versions of the Holocaust, the "Nazis" used an electrically charged floor to zap the Jews to death. Bzzt. That turned out to be unsupportable, so, in their later accounts, they changed the killing method.
The Jews were once swearing on a stack of Torahs that the "Nazis" made soap from the fat boiled out of the bodies of the Holocaust victims. Israeli rabbis went so far as to bury some bars of soap with great solemnity in consecrated ground. Today, even the Jews admit (Yad Vashem Institute, 1983) that the "human fat soap" story was a myth. However, in parts of Europe, this story is still believed. One of my Polish pen pals wrote to me that I should be glad I was not in Europe during the war, because the "Nazis" would have made me take a shower, during which I would have been magically transformed into the bar of soap to be used by the next victim.
So, keep an open mind about this "Holocaust" thing, too.
* * *
Source: Author