Feminism Is a Weapon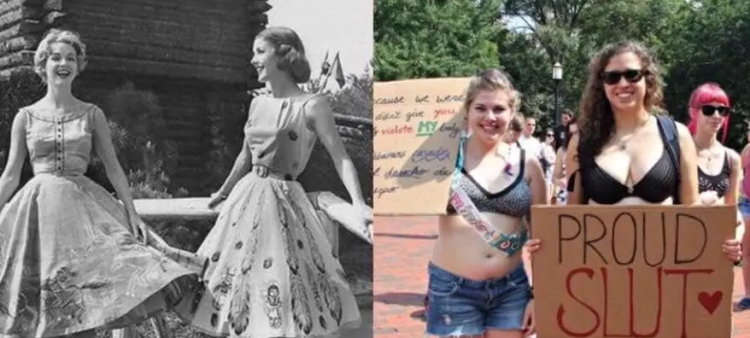 by David Sims
A QUESTION WAS ASKED on an online forum:
Have American women lost their femininity? It seems that traditional values are being construed as a subservient, oppressed life for a woman. Without these traditional traits in a woman, I don't think a woman is a woman anymore. Men are going elsewhere to find these traits. Men will appreciate a woman and hold her on a high pedestal and appreciate her, if she is not mean and bossy. Anyways, the angry responses from women that I will get only reinforce the ugliness of their hearts.
You're right, and the answers that you've been getting prove that most people just don't get it. Or won't get it: a stubborn refusal to see where things are going.
Even if what feminists really advocated were "fairness" and "equality" between the sexes, as they pretend it is, there would still be a problem. That problem is survival: staying alive in a natural world whose laws are beyond our power to change.
We are, at present, insulated by a technological culture driven by fossil fuel power. The energy we get from fossil fuels lets us substitute machines for human labor, technology for biology. We prop ourselves up, and then we forget that we are on props, which conceivably could fall and topple us all into whatever hazards we were being buffered from.
Because of technology, human flaws that would once have been pruned off by sexual selection no longer seem a reason for aversion. We become "tolerant," and we tell ourselves that tolerance is a good thing.
What if fossil fuels run out? Now that so many of us can't see without eyeglasses, what if we lose the ability to manufacture eyeglasses? Think also of diabetes and every other disease for which modern technology alone stands between humans and decimation.
There are times when you must choose between values, and at such times you must have those values correctly prioritized, such that you understand which of them is the greater, and which the lesser. You also must understand when people have generally gotten themselves out on a limb that might break at any moment, and that correctly prioritizing values requires taking precautions against an uncertain future.
Fairness is a good thing. But survival is a better thing because it is a prerequisite for the value of fairness to even exist. Nothing has any value to the dead. Only to something alive may anything else be good.
Cheating is generally bad. But if cheating is required for your survival, then you should cheat. The worst that can be done to you, if your cheating is discovered, is no worse than what Nature would have done to you if you hadn't cheated when it was necessary for survival.
That's as true for races as it is for people. In fact, it is more important for races, since individuals must die and there is no help for it, but races have at least a potential for immortality. Feminism is a ploy, a trick, ostensibly aimed at "fairness," but in reality aimed at the destruction of the White race. See those White men, who have become disgusted with the common behavior of modern White women, seeking to marry foreign women? Do you think that move was unanticipated by the people who planned and crafted the feminist movement?
Those same people, or their cousins, also invented Marxism, which is another ploy. Although it is aimed at people a different way, its basic methodology is the same: Promise power to a part of the race to corrupt that part, in order to weaken the whole. With Marxism, the part is the working class. With feminism, the part is women. In both cases, the whole is a race (often the White race).
There is a racial predator in the world, and it is sneaky, clever, and able to create and carry out such multi-generational plans of attack. And you probably know who they are, too. You know what Karl Marx, Yakov Sverdlov, and Leon Trotsky had in common with Gloria Steinem, Betty Friedan, and Bella Abzug. Do I have to tell you?
As Orwell said, "The greatest power is that which can prevent its own mention." So let's try to stop playing the vindictive "fairness" game. Men and women aren't natural enemies; we've only been tricked into acting that way. A natural enemy is not a matter of sex or socioeconomic class, but always of race. And that race which tries to prevent us from even mentioning their name is the Jews.
* * *
Source: Author