Covid News: Building to a Climax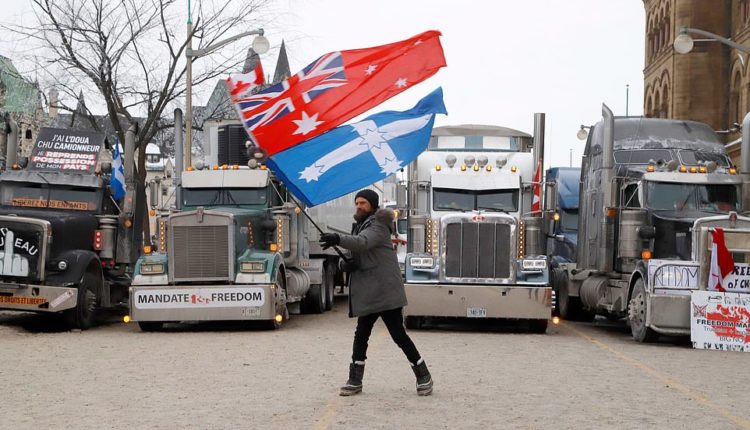 Are we approaching a Ceausescu situation, where public rage will result in the tyrants being dragged into the streets and killed?
by John Massaro
AS WITH OTHER MAJOR historical events involving many players, hidden agendas, and secret agreements, we'll never know the full truth about the Covid-19 saga. Some things we can only speculate about. But a knowledge of history and human nature makes other things quite clear. Let's focus on just a few here. From the start, this was never about protecting public health. It was an intricate conspiracy, a preplanned fear campaign over a nonexistent or relatively harmless virus, with the aim of imposing a vaccination tyranny. Both the lockdowns and the injections have ruined the lives of millions, and may have already killed millions. It is evil. Decent people who cherish freedom hate what has been going on for nearly two years now.
The creatures who are doing this to us, in any capacity and at any level, are rotten to the core, and this includes pretty much the entire press corps, with the emphasis on those in the top echelons who have been calling the shots as far as generating fear and lying about and censoring the news. We can only appraise what is happening in other countries by what we read and see on the internet. Here in America, conditions seem to be better, comparatively speaking, than in Australia, New Zealand, and most of Europe, even in "blue" states such as New York, where I live, although that's easy for me to say because I'm retired and don't have children in school.
Make no mistake, what we're seeing is communism in action. And even if most politicians, health bureaucrats and other office holders are not disciples of Marx or Lenin, they're willing to go along with the communist program. We know from history that communists will use any terror tactics available to subjugate people. We know they murdered an unfathomable number of people in the twentieth century, perhaps more than a hundred million. And even in those countries where the scale of murder was comparatively low, the people endured a bleak existence.
There has been talk among the elites here of cutting social security payments, forced injections, and severe travel restrictions. They want to make it nearly impossible for the unvaccinated to live, and in some European countries they appear to be succeeding, although nowhere in Europe are the people taking it lying down.
I had the memorable experience of traveling around Russia, East Germany, Yugoslavia, Hungary, Bulgaria and Romania a full decade before the collapse of communism in all those countries. I could write a good deal about each of them, but here I'm going to write just a few words on the most oppressive: Romania, which in 1980, when I was there, was ruled by a hideous dictator and his equally hideous wife, Nicolae and Elena Ceausescu. Actually, it wasn't til much later that I learned how much the people of Romania had suffered under this couple, especially the lack of heating in winter and the terrible food, and food shortages, year round. Nor did I fully realize, at the time, the fear they had of informers and the secret police, though there were some strong hints. When I was in the small city of Timisoara, while chatting with two teenagers who spoke English, they suddenly became paranoid and clammed up when they noticed a policeman staring at us from a distance. At a bus stop in Bucharest, the capital, I saw two men in plainclothes swoop down on a woman and escort her onto a bus as it pulled up. Also in Bucharest, while photographing a long line of people waiting to fill their small containers at a petrol station, I suddenly felt a grip on my arm; a man in street clothes showed me a badge and walked me to a police station a few blocks away where I was interrogated, then released after having my camera opened and film exposed, and given a warning on what was forbidden to photograph.
The Ceausescu dictatorship lasted 24 years, and it became progressively worse and more detested over the years as the first couple became more megalomaniac and more out of touch with reality. Only the guns of the police and military kept them in power. Then, on December 25, 1989, after weeks of riots during which more than a thousand Romanians were killed, the police and military switched sides, stood up for the people, and found and arrested Nicolae and Elena, who had fled Bucharest. They were brought to a military barracks, given a quick show trial, then taken to a courtyard and executed by firing squad. These dramatic events were recorded on film and a seven-minute condensation of them can be seen here with English subtitles and voice-overs. (A note to the squeamish: During the execution, which begins at 4:22, much firing can be heard, but the moments of death are obscured by a thick haze of gun smoke, after which the two bodies are shown close-up.) So take heart, good people in America and around the world, the scum of the earth can be hunted down and brought to justice, and there are many cops and soldiers who will do the right thing.
A similar and bloodier revolt against communism took place in Hungary in 1956 against that hated regime. Here too the local police joined the people and actually raided the armories and distributed guns to them, the private ownership of firearms being strictly prohibited in all communist countries. The best account I've read is David Irving's Uprising!, which contains several photographs. Two have always stood out in my mind. One shows a group of secret police lined up against a wall with horrified faces, a moment before they were mowed down. The other shows the bodies of five secret police who had been thrown out of windows and are lying atop reams of paper, perhaps secret files they had been keeping on citizens.
Tragically, the revolt was crushed when Soviet tanks rolled into Budapest, which precipitated many street battles with great loss of life on both sides. But in the end, it was superior firepower that triumphed.
The circumstances in Hungary in the 1950s and Romania in the 1980s are somewhat different to those in America today, but there are similarities as well. One is the building rage against the federal government, the total rottenness of which a large segment of the population is aware of more than ever, that awareness being increased by the scorched earth Covid-19 injection campaign. One difference is that the ruling scum here must contend with the huge number of privately owned firearms, which they surely know will be used against anyone trying to carry out forced injections or quarantines; and they are less deluded about the possibility that military men, both active and retired, and police may turn against them because there are already clear signs of that happening. Back in late 2020, I was encouraged to read that several sheriffs in rural counties in New York, Michigan and Washington – and probably other states that I didn't read about – stood up like men and said, in so many words, that they would refuse to enforce absurd "executive orders" dictated by their crypto-communist governors. Since then, anger over the continuing vaccine mandates, and the suppressed news of deaths and serious injuries which they've heard through the grapevine has, without a doubt, shifted the balance of firepower in favor of us good people. Another promising sign is the ever-growing rift between police at the county and community levels and the FBI, which has become all but indistinguishable from the Stasi and the KGB.
Back in the 1990s and 2000s there were some large, angry demonstrations by parents of autistic children, holding signs with strongly worded messages, outside CDC headquarters in Atlanta – all censored by the media, of course. I thought about that photo in Uprising! and imagined these parents storming this evil nest of mass murderers and throwing people out of windows, to land in a sea of paper sheets upon which their fraudulent "studies" about autism and everything else are printed. Perhaps we're getting closer to such an event, as the CDC, FDA and NIH continue to lie and suppress the facts of what this Covid-19 injection is doing, while turning a deaf ear to the maimed victims who made the mistake of trusting television doctors and their government. There are certainly millions of good Americans who want to see these criminals put to death.
Are you paying attention, media, politicians, public health parasites? (January 26, 2022)
* * *
I watched a very important 20-minute video last week, a "zoom" discussion which featured Reinhard Fuellmich, who holds both German and American citizenship, I believe, Dr. Wolfgang Wodarg, a German, two other doctors, British and German, and reference to Michael Yeadon, formerly of Pfizer, who has put a lot on the line to show the world what's been going on. Fuellmich is an experienced trial lawyer who in the past has filed lawsuits against Volkswagen and Deutsche Bank, and more recently has filed a lawsuit against all the heavyweights like the CDC, WEF, and Gates Foundation, but he maintains that the courts are too corrupt to dispense justice, that people around the world need to rise up. He did not say what he means by "rising up." In any event, he and Dr. Wodarg claim they have detected a synchronized system – "an experiment within an experiment" – whereby Pfizer, Moderna and Johnson & Johnson, in coordination with each other, take turns testing certain batches of the Covid injection, to see how efficiently they can kill or maim – in other words, deliberately creating a small number of highly toxic "hot lots" (discussed on pages 139-141 in my book), whereas most batches are not manufactured to be harmful, at least not in the short term. Yeadon estimates that only one in 200 batches are hot lots, but that means tens of millions of people around the world have already received these extremely dangerous shots. The sequence numbers assigned to each lot give the game away, they maintain. Although the graphs shown in the video were difficult for me to follow – and I'm not big on graphs and statistics to begin with – I found this presentation convincing. All the people in this video are careful and rational, not sensationalist types. In fact, the practice of experimenting with vaccines of different potencies, knowing that some are very dangerous, has long been routine practice in the vaccine cult.
If this is true, it means that a network of Jews, working in collusion with each other at Big Pharma, the CDC and FDA, as well as those in the mainstream media, which has reported none of this, are performing human extermination experiments such as the world has never seen. Of course genocide is an old game with them – not all of them, and not even most of them, but quite a few of them. Read the Old Testament some time – or just the first five books. Gentile psychopaths like Bill Gates and Anthony Fauci are also deeply involved, but this doesn't change the fact that, like every destructive social phenomenon, the Covid-19 injection killing machine is very kosher. Whether Fuellmich and Wodarg believe that or not, they dare not say it in Germany, where such a statement could land them in prison for five years. Here in America, at least, despite all the censorship and zombies, we freethinkers still have freedom of speech.
And by the way, don't believe any news reports regarding lockdowns or vaccinations coming out of Israel. They may be true; then again they may not. I do believe that some Israeli citizens have died and others have been severely injured by the shots, but I also think it's likely that the great majority of people there have deliberately been spared the most toxic lots, and perhaps were injected with harmless saline solution. Then again, it's also possible that the vaccine profiteers there don't care what happens to their fellow citizens, much like Bernie Madoff, the biggest swindler in history, ripped off quite a few of his fellow tribesmen. I just don't know the real situation there, and I wouldn't even hazard a guess. I only say that it would be foolish to take anything coming out of Israel at face value. (January 27, 2022)
* * *
Although I'm glad Tucker Carlson is on the air, he's really getting on my nerves. I don't know who writes his scripts, but he can never tell the truth about anything without balancing it with lies. He's worse than the "halfway boys" I wrote about earlier. On January 20th he did a six-minute spot on "shock jock" Howard Stern with some recent video excerpts inserted. Stern has been foaming at the mouth, whipping himself into a lather with his usual profanity over those who will not get the shot. He thinks it should be mandatory. He's afraid to leave his house because he thinks everyone has Covid and he's going to catch it and get a 104 degree fever if he goes out. This level of hysteria seems to be a uniquely Jewish phenomenon. It was exhibited at CNBC by another frenzied Jew, Jim Cramer, who in late 2021 called for the military to forcibly inject everyone who refused to get the jab by January 1st.
Thirty seconds into the show, Carlson ripped into Stern as a man filled with irrational hatred, saying he had declined into "a quivering mass of neuroses," and using other colorful language to aptly describe this pathetic creature. Yet he started off with the most obsequious praise, calling Stern "one of the great radio hosts of all time," "truly talented," "incredibly brave," "creative," he "defended free speech." What on earth was Carlson talking about? There is nothing funny about Howard Stern (though obviously his twenty million listeners would disagree). He is a vulgar, unfunny, untalented sewer rat. And I'm not saying there's anything wrong with bawdy humor now and then, or that there haven't been a few Jewish comedians, like Don Rickles, who made me laugh. But Stern, discussing genitals, body fluids and bodily functions, the way my friends and I did when we were twelve? That's creative? Probing the sex lives and other secrets of his guests, the private behaviors that all of us have in the bedroom and bathroom, just to "out" them? That's talent? Tastelessly using four-letter words just to see what he can get away with? That's freedom of speech?
Over the past forty years, I've listened to a cumulative total of about three hours of Howard Stern on my car radio, flipped through his decadent book with decadent photographs, Private Parts, and I honestly don't understand what people see in him. Howard Stern is to comedy what Allen Ginsberg was to poetry. There's nothing funny about the man, just an appeal to people's basest psychic levels. He obviously fits in well with the current cultural level of America. I really don't understand where Tucker Carlson is coming from, but I suppose he's done us a small favor, sprinkling a few more grains of truth into the vat of Covid-19 lies. (January 28, 2022)
* * *
If you think Jesus is going to help you out of this Covid-19 vaccine predicament, I know for a fact that he's not, so you might as well forget about it. I'm sorry if that statement offended you. If it did, please skip the next three paragraphs.
It's possible that a man of extraordinary character known to history as Jesus Christ walked the earth 2000 years ago. Then again, it's possible that he never existed. I don't know and I don't care, because it's not important. What I do know is that, even if he did exist, he's not my savior nor anyone else's. He won't be straightening out the mess the world is in, and he won't be returning to earth in a mushroom cloud to zap the faithful into Heaven, so like I said, forget about it.
It's a wild fantasy to believe that J.C. was sent to earth by his Daddy to save men from their sins and lead them to eternal salvation. Nevertheless, as the Roman Empire slowly declined, this crazy idea infected a lot of minds, and over the centuries the cult of Christianity spread throughout Europe and beyond, not because the idea of Jesus as savior made any sense, but because it was backed by deadly force. This idea of Jesus as savior has no objective reality, but only exists in the mind of the beholder. After communism, no other idea in history has caused so much blood to spill, in the way of conquests and religious wars, along with so much tyranny, fanaticism and bankrupt thinking, not to mention the vast power and wealth accrued by the Roman Catholic Church through the ages – an institution that still sits on billions of dollars in assets. And billions of people still mistakenly believe in Jesus as a divine figure.
As with Jesus, I really don't know if the Covid-19 virus, formally known as Sars-CoV-2, exists. I don't think it does. But whether it does or not makes no difference. There has been no visible evidence anywhere that people have been dying or becoming seriously ill from a new respiratory pathogen. Like Jesus as savior, it's a mind virus, a cult, a hallucination that exists only in the brains of those who believe it. The majority of people in the world, who were never exposed to Christianity, have never heard the story that Jesus is the son of God, so obviously it's not true for them. Had there been no mass media, no one would've suspected a new, dangerous virus was on the loose, because nothing unusual happened in 2020, the first year of the Covid myth. The idea was planted in their heads, mostly by television, and spread from there. And as with Christianity, the whole thing is propped up by lies, nonsense, social pressure and fanaticism – and to those who say no to the new holy water injection, the threat of force. (January 29, 2022)
* * *
It has dawned on me, at this point, that it's a waste of time trying to change anyone's mind, and that the ten or fifteen percent who know what's going on, thanks to the internet, will be a mile ahead of what I'm writing about, because so much has been happening – many good and exciting things, actually – that, having a limited amount of time to work on this blog, I can't keep up with them. Nevertheless, I want to run two things by you.
First, the truck convoy uprising in Canada – about forty miles of big rigs (some without trailers), rolling east towards Ottawa, the capital, where they are now converging. All along the route, on the side of the road and on overhead passes, ordinary Canadians, some waving Canadian flags are cheering them on. This is simply awesome! Canada, of all places: our seemingly slavish buddy to the north. Who would've thought? At the moment – and things will have developed further by the time you read this – prime minister Justin Trudeau, a piece of trash beyond description – is in hiding, and it seems there's an outside chance he's going to get the Ceausescu treatment. Boy, would that make my day.
(Above: a small part of the truckers' convoy starts to arrive in Ottawa)
What's so inspiring about this rebellion is that these are truckers, real men, not queers, not rootless urban liberals, not male adults with soft hands working next to ladies. And at some level everyone realizes that trucks are absolutely essential to our standard of living, indeed, to our very survival: there'd be no food in the supermarket without them. And aside from recognizing that these are hardworking men doing a necessary job, there's something about a huge truck that projects strength and power – and Christ, just picture tens of thousands of them in one long line driven by angry men with the same purpose in mind! A convoy of forklifts certainly won't project that image of power and command, even though forklift operators, who load and unload the 18-wheelers, are also honest workingmen and just as essential in transporting everything we need. Whatever comes of the current turmoil in Canada, we've definitely reached a turning point.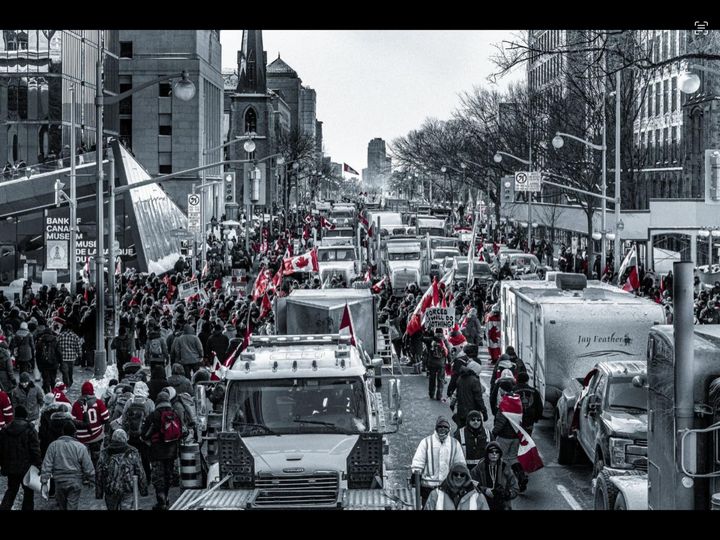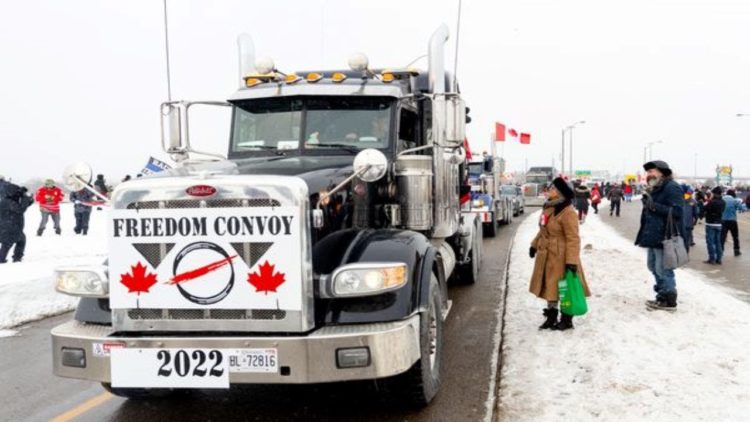 Right after watching these truckers in action, I logged on to naturalnews.com. Even though this is a worthwhile site, I haven't mentioned it for one reason: mixed in with the good material, they often include some sensationalist stuff that I can't take seriously. I think Mike Adams, who runs it, is a brave man, but I really wish he'd get his ducks in a row. Yesterday, however, they had a story with a link to the Dr. Jane Ruby Show, with an extremely important video. Dr. Ruby interviewed a Richard Hirschman, a licensed "traveling" embalmer who did not disclose where he lives and which funeral homes he works for. He explained the embalming process, which involves completely draining the body of blood. He said that in 2021 he began to notice a much higher number of blood clots than he had ever seen in his twenty years as an embalmer, but more concerning, they were often attached to white, stringy, fibrous substances, much tougher than the clots themselves, that he had never previously seen. He had spoken to colleagues who were seeing the same thing for the first time and were just as mystified. He said he had a gut feeling that the Covid vaccine was causing this, adding that no one could live for long with these things floating through their veins and arteries. There was plenty of photographic evidence – not for the faint of heart – shown on this half-hour program. One was of a clot almost as long as the leg it was taken from.
This is as real as it gets, folks – as real as the interviews with pilots Greg Pearson and Cody Flint. Horrible things are happening. Watch the video here. (January 30, 2022)
* * *
Source: End the Shots