Vow Not to Compromise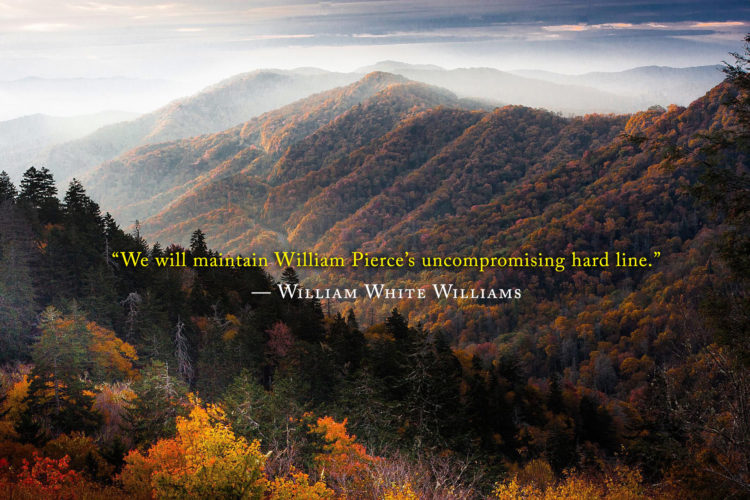 by William White Williams
and Dr. William L. Pierce
DR. PIERCE WARNED Alliance members several times in the last few months prior to his death to stay clear of the "movement," or at least to keep our Alliance a safe arm's distance from it. In the January, 2002 National Alliance BULLETIN he wrote these words:
There are members who still have a fixation on something called the "movement" rather than on the Alliance. These "movement"-oriented members see the Alliance not as unique and irreplaceable, but merely as one organization among many, all working toward the same goal. "How much stronger our movement will be" they think; "when all these organizations are united. Now we are weak because we are divided, but if we all work together we will be stronger and more successful." These members also tend to regard anyone who sticks his arm out and shouts "White power," as a "comrade" much like a fellow Alliance member.

There can be no doubt that we are weak now compared to our enemies, but we will not become stronger by "uniting" with weak or defective organizations — and that includes virtually every "movement" group. The Alliance is not only far and away the strongest and most effective of all the organizations claiming to share our goals: It is the only organization in North America that has any prospect at all for effectively opposing the Jews and their allies in the future. I say this not to disparage any other organization or individual, but as a simple statement of fact.

The Alliance became what it is today by following its own course from its inception. It never saw an opportunity to become stronger by uniting with another organization, and it sees none now. If in the future a suitable organization with which the Alliance might unite comes into existence, then we can explore the possibilities for collaboration. That is not a likely prospect however, for the following reason: If someone decides to form a new organization, instead of becoming a member of the Alliance, it is either because he actually has a significantly different goal or ideology from the Alliance or is determined to use significantly different tactics, or it is because of personal reasons.

By far the most common personal reason is egotism: He wants to have his own organization. He would rather be a phone-booth Führer, with a letterhead, a post office box, and three devoted but mentally challenged followers, than just another member of an effective organization. In that case he will have to give his organizational efforts a try and see what he can accomplish by himself.

I am not willing to compromise in any significant way the goals or ideology of the National Alliance. The examples that come to mind of other organizations or individuals that had similar goals but significantly different tactics are those that were too impatient to follow a course of legality and were determined instead to move ahead faster than the Alliance by using illegal tactics. So far such a course has not been successful, and it is my carefully considered judgment that such tactics are not likely to be successful prior to a major weakening or disruption of the government.

A member who disagrees with this rather dim view of the "movement" should choose a "movement" organization and join it, or he should start his own organization, but he should resign his membership of the Alliance.
For the guidance of members, the following is the policy of the National Office governing interactions with "movement" organizations.
• The Alliance will continue to follow its own course and will act independently of other organizations.
• The Alliance will not engage in joint activities with other organizations.
• Individuals who are members of other organizations and who are prospects for recruitment into the Alliance may be invited to attend Alliance meetings or participate in Alliance activities strictly as individuals, not as representatives of the other organization to which they belong.
• The Alliance does not comment publicly on other organizations, either positively or negatively. We do not respond to attacks from other organizations or engage in feuds with other organizations. We wish them well, but they are on their own.

In evaluating prospects for recruitment, we do not disqualify a prospect simply because he belongs to or has belonged to another organization, but we usually will regard his membership or former membership in another organization negatively rather than positively and will be especially alert for signs of hobbyist tendencies.

In general, the Alliance is not competing with "movement" organizations for members. A person should join the organization for which he is best suited, and if he is at all tempted to join a "movement" group, then he probably lacks the seriousness, maturity, and good judgment expected of an Alliance member.
I can't emphasize enough that what Dr. Pierce vowed 20 years ago as his bottom line stands today with your current National Alliance Chairman. The National Alliance will stand apart from and above the greater, big tent "White nationalist movement" that is all over the board on vital issues. Many in that "movement," in fact, are hostile to the National Alliance ideology and program for various reasons, including those stated by Dr. Pierce above. We will maintain William Pierce's uncompromising hard line on the Alliance's goals and ideology, and deal with issues that impact on our race's well-being in a foursquare manner as our Founder would have had us do.
I cannot say it better than our mentor put it to us about the sort of people we want as fellow Alliance members: "I don't want 'movement' people; I want virgins."
* * *
Source: Chairman's Commentary by William White Williams, National Alliance BULLETIN, 2017