A Russian Nationalist on the Ukrainian Dilemma, part 3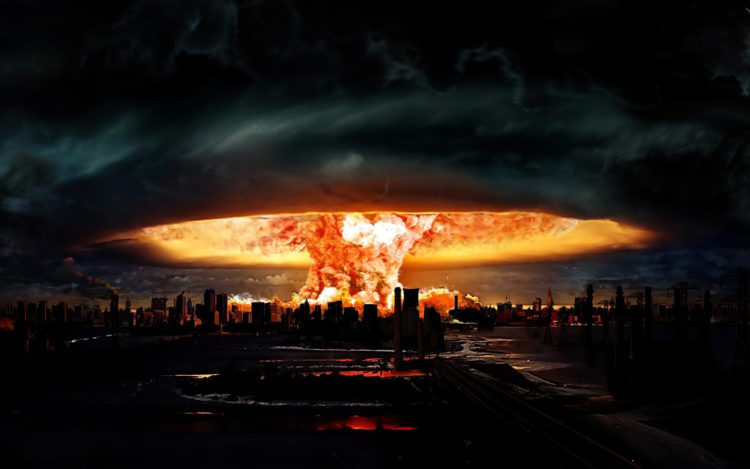 by Wolf Stoner
Putin restored Russian greatness, he restored the Russian army, and he kicked out Jewish oligarchs.
THIS PART OF David Duke's claim, above, is ostensibly plausible to outsiders, but it too turns out to be defective upon closer examination.
If someone were to judge Putin's Russia by watching RT and Victory Day parades on Red Square, he would surely conclude that Russia is again a great country that commands the land, sea, and air above and around itself. The Kremlin's propagandists did a good job of spreading this false message. Russian/Soviet rulers are masters at deception and bluff. It is enough to remember how Khrushchev threatened America with hundreds of ICBMs with nuclear warheads, when in reality there were only seven of them in the whole Soviet Union (and even those used liquid fuel and required many days of preparation before launch). But American rulers believed the bluff — and were ready to make concessions.
Most of what Putin is bragging about are developments of projects started in the 1980s. Since then very little has been done in Russia in the fields of scientific research, and all these fairy tales about swarms of hypersonic missiles with nuclear warheads and high-precision targeting is an exaggeration of what Russia really has. They echo the developments of the American military, as they always did, but they are surely a few steps behind in technology. The Soviet Union always relied on military-industrial espionage for gaining technologies. Indeed, there is very little that Soviet engineers and scientists were able to achieve on their own, and it is hardly possible that, after the destruction of the whole industry in the 1990s and the collapse of the educational system, hundreds of engineers and scientists who are able to handle such difficult tasks suddenly appeared. If it was not possible back in the Soviet Union, it is even less possible now. Inside Russia, only the stupidest people believe the fairy tale that "Russian arms are the most advanced in the world." This idea has been heavily promoted in Kremlin propaganda in recent years, but the reality is very different.
In order to prove this, I don't even need to delve deeply into the subject. I only need to remember how universities operated in the early 2000s and afterward. The whole higher education system was transformed into a marketplace where everyone could buy any degree he wanted as long he had the money for it. Certainly they continued to accept people who successfully passed exams, but the great majority of students were paid-for trash who shouldn't have received a higher education at all. This whole crowd has inundated all spheres of Russian life, including the Russian military industries, and now it is supposed that these "engineers," who were not able to pass any exam without paying a certain amount of money under the table, are now successfully developing the most advanced weapons systems in the entire world? As Joe Biden would say, "Come on, man."
The level of scientific expertise in Russian industry has fallen to such a low level that Russia can't do anything on its own. It imports everything. I am sure that all "new" missiles are the combination of old Soviet types with Chinese computer systems. Therefore, the resurgence of the Russian military industry is mostly a sham. Yes, the state invests heavily in this field, but results are less than modest. To put it bluntly, the state throws its money down the drain. The only clearly perceptible results are the luxury villas owned by the CEOs of state-run military plants and research facilities. In fact, the level of corruption and embezzlement reached such an extent that even the state itself was compelled to acknowledge it and to arrest many of those CEOs, but it didn't improve the overall situation.
But what about the Russian army itself? Even if you have no good military industry, you can have good army units, as is the case in Arab countries. Well, in Putin's Russia, the situation in the army corresponds perfectly with the situation in the military-industrial complex. They can organize excellent shows of their supposed achievements, but under scrutiny all of this turns out to be nothing more than a sham.
There are a few tens of thousands of efficient battle-ready troops, but all the other hundreds of thousands are a dead weight that drains the Russian state budget. The Russian army is the epitome of inefficiency, corruption, brutality, and all kinds of criminality. All the social vices that Russian society suffers from are present in the army on an even greater scale. The ever-increasing percentage of non-Russian Asian soldiers should also be noted. This last factor reduces the overall intellectual level of the army (many of the Asian conscripts are not able even to speak and write in Russian), and it humiliates Russian soldiers who feel ever more alienated and oppressed. The army of the Russian Federation has become a Muslim army where calls of "Allahu Akbar" have become the new normal. Groups of Muslim conscripts, acting like gangs, oppress ethnic Russian conscripts, extorting money from them and compelling them to do all kinds of dirty work, and the officers prefer not to interfere in this abysmal state of affairs. I doubt that such an army would perform well under real battle stress. If thrown into war it would look like it did in the war against Finland in 1939, if not worse.
To sum up this situation, the army of the Russian Federation is not a Russian army at all; to be more precise, it is the anti-Russian army. The idea that Putin has restored the Russian army is an absolute sham. Yes, the army is lavishly financed by Putin's system, but its combat capabilities remain as they were in the 1990s, and its ethnic composition has drastically deteriorated in the last two decades.
The best confirmation of this assertion is the fact that Putin didn't invade Ukraine in 2014. It was the best opportunity ever presented, and many experts wonder why he didn't use it. But the answer lies right on the surface: Putin's military wasn't ready for such a large-scale operation. They did what they could: They occupied Crimea and created mayhem in eastern Ukraine, always pretending that they could unleash a wholesale invasion at any moment they liked. But it was nothing more than the usual Kremlin bluff. People in the West have difficulties in understanding this mentality. Only locals can see through the Kremlin's lies. You need to live here to understand how this system works.
I am sure that Putin's present posturing at the Ukrainian border is yet another large-scale bluff. As was correctly noted by many mainstream military experts, Putin was greatly emboldened by American internal disarray and the failure in Afghanistan. American-Chinese tensions also play a role. The Kremlin's rulers see that the American military is overstretched, and they try to exploit this weakness to the utmost.
There are about 175,000 Russian troops in the regions adjacent to the Ukrainian border. This may seem like a huge force, but if we consider the length of the Russian-Ukrainian border and the vastness of the possible theater of operations, this number would be inadequate to execute a full occupation of Ukraine. This number is comparable to the number of troops used by the US-led coalition in Iraq in 2003, and all experts (including American officers who participated in this operation) note that the number of ground forces was inadequate and that they were overstretched, even with absolute air superiority. Ukraine has an area 1.5 times greater than Iraq's, and Iraq is mostly a flat desert land, while Ukraine has very diverse terrain, with forests and swamps in the north and forested mountains in the west. These areas would present an especially great challenge for any occupational force. Actually, the Kremlin would need at least 500,000 troops to subjugate the whole of Ukraine, and it is doubtful that it would be able to muster such a number of battle-ready troops (the Russian army has about 1 million men, including 350,000 in ground forces, but, as I said, most of them are of low quality). I suppose that 175,000 is the upper limit of what the Kremlin can muster. Yes, they can gather a few hundred thousand reservists, but their battle value would be close to zero in modern warfare.
Therefore, my conclusion is that Putin has no intention of escalating to full-scale war with Ukraine; rather, he tries to gain an advantage from the difficulties of the NATO-USA-EU axis.
However, as is often the case in history, the actual events can defy any plans and calculations. What begins as a bluff or limited military operation frequently turns into a big war. Rulers always tend to overestimate their ability to control the situation. At some point, events start to unravel according to their own logic, and rulers become obedient slaves of those events. It can easily happen this time, because even if the key players perceive all of this as a play, the multitude of low-level participants in these events think that they are real, and this perception could ultimately push the situation beyond the intended limit. Besides the two major sides of the conflict (Russia versus NATO), there are local players with their own interests. I am sure that Polish politicians are considering plans of counter-invasion in case Russian troops go beyond Dnepr and Kiev. For Poland, these territories are of vital interest, because these lands were under their rule for centuries. And Poland could easily play the same dirty game (Putin's style) of sending 30,000-50,000 "volunteers" (hastily discharged from the army for such an occasion) instead of its regular army. And such a factor could be of critical importance. I am sure that Polish special forces operate in Ukraine already. It means that even if NATO stands aside from the war, such countries as Poland, Hungary, and Romania are sure to participate in some way or another.
The Kremlin's strategists understand the whole set of difficulties that a full-scale invasion of Ukraine would entail, but the ultimate decision belongs to a very narrow group of people whose misperceptions could turn events in the most unexpected direction. For example, the lack of ground forces could easily be made up by the use of tactical nuclear weapons. For years the Russian generals have nurtured this idea, which promises to solve all problems. In 2014, Putin publicly said that he was ready to use nuclear weapons if any outside force would try to prevent the occupation of Crimea, which gives us a glimpse at the mentality of these people.
Indeed, the only way for Putin's Russia to successfully invade and occupy the whole of Ukraine, and to beat off all bordering countries that could try to intervene, is to use tactical nuclear weapons. If Putin decides to go to war, he is ready to use nuclear weapons. In fact, if nuclear weapons of small power are used against purely military targets, the war would not look especially different from similar NATO wars, so the simple fact of nuclear weapon use would not necessarily mean an immediate start of a global nuclear war. Even the civilian population would not be affected too severely, because modern nuclear weapons are made in such a way as to minimize long-term radiation effects. I suppose that the Kremlin's rulers could consider something along these lines.
If nuclear weapons were used, the Ukrainian army as an organized force would be eliminated in a few hours, which would enable the Russian army to advance as quickly as the speed of their vehicles allows. The key targets would be taken by air assault, and paratrooper units could be landed immediately at the western border of Ukraine to bar any possible invasion from Poland. In this case, the whole war would be reduced to the mop-up operation and the subsequent police operation of seeking and destroying remaining groups of guerillas. The main phase of the war could be completed in a week. The civilian population would be cowed by the shock of the absolute devastation produced by nuclear weapons, and there would be very few wishing to continue resistance.
Certainly, such a scenario would mean a thorough transformation of international relations, but this is another question. I doubt very much that the demoralized USA and other NATO countries would dare to stand against such an onslaught. They would likely organize an economic blockade of Russia, but it would be of little effect as long as Russia can cooperate with China.
NATO and the USA constantly repeat that they have no military obligation to defend Ukraine, so even if Russia uses tactical nuclear weapons, Western rulers can remain neutral. There is no law that would require anyone to go to war against a nation which used nuclear weapons, and the United States cannot occupy the moral high ground in this regard because they were the first in the world to use such weapons.
I think that the world is closer than ever to overstepping the unwritten taboo on using nuclear weapons. Discussions among generals in the USA and Russia about the concept of limited nuclear war have gone on for the last 20 years. In fact, in the Russian military doctrine of 2000, we already find the following statement:
The Russian Federation reserves the right to use nuclear weapons in response to the use of nuclear and other mass destruction weapons, as well as in response to a large–scale conventional aggression in critical situations for Russia and its allies.
This last statement allows very wide interpretation, so Russia can justify its use of nuclear weapons as a preventive measure against impending "large-scale aggression."
It is a fundamental departure from the Cold War concept of Mutually Assured Destruction, where both sides proclaimed that they would use nuclear weapons only in response to a nuclear attack. After the end of the Cold War, some American generals and politicians started to advance the idea that it could be useful to have a provision for limited nuclear war in case conventional forces can't achieve the desired results. The very existence of such discussions has destroyed the previous set of perceptions, and the Russian and Chinese military-political leadership reacted quickly by updating their strategies to meet this new challenge. In the long run, it should be acknowledged that it was a grave mistake on America's part to initiate such discussions. Of course, these were not true Americans, but Jews inside the American government who promoted this idea in order to open up the possibility of using tactical nuclear weapons against Iran. But the result of this Jewish-American nuclear warmongering is that the doctrinal and psychological threshold for the possible use of nuclear weapons has been lowered for the whole world.
(to be continued)
* * *
Source: Author