A Russian Nationalist on the Ukrainian Dilemma, part 2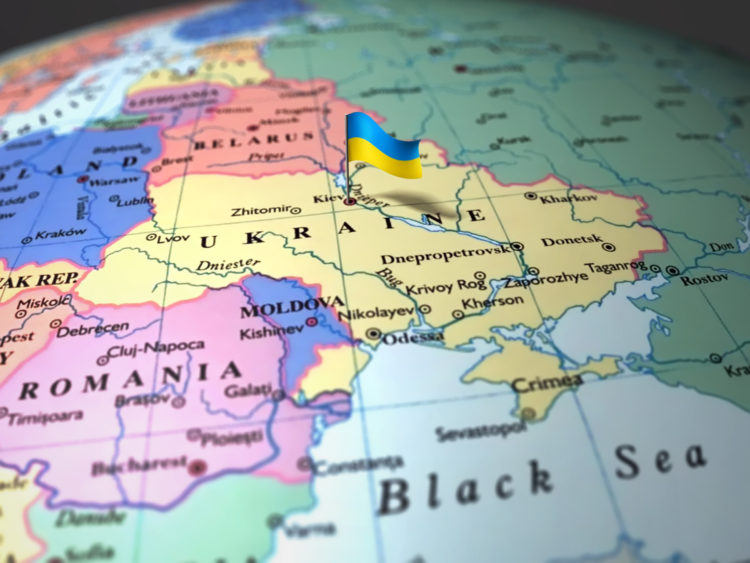 by Wolf Stoner
AS I ALREADY STATED, the main qualification of Putin's Russia in the eyes of honest White people is its struggle against globalism. The immediate military aid to Assad in Syria and the supply of arms to Iran are the obvious facts in support of this perception. I fully concede on these points that the Kremlin is hostile toward the Western system. It is undeniable. If before the Syrian war it seemed that the anti-Western rhetoric was mere posturing, the participation of Russian troops in the Syrian war has dispelled any doubts about the seriousness of Putin's hostility towards the USA-NATO-EU axis.
But what does this actually prove? Could this be considered the result of a genuine anti-globalist stance from Putin's system? Hardly so, considering the overall Soviet legacy of communist globalism. Of course, David Duke's arguments are built on the idea that the modern Putinist system is something fundamentally different from its Soviet predecessor, but hard facts tell us otherwise.
First of all, the whole Soviet governmental and administrative structure, from top to bottom, was never even dismantled. All those people who occupied positions before the collapse of the USSR remained in their positions for many years afterward, and they have since been succeeded by their children and grandchildren. But even more important is the fact that the special services, the military, and security units, which are the backbone of the modern Putinist regime, use a de facto hereditary system. The children of people serving in these systems go on to serve in the same units, and this has been true since the 1930s.
So what does this mean? It means that the grandchildren of those who massacred Polish officers in the Katyn Forest are now serving in the highest positions of the Russian special forces. It should also be noted that, a few years ago, the State Duma passed a law which forbids anyone to reveal this kind of information. This means that if someone has found out that such and such officer is the grandson of a known mass murderer from the Stalinist era, the person who disclosed such information is liable for criminal prosecution. Additionally, state archives containing such information are sealed, and this information will probably never be revealed to the public (at least not for as long as this regime remains in power).
But why is this so important? Is it really relevant that the progeny of the Stalinist criminals occupy high positions in the Putinist army and law enforcement agencies? Yes, the events of recent years have shown that this fact is of key importance. The behavior of the Russian military and special forces consistently show signs of their continuity with their Soviet predecessor organizations. We can see the predominance of the same cannibalistic mentality and utter disregard for human suffering and moral considerations. They are remorseless under all circumstances, be it the downing of a passenger airliner or the torturing and killing of Ukrainian POWs. They are ready to commit any atrocity and instantly deny all responsibility. They have learned the Cheka modus operandi perfectly, and they are intent on using it as widely as possible.
To sum up this subject: The whole military and law enforcement system of the Putinist government is the continuation of the oppressive Soviet apparatus. Even the symbols are the same. Most of the units of the Russian army continue to use the same Soviet emblems with the red star. You will not find any crosses from Tsarist times in the modern Russian army.
Another aspect that needs to be pointed out is the fact that, up to the present day, the whole set of Soviet paraphernalia remains in place in civil life as well. All Russian cities, towns, and villages continue to have their own Lenin and Marx streets and squares. Hundreds of Russian cities, towns, and other geographical locations continue to bear the names of other Soviet rulers and notables. Only a few were renamed in the immediate wake of the Soviet collapse, but nothing was renamed on Putin's watch.
Each time concerned groups of citizens demand the return of an historic name to their town or street, the authorities use their favorite excuse for denial — the grounds of economic considerations (substituting the names would incur unplanned expenditures in local budgets). However, everyone here understands that this is only an excuse. They change names of geographical locations whenever they want (in East Prussia they didn't leave a single German name in place), yet when Russian people want to remove the name of some Communist murderer and replace it with an historic name that was used before, they kick them out, citing the "economic unviability" of such changes.
People in the West don't know this fact, but it illustrates perfectly where the true allegiances of the Putinist system lie. They are all too keen to "preserve the historical legacy of our Soviet heroes," but they grimace in revulsion at any suggestion of honoring the real Russian heroes of pre-Soviet times. Certainly thousands of Lenin's statues remain in place, and any suggestion of removing them is met not only by denial, but by threats of prosecution for "reviling the historical legacy of our country." It should be noted that in 2014, when Putinist gangs retook some places that were held by Ukrainian forces, they immediately restored Lenin's statues there. This speaks volumes about who these separatists are. They are certainly not Russian nationalists, as they are sometimes erroneously portrayed in Western media. They are neo-Communist gangs that are ready to commit any crime if required by their Kremlin masters.
So yes, the Kremlin is engaged in a struggle against Western ZOG globalism, but not as an enemy of globalism; rather, the Kremlin is a competing globalist government. The Kremlin's Eurasionist visions sharply conflict with NATO's visions, and therefore some kind of collision is inevitable. Putin needs Ukrainian, Belarusian, and Kazakhstani territories for his Eurasian empire to be a viable project. The Russian Federation as it is now cannot project enough power to achieve the Kremlin's long-term goals. Therefore, Russian invasion of the territories in question is inevitable. The only alternative is the eventual collapse of this Putinist quasi-empire, because it is not able to bear on its own the weight of multiple battlefronts against all its enemies. The Kremlin needs new territories, additional resources, and a higher population to implement its ambitious imperial projects. Therefore, it is useless to discuss who is guilty in the recent events in Ukraine and Kazakhstan. It is absolutely irrelevant whether those events flared up because of natural causes, or because they were "helped" from the outside. In any case, the Kremlin uses these situations to advance its geopolitical agenda, much like the USA does.
We can now see that the "Kremlin versus NATO" conflict is a real thing, but we need to understand this conflict more deeply than most people do. We should not oversimplify it to the level of "good against evil" regardless of which value is assigned to each party, because both sides are ultimately hostile to our vision and our long-term goals. At the same time, it is justifiable to adopt a tactic of favoring the underdog to prevent the dominant force from gaining the upper hand. The triumph of NATO would be utterly undesirable because it would allow it to spread its poison further afield.
Proceeding from this assumption, the limited conditional support of Putin's quasi-empire in its struggle against NATO is justifiable and understandable, but it should never grow into wholehearted support of this cannibalistic neo-Communist system.
However, this view is relevant only for American and other West European nationalists. The perspective of eastern European nationalists is very different. Ukrainian, Polish, Baltic, and Finnish nationalists cannot adopt this outlook for the simple reason that the Kremlin's threat to their lands is of an immediate nature. They do not have the luxury of looking at these events as independent observers from the other side of the pond. In the case of any conflict, they would be the immediate targets of the Kremlin's strike. Therefore, all abstract geopolitical notions lose their weight and seem like something silly and utterly irrelevant.
Yes, the liberal West is the problem; yes, it spreads the mental poison of multiculturalism; yes, Hollywood destroys the minds of the young generation. The east European nationalists know all of this, and they don't need to be reminded. But this situation could be compared with the following example: If you are faced with two prospects — one, your house being burglarized by a Negro thug, and, two, your investments being decimated by Jewish stock market profiteers, you are sure to be more concerned with the first threat, even if it might entail less actual losses than the second one. The reason is simple: If a Negro robber comes into your house, there is a great possibility that he will not only take the valuables in the house, but also kill all its inhabitants just for fun. It is why Americans are more concerned with Negro robbers than with Jewish banksters, and it is why Ukrainians, Lithuanians, Latvians, and Estonians are much more concerned about the prospect of being annihilated by their eastern neighbor than they are about being corrupted by Hollywood.
I repeat, it doesn't mean that east European nationalists don't understand the true essence of Western liberalism. I know some nationalists from the Baltic states who express this idea precisely in this fashion. Therefore, it is utterly unjust when some American conservatives/traditionalists berate east European nationalists for their supposed "narrow-mindedness" in their hostility toward Putin's regime. Actually, the problem is the narrow-mindedness of American conservatives who can't understand the intricacies of east European affairs. The peoples of eastern Europe have suffered too much under the Kremlin's tyranny to engage in any kind of geopolitical games with it. They know who they are dealing with and they don't want a repetition of the same historical mistakes. They are ready to unite with whomever in order to deter the most potent threat from the east, and it is hardly reasonable to blame them for this position. This position could seem an unbalanced one for a distant observer, but it is the only possible one for those who live next door to Putin's Russia.
Here is my advice to all American racially aware people: Don't be dismissive toward east European nationalists, because they have much greater practical experience than you do. The history of eastern Europe is far more complicated and undulating than the linear history of America. They are bound to have a deeper understanding than you about matters concerning their relations with Russia, especially neo-communist Russia. Therefore, it makes far more sense to believe them about what really happens in eastern Europe (especially in Ukraine) than to believe the refurbished Soviet propaganda loudspeaker RT.
But this doesn't mean that all nationalists should immediately saddle their horses and gallop onto the Ukrainian frontline, either. Far from it. As I already said, the situation there is very complicated.
David Duke is right to point out the heavy influence of Jews in Ukraine. The fact that a Jew is the Ukrainian president illustrates this fact perfectly. Jews have had a significant role in Ukraine for centuries. Many prominent American Jews actually originate from Ukraine, and the Jewish community in Ukraine has very strong backing from American Jews, especially those in the US government. At present, Jews consider Putin's Russia as an unpleasant nuisance that interferes with their agenda, and so they tend to support its enemies. What we see in Ukraine is the temporary alliance of Jews with local people in the face of the common enemy (but, as we well know, Jews are apt to change alliances on the fly and open the gates of besieged cities). But this loose alliance doesn't mean that "Ukrainians fight for Jewish interests," as David Duke's listeners are likely to infer.
All those who closely monitor the Ukrainian situation know perfectly well about the Jewish outcry concerning the Azov Regiment (the former volunteer militia unit that was later incorporated into the overall interior ministry's structure). The United States provides hardware and training for the Ukrainian military but the US Congress has added a provision that excludes the Azov Regiment from this aid program. Some American Jews even demanded the disbanding of this unit altogether. But Jews are not that powerful. They cannot go against the whole nation. Therefore, for the time being, they must tolerate even such a phenomenon as the Azov Regiment. Why not, if it fights against the nascent Kremlin's empire? I repeat: The majority of Jews now consider Putin's state as their enemy.
This is mainly due to an aspect of their historical perceptions. They hate any greatness, even in such a perverted form as Putin's quasi-empire. Some Jews are firmly behind Putin's state, and rightly so, because Putin has proved to be a staunch ally of local Jewish interests. But Jews tend to like social chaos; they don't like order, even in the form of Putin's police state. In order to freely operate, Jews need the total corruption of society and of the state apparatus because it allows them to arrange all kinds of illegal interactions. But any viable empire needs to establish some kind of order, a set of strict rules for all its subjects; otherwise, any imperial project is bound to fail. This fact is crucial in understanding the divergence of interests between Putin and Jews. Putin will do every possible favor for the Jews, but they will not forgive his attempt to establish a more or less orderly society, even if Jews themselves occupy an elevated position in this society. Their hatred of social order surpasses all other considerations. The relations between Putin and the Jews very much resemble the relations between Trump and the Jews. It is the same story of unrequited love.
But let us return to the question of whether Western nationalists should go to war in Ukraine or not. After weighing all the pros and cons, I can give a definite answer to this pressing question. The answer is an unconditional no. This is not because the Ukrainian cause is unworthy, or because Putin is our "friend," but because it is too dangerous in present political circumstances to reveal ourselves so openly. Our enemies are more or less in control of the overall situation in Europe and other White countries, so if an all-too-obvious oppositional group emerges, especially if it is an armed group, they can easily eliminate it. They would find any convenient pretext for this.
As such, I suspect that the Ukrainian Jews in government will eventually decide to eliminate the Azov Regiment and some other units with obvious nationalist inclinations. There are some very convenient ways of doing this. One is that they could simply put these units in a position where it would be easy for Russian separatist forces to annihilate them. I am almost certain that Jews have been considering such a setup for years, and it would be especially easy if large-scale fighting resumes. Yet another alternative is to disband those units altogether, with the arrest of all those who oppose this measure. If Ukrainian nationalists started to fight back, it would give a pretext for an "anti-terrorist operation" in which all the nationalist fighters could be physically annihilated.
In any case, the Azov Regiment is a sitting duck that can easily be eliminated when its enemies decide to do this. Therefore, I warn all our people not to join this or any similar units in Ukraine. It is too dangerous and of very little use. On an emotional level our sympathies should be with them, no question about that, but even nationalists in Ukraine itself should refrain from going to the front line. It is an unnecessary sacrifice. There is already an army for this. Instead, hardcore nationalist forces should do their main work inside the country. There is sure to be a real internal war inside Ukraine proper because there are too many traitors with pro-Soviet, pro-Putin sympathies. Additionally, there are many who sincerely love the EU and all this globalist crap. They, too, are the problem. All of these are the enemies of any nationalist movement, and at some point this mutual enmity is sure to flare up. That will be the time to act. Combined arms warfare is the business of army units with career officers and conscript soldiers. I am against throwing nationalist volunteers into such meat grinders. It can only weaken our forces. Therefore, my advice for Ukrainian nationalists is to withdraw all valuable assets from the front line and concentrate on work inside Ukraine proper.
To sum up everything covered so far, we have established that Putin's regime is a real enemy of the Western globalist forces, but that doesn't mean that Putin shares our ideals and views. We can sympathize with some of the actions and rhetoric of the Kremlin, but we should never forget that the long-term vision of Putin's regime is opposed to our vision.
(to be continued)
* * *
Source: Author