A Russian Nationalist on the Ukrainian Dilemma, part 1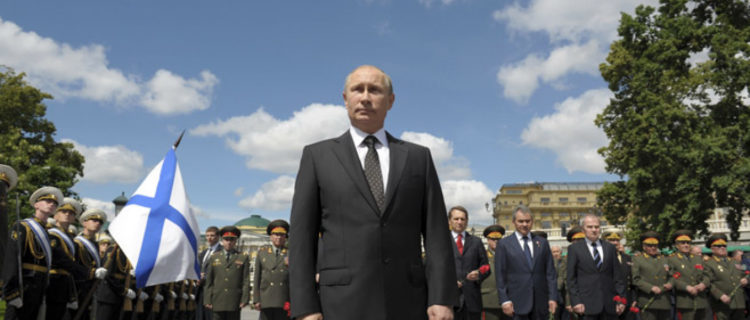 This comprehensive piece by Russian nationalist Wolf Stoner should be read by all who want to understand the underlying causes of events now taking place in Ukraine and Russia. The tens of millions of White victims of the Kremlin's terror in the last century cry for this truth to be said. There should be no mistake: Putin's state is the continuation of the USSR. Everyone thinking otherwise is utterly delusional. This article deals with this topic in detail.
by Wolf Stoner
THE UKRAINIAN CONFLICT HAS divided not only Russian society, but also the nationalist movement in Europe. Even American conservative/traditionalist groups have been affected by the division on this question, although the topic has no immediate relevance there.
Some racially conscious people tend to support Putin's Russia because it struggles against the globalist hegemony of the USA-NATO-EU monster, and this seems to be logical if looking from far away. People who think this way construct the following logical chain: The USA-NATO-EU axis tries to impose its will on all the countries of Eastern Europe, which would lead to the spread of the rotten liberal ideology in those lands and strengthen the position of this globalist monster. Russia, being opposed to this spread, is then automatically considered as good. The reasoning of David Duke and other pro-Russian Western nationalists goes along this logical line, and even further: David Duke asserts that Putin's Russia is a traditionalist country that rejected Communism and returned to its former path; he says that Putin cares for ethnic Russians, and that he acts to revive family values and combat moral corruption.
Here I need to systematize the basic assertions of those who support Putin:
Putin opposes the globalist system and opposes NATO expansion and its aggressive wars throughout the world; therefore, Putin is a force for good.

Putin restored Russian greatness, he restored the Russian army, and he kicked out Jewish oligarchs.

Putin is a Russian nationalist; he cares for ethnic Russians; he helps Russian families to have more children; he opposes the harmful moral influence of modern Western culture; he restores Russian traditional values.
I would name them "David Duke's arguments." He often repeats these points.
First of all, I should state that I have no intention of mocking or disparaging David Duke's position. He has his rationale and he can argumentatively defend his position. But this is why it is all too important to clarify this matter. David Duke is very respected, and his words are believed by many White people in America and throughout the world. Therefore, his delusions (or misconceptions) instantly become the delusions of many other people.
I can't even say that Duke is not right in his assertions. I suppose that many people remember when, in the 1990s, some photos of Mars were obtained that showed objects resembling the Egyptian pyramids. However, when more precise images of the same place were taken a few years later, it became obvious that the previous images were mistakenly interpreted. This sort of thing happens frequently. You look at something and imagine something else because it is far away and poorly discernable. The situation is aggravated more if there is something you want to see, and so your imagination starts to adjust reality to your preconceptions.
David Duke most likely falls victim to this set of factors. Therefore, this question needs to be addressed in detail.
Putin as a Fighter-Hero Against Globalism
This assertion is the strongest and the most buttressed by facts. Everyone can see that Putin is serious in his opposition to NATO and US hegemony. This factor alone is bound to create a substantial following among Western conservative/traditionalist audiences as they become ever more alienated from the rulers of their own countries. After suffering from the flagrant injustices of the rotten pseudo-liberal regime over the last few years, the normal White people of the West look at Putin and see how he fights against the same enemy. Inevitably, many start to relate to Putin as an ally, even as a hero-savior, or at least they rationalize this position by using the well-known maxim "the enemy of my enemy is my friend."
All of this makes sense. I wouldn't even call it a delusion. It is a correct evaluation of the overall geopolitical situation. Yes, the West is ruled by the most hostile forces (to the White race), and therefore, any opposing center of power should be perceived as a possible ally. This position could also be reduced to Patrick Slattery's idea that "it would be better to be ruled by the Chinese than by Jews." This makes sense, and the same logic applies to Putin's Russia, especially because Russia, in any imaginable scenario, will not end up with control of the whole world. Therefore, Russian regional dominance as a counterweight to the USA-NATO-EU axis of evil is perceived as something good, and I would even agree with this to some extent.
But the devil is in the details. What seems obvious and logical from far away turns out to be something quite different when you examine it closely.
Yes, Putin's Russia opposes the West, but it is not an opposition to the rotten liberal system; rather it is an opposition to Western civilization as such. If you look closely at internal Russian propaganda, you can perfectly see how it concocts the image of the "Western enemy" based on historical examples. Their whole propaganda narrative can be reduced to the following sequence:
They were always our enemies; the Teutonic Order invaded Russian lands, but it was beaten off by our saint-prince Alexander of Novgorod. Afterward, the Poles used our temporary weakness to rip away our western lands. They even captured Moscow, but they were ultimately expelled by our glorious militiamen under Minin and Pozharski.

Later, Napoleon tried to annihilate Russia. He burned Moscow, but he too was expelled, his whole army was annihilated, and our Russian army pursued this vile scoundrel up to the gates of Paris.

Greedy Austria-Hungary and imperial Germany assaulted our Slavic brothers in the Balkans, and we were compelled to defend them in 1914.

Then, in 1941, for no reason at all, the fascist German hordes surreptitiously gathered at the border and invaded our peaceful country, which was absolutely unprepared for any war. But our glorious people were able to stop this onslaught, to turn back the tide, and to annihilate this awful enemy.

Thus Russia saved the world from the "brown plague." But the West remained ungrateful and simply resumed its vile activities, resulting in the Cold War. They wanted to annihilate our peaceful country and surrounded us with hundreds of military bases and nuclear rockets. Again we were compelled to spend all our money on arms and to ruin our economy.

After the collapse of the USSR, the Western bankers [it is never said that they were the Jewish criminals of both local and Western extraction] robbed Russia, plunging it into abject poverty.

But finally, in 1999, the glorious savior came to power and began to restore Russia to its former greatness. The vile West, as always, does everything it can to undermine our peaceful country and to destroy our people. Therefore, we should once again spend all our money for arms and be ready to sacrifice our lives in mortal combat for Mother Russia.
This foul manure is fed constantly from all TV channels, newspapers, government-sponsored Internet sites, and textbooks. From the earliest age, Russian children are inculcated with this oversimplified and distorted version of history. The West is always presented as the main source of hostility toward Russia, as the main reason for all our problems, so it is little wonder that the majority of the Russian population adopt this view as their own. They can't even understand that it was implanted into their heads.
Once again, I need to emphasize that Putinist propaganda creates a hostile image of Western civilization itself, not of the modern "liberal" system. They try to persuade the local audience that the West was always something evil.
To really understand this fact, you need to hear what is said by those who believe in this propaganda most fervently: the people who answered the call to arms and joined Putinist separatist forces in the war in eastern Ukraine. I have listened to many of their ravings. These simple creatures express the essence of the propaganda that was implanted into their heads without the colorful wording of the official narrative that conceals the overall hostility of the message. They say it in a straightforward and unmitigated fashion.
Here are some of the mental pearls of those people:
"We will go to Kiev, to Berlin, to Washington, if needed; we will destroy this source of evil once and for all."
"They always wanted to annihilate Russia, but they will fail, because we will destroy them."
"Let's turn their own countries and cities into battlegrounds as they did with our land."
"They intentionally downed their own passenger airliner to smear our country."
"Western intelligence agencies send their spies and saboteurs to provoke unrest inside our country. Therefore, we need to identify and destroy them."
But the most precious pearl of this insanity does not even come from those drunken vagabonds on the Donbas front line, but from the Kremlin's main TV propagandist, Dmitri Kiselev, who stated the following in 2014: "Russia can turn the USA into a heap of radioactive ash if needed." He said this with a straight and serious expression, without a hint of humor.
Knowing all this, what would you expect from the overall population of Russia? They are programmed with hate toward Europe and the West, and it needs to be repeated yet again: the Kremlin cultivates hate toward the White Western European civilization, not toward the rotten pseudo-liberal post-WW2 regimes, which the Kremlin itself was instrumental in creating. The Kremlin never criticizes the post-WW2 global system that resulted in this present-day mayhem. On the contrary, the Kremlin essentially strives to restore the situation of 1945, when Soviet Russia and the USA controlled the world.
Therefore, when you hear the Kremlin's criticism of the West, you should clearly understand what it really means.
The Kremlin's external propaganda is somewhat different. In Soviet times, the two main social segments to whom this propaganda was addressed were poor workers and non-Whites. The former were incited to hate anyone above them in terms of income, and the latter were incited to hate all Whites because they were "the main cause of all the miseries of non-White peoples."
Yes, it was Soviet propaganda that first started this whole set of lies about supposed White wickedness and racial injustice. Soviet agents started to spread this message in the USA in the 1920s. What we see now is the advanced result of this work.
But now, the Kremlin's propaganda has been modified to suit the changed circumstances. They can see that the White middle class and working class are the most potent disaffected groups of society. Therefore, RT propaganda tries to utilize this potential for its own nefarious ends. Lavrov's seemingly pro-White remarks, and some RT commentaries dealing with anti-White crimes, are tailored to attract millions of White people. (By the way, Lavrov has an Armenian father and a mother of unknown origin, supposedly Jewish; the identity of his mother is kept secret, which in itself is very suggestive. It is known that she worked at the Soviet Ministry of Foreign Trade, which was notoriously infested with Jews.)
The method is very simple but very effective. First, they tell some truth, win the minds of the people, and then they feed them any lies they need to advance their immediate political goals. The perfect example is the situation around Ukraine. RT has won wide sympathies among White people in the West and uses this now to spread lies about the war in Ukraine. The thought process of an average man goes as follows: "If they tell the truth about our dire internal situation, they tell the truth about those affairs too; they are a reliable and trustworthy source." The method is simple, and it works.
But this does not mean that the Kremlin has abandoned its old-fashioned hate-mongering against the White race. Not at all. They continue to incite non-Whites against White people. It is done in a more subtle way, but it is done all the same, and all the time. You can discern it simply by carefully analyzing RT programs. They present the whole situation in the West as if it is the result of the inherent ineptitude of White people, of the traditional Western aristocracy. Certainly, they never mention the fact that the ruling elite in Europe and the USA has been completely replaced by alien elements. They very adroitly turn the main victims into the main villains, while the Jews are beyond all reproach; they are always victims and never villains. In this regard, RT turns out to be no better than CNN or any other fake news source. RT propagandists sometimes provide useful incriminating information against their fellow criminals who rule the West at present, but we should always remember that this is nothing more than a conflict between two rival gangs. There is nothing for us to relate to in either of these camps.
(to be continued)
* * *
Source: Author