Those Racist Hardy Boys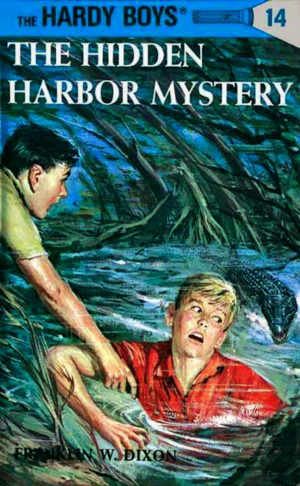 by David Sims
EARLIER, I reported that the second book of the Hardy Boys series of adventure/mystery novels for boys, The House on the Cliff, contained a scene in which Frank Hardy (the older brother) became suspicious about something and declared that he smelled a "Nigger in the woodpile." This was once a very common American expression for finding out or suspecting that something hidden is amiss or causing a problem.
Now I am happy to report that the 14th book in the series, The Hidden Harbor Mystery, contains a long passage in which Black youths are honestly and correctly portrayed as trouble-makers who get their thrills by attacking White people.
The good part begins on page 191 of the original text in hardcover.
The physician was talking to a lady. As she swung around, alarmed by the confusion, the boys recognized her as Alice Fox. At the same moment she saw the limp figure being borne into the room.

"Why — it's Mrs. Rand!" she gasped. "What has happened?"

"She has been badly hurt, " Frank explained quickly. "A club of negroes took Ewald from the Rand house as a lark. His mother was wounded when she tried to protect him. We have no time to lose."

They put the injured woman on a sofa.

"I'll look after her," said the doctor curtly. "You fellows get out and see if you can find Ewald. This is serious. There is no telling what may happen. I'll call the police."
The main bad guy in the story is a male Black named Luke Jones, who is responsible for causing a feud between two families. But the other Black characters are forthrightly presented as thugs, who at one point try to lynch Frank and Joe Hardy and another person. Also, at another part of the story, these Black "youths" put Chet Morton, all tied up, into a boat which they set to float out to sea.
The candor and accuracy with which race is treated in this book is refreshing. The book echos the old advice that White people once gave each other: "Around Blacks, never relax."
You can buy a copy of The Hidden Harbor Mystery on eBay. Be sure to get the edition published in 1954, and not one released in any later year, as it might be a rewritten, "woke"-sanitized, and substantially inferior story.
Perhaps, given what author "Franklin Dixon" says in the book, we should add to our lexicon of animal social groups:
cattle : herd
chimps : troop
Blacks : club
Despite prattling nonsense and falsehoods about racial equality, most White people behave in accordance with the truth, which is: Blacks are violent and vulgar by hereditary predilection and no amount of ostensibly remedial socialism will ever change their basic nature.
* * *
Source: Author