The Almighty Dollar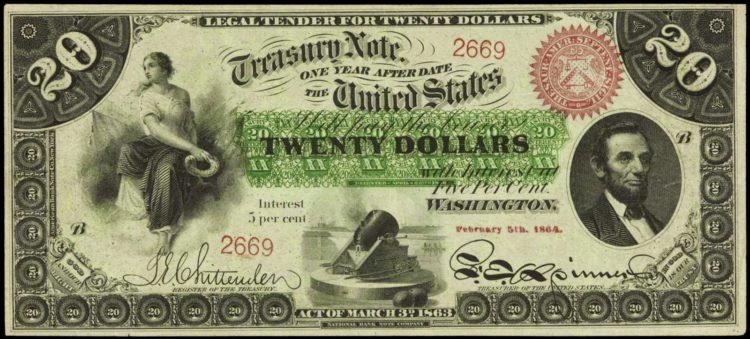 by Thomas W. Handford and Robert G. Ingersoll
AINSWORTH SPOFFORD — says Col. [Robert G.] Ingersoll — gives the following facts about interest: "One dollar loaned for one hundred years at six per cent., with the interest collected annually and added to the principal, will amount to three hundred and forty dollars. At eight per cent., it amounts to two thousand two hundred and three dollars. At three per cent., it amounts only to nineteen dollars and twenty-five cents. At ten per cent., it is thirteen thousand eight hundred and nine dollars, or about seven hundred times as much. At twelve per cent., it amounts to eighty-four thousand and seventy-five dollars, or more than four thousand times as much. At eighteen per cent., it amounts to fifteen million one hundred and forty-five thousand and seven dollars. A twenty-four per cent., it reaches the enormous sum of two billion, five hundred and fifty-one million, seven hundred and ninety-five thousand, four hundred and four dollars." One dollar at compound interest, at twenty four per cent., for one hundred years, would produce a sum equal to our national debt.
The Farmer in Debt
Interest eats night and day, and the more it eats the hungrier it grows. The farmer in debt, lying awake at night, can, if he listens, hear it gnaw. If he owes nothing, he can hear his corn grow. Get out of debt, as soon as you possibly can. You have supported idle avarice and lazy economy long enough.
Own Your Own Home
There can be no such thing in the highest sense as a home unless you own it. There must be an incentive to plant trees, to beautify the grounds, to preserve and improve. It elevates a man to own a home. It gives a certain independence, a force of character that is obtained in no other way; A man without a home feels like a passenger. There is in such a man a little of the vagrant. Homes make patriots. He who has sat by his own fireside with wife and children, will defend it. Few men have been patriotic enough to shoulder a musket in defense of a boarding-house. The prosperity and glory of our country depend upon the number of people who are the owners of homes.
* * *
Source: an excerpt from Ingersollia (1899)