Woke Praetorian Guard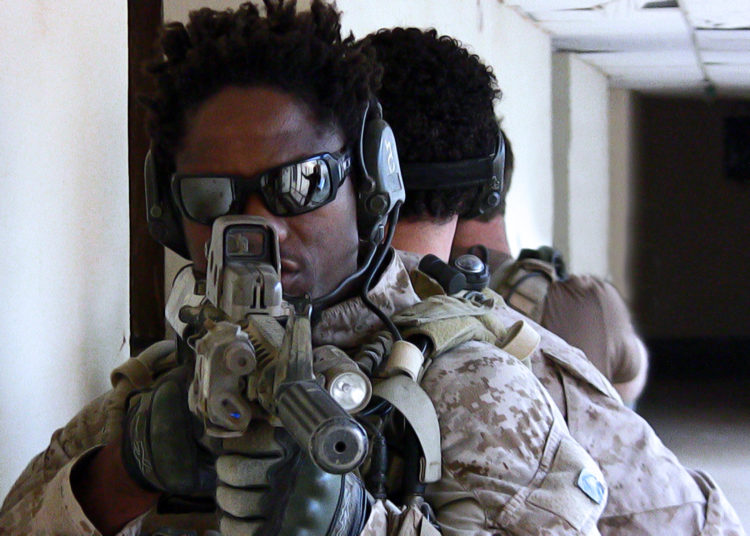 by Douglas Mercer
THE ROMANS had their Imperial German bodyguards; the Americans have their Blacks and Browns. The enemies who rule Washington want a fully "woke" Praetorian Guard.
The reason for the woke military and the purging of patriotic Whites from the ranks is this: They know that in ten years time they will be calling on soldiers to fire on civilians, and they don't want the soldiers to balk.
As the Washington regime prepares to make total and final war on America's founding people, they are creating a military full of janissaries, hired aliens who will show no compunction when the order to fire comes down.
For all of its buffoonery, the storming of the Capitol scared the ruling class witless. It gave them every indication that when the time comes, White Americans will not go gently into that good night. They were hoping for something more placid, but now want to be prepared for every contingency. This is why they want a military with no fealty whatsoever to America or its heritage, one that will be fully "reliable" when push comes to shove. And push always comes to shove. In short, they want hired guns who will arrest, beat, torture, and kill anyone including your daughter and grandmother when ordered to do so.
Along with suppressing Whites, it's also about manufacturing consent among non-Whites. The ruling class can read demographic charts as well as the rest of us, and see which way the wind is blowing. In a one-third White nation they know that a military perceived as being a last bastion of throwback Whiteness is not going to cut it. In order to continue to have popular support, they think they need to be out front and in the vanguard of Rainbow America.
Most crucially, though, they now know that to finally vanquish Whites will require some kind of shooting war. And someone has to be counted on to pull the trigger during those fateful days.
* * *
Congressman Steve Cohen is a "grandson of Jewish immigrants from Lithuania and Poland."
Representative Steve Cohen (D-Tenn.) said this week that white male members of the military could be a threat to the country, as most members of this demographic did not vote for Joe Biden for president.

Cohen made the remarks on CNN, after anchor Jim Sciutto asked him about former members of the military and law enforcement who took part in the January 6 breaching of the Capitol. Sciutto asked the congressman if he believed members of the National Guard assigned to protect the Capitol during the inauguration of Joe Biden pose an insider threat.

Cohen replied that 75 percent of the Guard protecting the Capitol are in the class that would be the large class of folks who might want to do something.
This is why they want to purge the military and law enforcement of White people. They know that, despite the years of saturation-level indoctrination, there is still a large class of White people who know that something is deeply wrong with America now. Most of them can't quite say what it is, and those who do say what it is get it mostly or entirely wrong — but the instinct is still there.
There is still a large class of people who want to restore dignity and pride to a once-great White nation. Likely a large segment of that large class wouldn't put it in those terms, but time may have a way of changing that, especially with National Vanguard and the National Alliance sending out a signal of hope 24 hours every day. Which is why the likes of Steve Cohen are scared witless, and want to head us off at the pass.
* * *
Not too long ago a meme was circulating comparing Chinese and American fighting forces. The Chinese video showed a young man as a fierce warrior, and showed his dutiful wife who he left behind. It's about love of people, love of nation, and the undying will to protect the homeland. All in all, it was incredibly stirring. Then came the American version: Instead of blood, soil, strength, and sacrifice, the Washington regime gave us us cartoons showing that the military's focus was being open to aliens and perverts — there was a lesbian, the requisite Browns, Blacks, some homosexuals, and an odd assortment from the rank underbrush of fifty years of license and immorality. "This is the story of a woman who is running your Patriot Defense Missiles. It begins in California with a little girl who was raised by two moms…."
And it ends in disgrace and utter destruction, if not checked in time.
* * *
Mark Milley is the ideal Establishment stooge. Unfortunately he is also the Chairman of the Joint Chiefs of Staff, thus is the highest-ranking military man in the land. Recently he was grilled by a Congressman as to why, at West Point, the students are taught the woke "philosophy."
Milley took extreme umbrage at the question. He said that West Point is a university, after all, and that students there needed to be "widely read." He said we need to keep an "open mind"; that he read Mao and Marx and Lenin and that doesn't make him a communist, though one has his doubts on that score. He said that he wanted to know about "White rage" and then he forcefully and angrily tapped his index finger on the table and said he wanted to know why the Capitol was stormed by people trying to "overthrow the Constitution."
Notice he listed several communists; if he really had an open mind he'd have read Hitler. It came out recently that Milley and his crew of nonentities were actually worried that the Capitol storming would be another "Reichstag fire," and that Trump would come up with some kind of Enabling Act to seize total power. Really? By that point, or at any point really, they couldn't see that Trump was just a big bilious bag of bluster, badgering, and braggadocio? — that in the event he'd fold and retire to Jew-ridden Florida like a meek a little lamb?
Trump as Caesar? The very notion is risible. But this, apparently, is what the big brains in our military were wetting themselves over.
"The entire corps of cadets was required to report to Michie Stadium for your address as Superintendent and to hear from a cadet panel. In this session, an active duty female colonel described to the Corps how she become woke to her white privilege, and felt guilty for the advantages of her race. At this same assembly, white police officers were described as murderers with no context or court documents provided to corroborate the anecdotes of police brutality.

"In February of this year, West Point required cadets to attend at least one seminar on Diversity, Equity, and Inclusion. Waltz noted slides from one of the seminars included the titles 'White Power at West Point' and 'Racist Dog Whistles at West Point.'"
The motto of West Point was duty, honor, country. Now it is diversity, inclusion, equity.
* * *
A scathing new report commissioned by members of Congress has claimed that the Navy's surface warfare forces have systemic training and leadership issues, including a focus on diversity that overshadows basic readiness skills.

"I guarantee you every unit in the Navy is up to speed on their diversity training. I'm sorry that I can't say the same of their ship handling training," said one recently retired senior enlisted leader.
Readiness? The invasion is sponsored by the same Establishment that controls the military, so who needs readiness? If the real goal, however, is to be prepared to battle the "number one domestic enemy," resurgent "White supremacy," then readiness is better than ever.
* * *
Mark Pitcavage, a "specialist on far-right groups" for the Anti-Defamation League, said to the House Armed Services Committee last year that
the number of extremists in the military has increased due to a higher percentage of white supremacists attempting to join the military and the development of white supremacist leanings among some currently-serving personnel.
Lloyd Austin is that big fat frog-faced Black man who leapt over surely more qualified White candidates to become the Secretary of Defense under Resident Biden. Any White man with his meager abilities and non-existent cognitive endowments and qualifications would be out in the boondocks harmlessly in charge of nothing important, but this Affirmative Action baby still has the gall to claim that being Black has hurt his career. Being Black is your career, sir; you rode that horse all the way to the bank. He recently took to the Jew show 60 Minutes and it took him less than one to make this absurd claim:
Former Army general Lloyd Austin rose from West Point to the top ranks and today serves as the first African American Secretary of Defense. He said "the bias in the military is at every level. It doesn't change as you climb the ladder. You still get the doubts. There are always going to be people, because of what you look like, that will question your qualifications." During his confirmation hearing for the role of Joe Biden's secretary of Defense, Lloyd Austin vowed to root out white supremacy and right-wing radicalism in the ranks.

"The job of the Department of Defense is to keep America safe from our enemies," he said. "But we can't do that if some of those enemies lie within our own ranks." Austin, the first Black Pentagon chief, took his first major step on Wednesday toward addressing the issue, ordering a "stand down" across all branches of the armed forces over the next two months for leaders to have a "deeper conversation" about the problem. "It comes down to leadership." …Austin calls for purging the US military of so-called "far-right elements and racists."
Getting White people to stand down and submit meekly is their goal. They didn't pick a time-serving Negro for any other purpose.
* * *
According to one report reasons for removal included social media which contained references to former president Trump's slogan MAGA (Make America Great Again), KAG (Keep America Great), displaying American revolutionary paraphernalia such as the Gadsen Flag, and membership or association with Turning Point USA and Young Americans for Freedom, pro-Trump Republican organizations for college and high school students). Also, reasons for removal include NRA membership.
When Turning Point USA is going to be considered "White supremacy," clearly this is a an elastic concept. Turning Point USA hires Blacks, perverts, and anyone else from a marginal group they can find in an attempt to fall over themselves bending over backwards to prove their "anti-racist," pro-"diversity" bona fides. They, on occasion, however, do have a good word for America; and most of their members are White. That's enough, in our paranoid, hate-filled enemies' eyes to condemn them utterly. Now imagine what they think should be done with you.
On another tour stop, Turning Points USA's Charlie Kirk smugly condemned a bronze-skinned, black-haired, brown-eyed student wearing an America First hat of harboring a racist idea for asking how we can maintain our conservative ideals when immigrants, and the attendant demographic changes, overwhelmingly favor the Democratic Party. Elsewhere, Kirk speculated that there are anywhere between 30 and 40 million people worldwide who should be given a chance to come to America. The idea of importing enough people to populate a second California doesn't faze Kirk.

"Fly from Chicago to Reno and tell me that we're full," he said, chastising those of us reluctant to surrender our spacious skies and amber waves of grain for smog and urban sprawl. But just in case he didn't sound inclusive enough, Kirk also declared his support for unlimited merit visas." America, he insisted, ought to hand out an "unlimited amount of 'genius' visas," and there "should be no limitations on EB-5 visas."
Why, it's as if he's heaping up his own funeral pyre. Or ours at any rate. Fat lot of good it does him.
* * *
No, they want a military of mercenaries and janissaries, hired guns to do their bidding, to do their dirty work.
Congresswoman Jackie Speier was born in San Francisco, the daughter of Manfred "Fred" Speier. Her father was an emigrant from Germany who "was the son of a Jewish father." When Speier opens her Jewish mouth it really makes you wish she'd decided to stay in Jonestown.
There have been some concrete measures proposed. Jackie Speier chair of the House Armed Services Military Personnel Subcommittee, called on Biden, Austin, and Director of National Intelligence Avril Haines to direct agencies to screen the social media histories of military recruits and those seeking security clearances for extremism.

"The screening processes for service members and others in critical national security positions are outdated," Speier wrote in a letter last week. "Modernizing background investigations to bring them in line with these new realities should be among your highest priorities as the new administration commences." Implementing such a policy could go a long way toward keeping white supremacists and other radicals out of the military. But, of course, it doesn't fully address the threat posed by those already in the ranks. "There wasn't one being in the room that didn't agree that there was] a problem," Kirby said of Austin's meeting with Pentagon leaders Wednesday.
New realities? The new reality is our race enemies have inched just a little bit closer to dominance. And perhaps the last few inches they've traversed have been crucial. Talk about a sea change; thirty years ago the rank and file on the left hated the FBI, the military, and the police; these positions have been to a large measure flipped; it's true the left still hates the police, but the military is coming around to them; and the right is rightly skeptical or outright hostile towards the military and police.
This epochal reversal alone tells you who's now the New Boss.
* * *
A Democratic-proposed domestic terrorism bill calls for ongoing surveillance and training of federal, state, and local law enforcement as well as the uniformed services against the threat of infiltration of far-right extremists. It won't stop there. Democrats plan several more bills along the same line.
No, it won't stop there. "Avril Haines was born in New York City to Adrian Rappin (Adrienne Rappaport) and Thomas H. Haines. She grew up on the Upper West Side of Manhattan. Haines identifies with her mother's Jewish faith." Of course she does.
US Representatives Jennifer Wexton (D-VA) and Jackie Speier (D-CA) sent a letter to Director of National Intelligence (DNI) Avril Haines urging the adoption of new security clearance guidelines to prevent individuals who are involved in hate and violence-based extremist groups from accessing classified information. Wexton and Speier are asking the DNI to update current guidelines to directly screen for threats from white supremacists, neo-Nazis, and other far-right fringe groups.

As an elected official in Virginia, Wexton has been keenly aware of and disturbed by the recent spike of anti-Semitism and neo-Nazism that was tragically displayed during the events in Charlottesville this summer. Wexton understands that Israel fills a crucial need for a Jewish homeland, and she is dedicated to strengthening the US-Israel relationship. Wexton is committed to maintaining vital foreign aid to Israel.
Altogether a rather shabby shabbos goy.
Washington, DC – Congresswoman Jackie Speier (CA-14), Chair of the House Armed Services Military Personnel Subcommittee, in a letter sent Friday called on President Biden, Defense Secretary Lloyd Austin, and DNI Avril Haines to issue an executive order identifying white supremacy and violent extremism as a critical threat to national security and directing agencies to screen for violent extremism on social media for all incoming military recruits and those seeking government security clearances.

Perhaps most importantly, DoD and the U.S. Government at large are not effectively screening service members and other individuals with sensitive roles for white-supremacist and violent-extremist ties. Social media platforms, such as Facebook, Gab, Parler, and 4Chan, are frequently used by domestic terrorist groups to recruit members and plan violent attacks, including in some of the above cases involving military service members. These platforms were crucial for planning the January 6, 2021, domestic terrorist attack upon the U.S. Capitol and the Congress of the United States.
Then the inevitable procession of horribles:
In June 2020, an Army soldier was accused of plotting with a neo-Nazi group to ambush his own unit.

That same month, an Air Force sergeant with ties to the extremist boogaloo movement was charged with murder for killing a federal security officer in Oakland, CA.

Three current or former service members with ties to the boogaloo movement were charged that month with planning a violent attack on peaceful protestors in Las Vegas.

As the investigation continues into the recent attack on the Capitol, there are increasing reports of rioters with military affiliations.
In Germany in 1933, just before the National Socialists ascended to power, the Weimar military conducted a secret simulation to find out what would happen in the event of a civil war. Their conclusion? That the military would be overrun in a matter of days. Of course this caused them to wet themselves.
The ruling class in today's "America" are determined not to make that mistake.
Boogaloo is the stuff of their nightmares. Racially conscious Whites with determination even more so. It's what gun control is really all about. It's what the purges are really about. They want to make themselves impregnable, permanent, unindictable, irremovable. And they want the citizens who pay their bills to be helpless and doomed. All while maintaining the pretense of "democracy."
* * *
And enough is never enough with them ("never again," don't you know) — so they cherry pick our august history:
With the Union desperate for manpower, African Americans served honorably in the US Army during the Civil War, mainly in United States Colored Troops Regiments. Post-Civil War, Congress directed the Army to recruit and field two black infantry regiments and two black cavalry regiments, resulting in these soldiers comprising 10 percent of US Army end strength from 1870-1898.
How depraved was the Union Army that they enlisted Negroes to fight their racial kindred?
In 1948, President Harry Truman issued an executive order eliminating racial segregation in America's armed forces. The legacy of the buffalo soldiers helps ensure America fields much more effective, capable military forces because it leverages recruits from diverse, rich backgrounds. Different backgrounds lead to different perspectives and cognitive diversity, and cognitive diversity tends to generate better solutions and outcomes.
Truman was the man who vetoed the strict immigration controls of the McCarran-Walter Act, which veto was then overrode by Congress. In making his veto, Truman claimed he was personally privileged to be aware that no less a personage than that itinerant vagabond Jesus of Nazareth wanted America to be overrun by Third World race aliens.
From the buffalo soldiers to ongoing efforts to recruit underrepresented segments of the U.S. population, the National Defense Industrial Association continues to honor all Americans' service with its strategic focus on workforce and innovation. NDIA will continue to look for ways to honor the rich history and heritage of all Americans who have courageously served in the nation's military.
This is lies and propaganda dressed up as "history." Teaching it to our people, especially our young people, is an act of war.
* * *
It's been proven over and over: Diversity is not a strength. But this will never stop them from shoveling up the s___.
"My experience as a soldier and commander tells me diversity is much more than a force multiplier; it is essential at every level of mission effectiveness."

"We must continue to relentlessly pursue diversity to realize better outcomes. US national security needs access to every idea and innovation to ensure it operates with a competitive advantage in every scenario. Embracing and strengthening inclusion helps ensure America's military remains ready and able to excel in any contingency."

Esper said that in June, he issued a memorandum directing a three-pronged approach to the initiative against discrimination, prejudice and bias in all ranks of the armed forces.
Never forget that Joe Biden said that it was the looming threat of White supremacy which formed the impetus for his Presidential bid in 2020.
Chief of Naval Operations Adm. Michael Gilday on Tuesday defended putting Ibram X. Kendi's book How to Be an Anti-Racist on the Navy's list of books every United States sailor should read, under grilling from Republican Study Committee Chairman Jim Banks (R-IN) at a House hearing. Cotton also takes issue with the Navy's Second Fleet book club reading White Fragility by Robin DiAngelo, which he says makes the claim white people are inherently racist. The book was the topic of a reading club in the Second Fleet last July.
The Romans had their Imperial German bodyguards; the Americans have their Blacks and Browns. The enemies who rule Washington want a fully "woke" Praetorian Guard. The reason for the woke military and the purging of patriotic Whites from the ranks is this: They know that in ten years time they will be calling on soldiers to fire on civilians.
And they want no hesitation when the order comes through.
* * *
The White Commander then began to light into his charges, to berate them. He was almost screaming. And he seemed to be reveling in pouring opprobrium on them. He demanded that they be outraged at these "racial slurs" — or, he said, they should "get out." He shouted that they should be, must be, "outraged as human beings" — whatever that means. A snarling and scornful look was in the White Commander's eyes. His voice and demeanor dripped with contempt and hatred for his own cadets.
The brigadiers, the colonels, the generals, and all the officials with them looked intently at the cadets, somber, grave; they all seemed to be wordlessly saying that the most heinous of all crimes had been committed: racism.
* * *
Source: Author