Why Do People Do What They Do?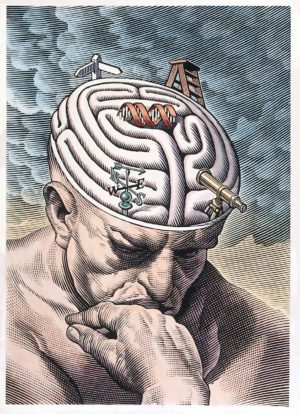 It may be hard for truly idealistic men and women like National Alliance members and the better kind of NV readers to understand, but the vast majority of humans, especially a majority of those who pose as idealists, are not motivated by moral principles, but by raw calculations of gain and loss.
by David Sims
PEOPLE IN GENERAL don't behave in accordance with moral principles. When they occasionally do, it's because people are watching and expect them to, and there's usually a punishment in wait for them if they don't. But mostly principles aren't much of an influence on human action.
What does have the influence is the human desire for status, approval, sexual opportunities, sociopolitical power, and material gain.
Let's imagine that a truly principled observer could look us over and judge us. He'd see a bunch of lawyers telling lies, either to exonerate a guilty client or to betray an innocent client. He'd see teachers of civics and of history teaching lies to their students. He'd see police officers doing cruel and illegal things to citizens because they were ordered to, or else withholding protection from those deserving of it, again because they were told to. He'd see judges viewing video evidence and then brazenly lying about what they saw. He'd see office workers ganging up on some disfavored employee in order to get him fired.
Our principled observer would see that most people, most of the time, acted as if they were in a rioting mob, except in slow motion with the thermostat turned down to room temperature. Most of the time, neither rationality nor morality nor idealism determines human action, except perhaps in a laboratory conducting a scientific experiment.
And even scientists will lie to protect their grant money.
By far the most common motivation for treason is the traitor's desire to keep his regular paycheck. A threat to the paycheck will make most people pretend to believe every lie they ever heard.
* * *
Source: Author