Dietrich Eckart — Poet, Mentor and Martyr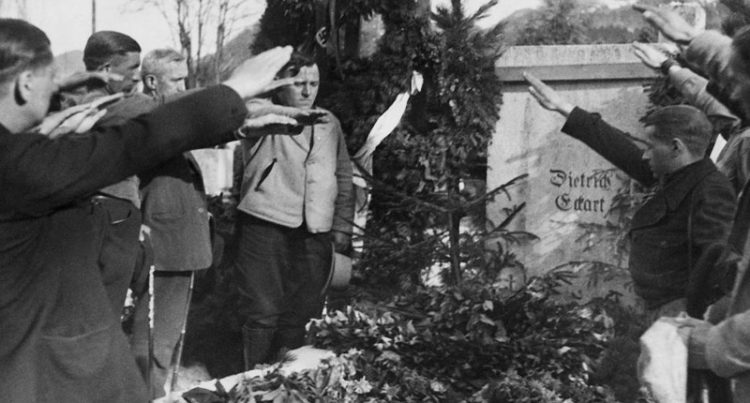 A SPECIAL ROLE in the early days of the National Socialist movement was played by the poet and dramatist Dietrich Eckart, who came from Neumarkt in der Oberpfalz.
He joined the Deutsche Arbeiter Partei in the summer of 1919. The pinnacle of his philosophical work was the German translation of Henrik Ibsen's screenplay Peer Gynt, which was published in 1912. Eckart was also author and editor of several anti-Semitic periodicals; for example the weekly Auf gut deutsch, which was published since 1919 with support of the Thule Society. Dietrich Eckart, who discovered Hitler in September 1919, became for the latter a friend and teacher. He was with his radical nationalistic, anti-democratic and anti-Semitic views Hitler's ideological example. Dietrich Eckart was already in 1920 convinced that the Jews needed to be destroyed.
Eckart got into trouble when in 1923 the public prosecuter decided during the period of the Republic of Weimar — which was then very common — to indict the writer for defamation of character in connection with his anti-Semitic attacks on the then Reichspräsident Friedrich Ebert. The immediate cause was an in Bavarian dialect worded pamphlet, "Miesbacher Haberfesttreiben 1922", in which Friedrich Ebert was presented as an instrument of Jewish, anti-German interests. Dietrich Eckart did not appear at the session of the "Leipziger Staatsgerichtshof", which took place on 12th March 1923, so an arrest warrant was issued. At the end of April it became clear that the "Leipziger Kriminalpolizei" was looking seriously for Dietrich Eckart. Adolf Hitler ordered armed SA-men to stand guard in front of his house, but the arrest just seemed to be a matter of time.
Christian Weber, one of the few intimate friends of Adolf Hitler and one of the early fighters of the NSDAP — he had the party number 15 — knew a retreat. He had a friend, Bruno Büchner, who was leaseholder of the guest-house Moritz, the later Platterhof at the Obersalzberg above Berchtesgaden, with whom the wanted Dietrich Eckart could be bided. The Chief of Staff of the SA, Ernst Röhm, secretly organized the inconspicuous relocation of Dietrich Eckart to Berchtesgaden A few days later Adolf Hitler visited him there. During the war, in the year 1941, he remembered this first day at the Obersalzberg in one of his nightly monologues.
"I only knew that he was in a guest-house above Berchtesgaden. One day in April I asked my younger sister to come with me. I told her that I had a meeting with a few gentlemen there and left her in Berchtesgaden to go up with Weber on foot. Now it went sheer uphill and the road seemed interminable. It was just a narrow path in the snow. 'Have you gone mad?', I said. Does that road never end? Do you think that I am going to climb the Himalaya; that I have become a chamois? Good heavens, could you not find a better place? If there is still a long way ahead of us I prefer to return, pass the night down below and climb the mountain tomorrow by day.' He: 'We will be at the top soon.' And suddenly I saw in front of me a house: the guesthouse Moritz. 'Do we have rooms there?' 'No, but since there are no shoes standing outside, we can go in.' It had not been possible for us to announce our arrival by phone. 'Let us see if Dietrich Eckart is there.' We knocked at the door. 'Diedi, Wolf is here.'' He opened the door in his night-shirt. We greeted each other. He was very touched. 'What time do I have to get up tomorrow morning?' He: 'At 7.00 AM is best.'' — I had not seen anything of the landscape yet. The next morning when I woke up, it was already light. I went to the veranda and looked outside. What I saw was marvellous. The view of the Untersberg was indescribable.' Eckart was already downstairs. Frau Büchner smiled friendly and Eckart introduced me to the Büchners: 'This is my young friend, Herr Wolf.' No one suspected that I was the notorious Adolf Hitler. Eckart stayed there as Doctor Hoffmann."
After the failed march on the Feldherrnhalle, 9th November 1923 — to which Eckart had encouraged Hitler — he was taken into custody the next day. Because of his heart-disease, he was released shortly before Christmas. On 26th December 1923 Dietrich Eckart died at the age of fifty-five. He was buried on 30th December at the mountain-cemetery in Berchtesgaden. Until this day one can find his impressive grave-stone there.
After 1923 Adolf Hitler glorified his mentor and "fatherly friend", as he called him in public, by erecting the privileged room of Dietrich Eckart as a memorial. Nothing was allowed to be changed in this room. Only a bust of the visionary poet was added. The Brown House in Munich was also added. When, in 1938, a start was made with the renovation and extension of the Platterhof — the plans foresaw a house with 150 rooms and 300 beds as well as all other necessary rooms — the old buildings were torn down except for the Dietrich Eckart room, which was not touched. The new Platterhof had to be built around this room.
Eckart was a key-figure in the early rise of Adolf Hitler. Later he was frequently called a seer, because he had already announced Adolf Hitler as the future Führer of the Germans at the beginning-stage of the Movement.
Hitler, who regarded himself as a disciple of Dietrich Eckart and expressed in a homage that Eckart "has written poems as beautiful as Goethe", honoured him as no other of his old fighters. In his book Mein Kampf he called him literally a martyr and dedicated the closing sentence of his book to him:
And among them I could also reckon that man who as no one else has devoted his life to the awakening of his, of our nation in writing, poetry, thought and finally in the deed: Dietrich Eckart.
* * *
Read Eckart's brilliant work, translated by Dr. William Pierce, Bolshevism from Moses to Lenin.
* * *
Source: Daily Archives