Portland's "Secret" Antifa Tent City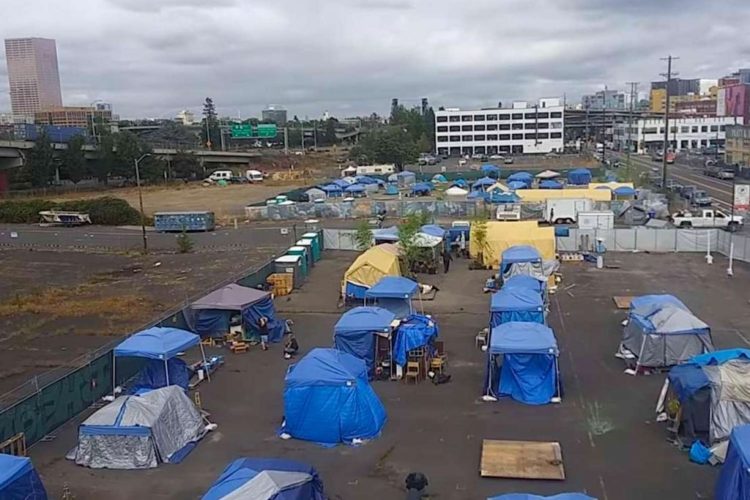 by David Sims
IN PORTLAND, Oregon, there are several blocks near the intersection of Hawthorne Bridge and Burnside Bridge, both of which span the Willamette River, that have no permanent buildings, where Antifa/BLM rioters have been squatting for several months. They live in tents and under tarps that are mostly blue in color.
The city government has set aside these areas for their use and has provided these leftist troublemakers with services, such as portable toilets and privacy screening fences.
The enemy anarchists include many people who have become addicted to illegal narcotics and who are thereby controlled, through their addiction, by their leaders, who supply the drugs. The leaders, however, are paid for their "work" by rich subversives, like the Jewish billionaire George Soros.
The rioters use their tent town as a staging area. It is where they go to sleep during the day, so that they can emerge upon the streets refreshed and ready for another night of arson, vandalism, assault, robbery, and murder. Some of their number stand watch, using slingshots to shoot rocks at passersby to discourage investigation.
It might be the case that this kind of tent city is a common adjunct to cities that have been suffering from frequent Antifa/BLM riots in recent months. How strange that the Jewish-controlled "mainstream" media haven't been telling us all about them.
On the city's public records, this tent town is a "homeless encampment," and, once upon a time, that's what it might have been. But now it's serving as a base of operations for violent leftist rioters. An observer of the area reports that two large buses can usually be seen near the tents, taking the leftists to whatever part of the city they want to riot in. The residents of Portland are required to pay, through their taxes, about $2 million per year in maintenance costs for this "housing project."
Press California reports:
The encampment is entirely funded by the city of Portland, with start-up costs stated as $214,097 and ongoing support for all three sites expected at $155,488 monthly, N.A.W.C. said.

Mayor Ted Wheeler and Portland City Commissioner Jo Ann Hardesty are said to be the key backers of the "temporary outdoor shelters" such as this one, located at the Star Park Festival Lots by the Hawthorne Bridge Junction.

Two large buses are often nearby.
The maker of the video below stated that, after he filmed the rioters, "I was chased approximately four or five blocks by two men, one with a slingshot." He chooses to remain unidentified for his safety.
* * *
Source: Author and Press California