No Apologies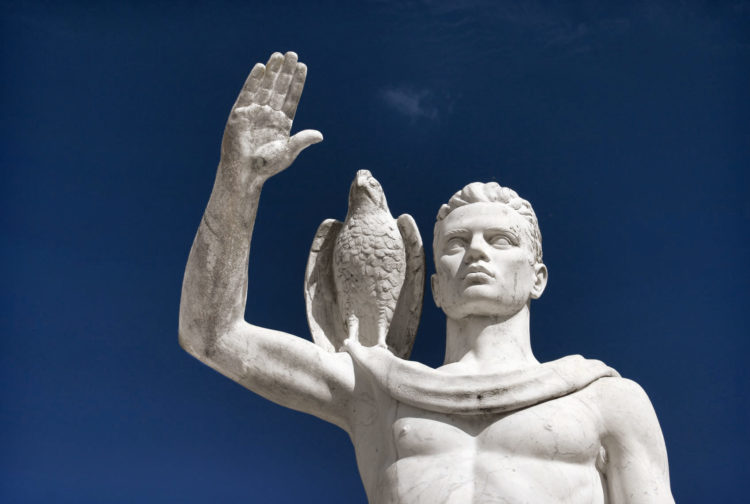 by Angelicus
IT IS 4.30 am here in Buenos Aires, Argentina, the city that once was
known as the Paris of South America — famous for its elegant avenues,
beautiful parks, and buildings, mostly in the French style of the late
19th century: a city that reflected the beauty and greatness achieved
by Western civilization, a product of the genius of the White man.
The city, like the country, is a shadow of itself. Worse than that, it is
a disgusting caricature of itself. Because, like all the great cities
and nations created by the White man across the world, it is rotten to
the core.
Western civilization is terminally ill. Consumed by a cancer
that has been growing unchecked since 1945. It has taken only 75 years
to destroy what it took more than 1,000 years to build.
I listen to American radio broadcasts and I am outraged, because I wish I was there in the US, where the battle has begun. I wish I could take part in it. Instead, I am here in a country totally controlled by the enemy where there is no First Amendment, where I cannot say a word against our enemies without being censored and arrested. The feeling of impotence that I feel is only equaled by the bitterness it causes me.
In my own country, I cannot speak as I do here.
I am not going to apologize for being White, for being proud of my people and my ancestors.
I said the battle has begun, and you may ask: What about the war? Well, the war started a long time ago, and most of us did not notice it, mainly because it was not declared. If I had to put a date to it, I would choose 1789. In that year the murderous scum of Paris, the predecessors of the BLM mob, overthrew the decadent monarchy and proclaimed the reign of "Liberty, Equality, and Fraternity." With this, they destroyed the pillars of European society and civilization based on the natural order.
Liberty? An illusion sold to the ignorant masses who simply changed their old master — an ineffective, weak monarch but who was a benevolent, decent man — for a new one represented by a group of bloodthirsty fanatics who hated everything noble and honourable.
Equality? A ridiculous idea. There is no equality in Nature. Men are good and evil, mediocre and brilliant, generous and selfish — and so on. And then there are racial differences. To try to reduce them to one type or form is not only impossible, but it is also insane.
Fraternity of all, regardless of race? Another stupid idea. We are very much part of the natural order, like all creatures: We are ruled by a natural instinct that, for our own good and for the preservation of our type, makes us look for the company of our own kind. There is a natural antagonism between different races and tribes. Those who ignore these eternal rules of Nature do so at their own risk. To try to deny this fact is not only insane but criminal. This does not mean that we must be at war with our neighbours; we just have to keep to ourselves and take care of our own.
In the France of 1789 the Jews, our mortal enemies, achieved their cherished goal: to become fully-fledged citizens with the same rights as their hated Aryan counterparts. The nature of the so-called democratic government supported by them fitted perfectly with their objectives.
The system required the existence of political parties who pretended to represent the people, but they only served to fulfil the ambitions of their leaders and their masters. Political parties need lots of money — and what group was in the position of supplying that money?
Napoleon, who, like most of his generation, had been educated in the ideals that led to the French Revolution, spread the liberal/democratic poison all over Europe. Everywhere his armies marched, the "ghettos" were destroyed and the Jews became citizens. Soon, they not only monopolized banking but also began to buy newspapers. The dams were broken.
Let's jump to today, 2020. Shortly after the death of George Floyd on May 25, many cities of the US were submerged by a wave of violence that, to the average lemming who believes everything the media tell him, was inexplicable. Instead of our beloved African-descended "equals" peacefully assembling and protesting the "injustice" they decried, there was (and still is) an orgy of destruction and widespread looting, reflecting the deep hatred of most Blacks for White people, who, according to them, are responsible for everything that is wrong with the world.
This explosion of violence and hatred did not really happen because of George Floyd's death. Instead, it was the result of something that started a long time ago. The process began in the 1930s when a group of subversive Jews arrived in the US from Germany. These creatures, all of them fanatical Communists, came with the purpose to put into practice certain theories they had developed in the 1920s. According to them, the Marxist revolution would only triumph by winning the hearts and minds of the middle class. This could only be achieved through the education system, and, thanks to their Jewish brothers already ensconced in high positions in America, they managed to rapidly advance into teaching and administrative posts in some of America's most prestigious universities.
Their goals were:
A) the destruction of the family by undermining the authority of the father and instilling in children hatred and contempt for authority;
B) the creation of a "guilt complex" based on the supposed crimes committed by the White man against the "downtrodden people of colour," especially the slave trade (which, they naturally failed to point out, was carried out mainly by Jews);
C) the destruction of racial identity and pride, which they achieved by misrepresenting historical facts and creating the idea that "racism," the "worst sin of all," was something typical of the White man, who should be ashamed of it — and inculcating the belief it is permissible for a non-White to be proud of his race and his ancestors, but not a White man;
D) undermining normal marriage and reproduction among our race by promoting homosexuality and all kind of perversions under the name of "tolerance" — the birth of the "LGBT movement";
E) arousing resentment and hatred against men among women, by telling women that they have been "oppressed" by their men for centuries and not-so-subtly suggesting that they "fight back" — the birth of "feminism."
These were the cancerous Jewish seeds of what we now know as Political Correctness. They have borne the fruits of the death and destruction we see all around us.
As the Jewish cancer grew and spread, new legislation was created in its image. It began with the "desegregation" of the schools followed by "affirmative action" and the many laws against "discrimination" and "hate speech."
We have been betrayed by the people who were supposed to represent us and defend our interests. So many of our brothers and sisters have been either brainwashed by the enemy, or are cowards unable to protect their own families. But victory does not always favour the big battalions. Our history presents many cases of almost impossible victories achieved by sheer courage.
I have been aware of the evil nature of the Jews since I was 16. Now I am 60 years old, and, in spite of the enemy's lies and crimes, I remain true. I believe in the justice of our cause more strongly than ever. I don't think I will personally see the final victory, but that doesn't matter. What matters is to remain faithful to our ideals and to our people. We owe it to all the heroes who came before us who fought and died for our race and never surrendered — like the glorious defenders of Berlin in 1945. There is no escape from our responsibility. Sooner or later, the enemy will come for us. All of us.
Let's remember Oswald Spengler's soldier of Pompeii who never fled his post, never failed to do his duty, even though it meant certain death. The war is not over. Our people can still win. Our people can still live.
* * *
Source: Author