Traits We Want in National Alliance Recruits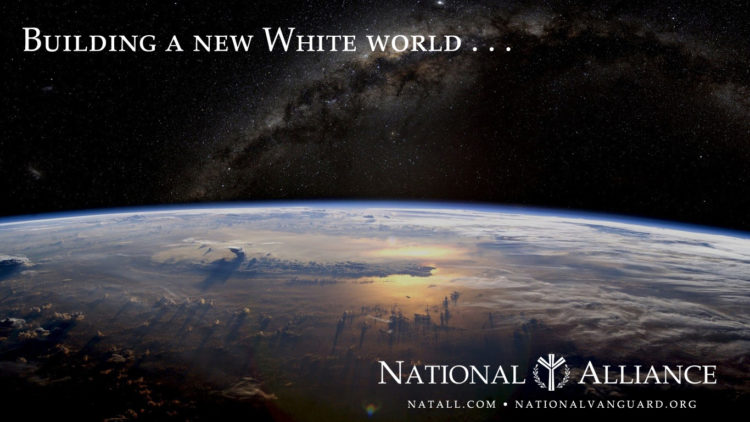 by Dr. William L. Pierce
and National Alliance staff
WE WANT recruits who strengthen the National Alliance, who give us enhanced capabilities for accomplishing our task. In other words, we want recruits who themselves are strong enough to give us some of their strength, who are skilled enough to use some of their skill for our purpose, who have enough resources of one sort or another to increase our resources. It is important to keep this in mind, because the easiest people to recruit are often not the ones we want. People who are down and out, for whatever reason, may seek us as a source of strength for themselves, but, except in extraordinary cases, we do not seek them. We are not a club, and we are not a charitable organization. People who do not have their own lives in order and under control are not likely to be able to help us with our task.
The most important single thing we look for in a potential recruit is character: inner strength, self-discipline, and self-respect coupled with good values. In a young person especially, who has not had time to acquire skills or accumulate resources, character may be the most important indicator of the potential value the person has for us. Intelligence and personality are also indicators the recruiter should consider, especially in younger people: The person who can grasp concepts easily and solve problems will be more valuable to us than the slow learner, just as the person whose personality traits make him likable and easy to work with usually will be more useful than the person with a "difficult" personality.
In a mature prospect, the record of personal accomplishment will tell the recruiter much about the desirability of the person as a member. The person who has been successful in his studies, his trade, or his profession will not necessarily make a good member, but on the average he is a better prospect than the person of mediocre accomplishment. Good members come from all walks of life, from nearly every trade and profession, in both sexes and all ages, and from a wide range of socioeconomic levels. We find them where we can. But if we are looking for young recruits we are more likely to find what we want on a university campus than in a pool hall, and if we are seeking more mature recruits we are more likely to find good ones in a professional association or among the donors to an organization dedicated to controlling immigration or preserving the Second Amendment than in a line outside the unemployment office.
We want members who are morally upright, physically healthy and attractive, and mentally bright and stable, and who display the behavior and habits which usually lead to success in life.
Contraindications
Just as the recruiter should be looking for the traits of character and personality the National Alliance needs in its recruits, he also should be on the alert for the negative traits we want to avoid. He should never yield to the temptation to bring a defective person into the National Alliance merely to build our numbers. Nor should he be misled by the idea that membership in the National Alliance and the proper guidance which comes with it will heal character defects in our recruits; that may sometimes work with children under the age of four, but it never works with adults.
The importance of keeping defective people out of our ranks cannot be overemphasized. It is not just that we want to be proud of our membership in an elite organization, nor is it just that some types of defective people are nuisances or distractions rather than assets. Defective members are the single greatest threat to the success or even the survival of the National Alliance, more so than the government or organized Jewry. For every organization which is brought to grief by a spy, an infiltrator, or a provocateur, a dozen are wrecked by a member with a severe character flaw.
A few of the more common defective types to be avoided by the recruiter are described below.
The talker: Gossip is an almost universal human pastime, among men as well as women. Most people, even if they don't talk much themselves, like to hear other people talk about their neighbors and co-workers. The desire to express one's opinions or to listen to a bit of gossip occasionally is not necessarily a weakness or a sign of poor character. In some people, however, talkativeness goes beyond reasonable bounds: the desire to talk becomes a compelling need.
Compulsive talking is generally regarded as a feminine trait, but the problem occurs in men as well as in women. It is a trait we do not want in our members.
In the first place, compulsive talking tends to serve as a substitute for action: The talker is seldom a doer. In the second place, it more often than not indicates an underlying personality defect: The person who talks too much to his friends is likely to be a weak person who will yield to pressure to betray those same friends if he finds himself in a difficult situation. And in the third place, any organization, like the National Alliance, which is surrounded by people who would like to see it come to grief must exercise some control over information about its members and activities; control is difficult to exercise if compulsive talkers are in our ranks.
The hobbyist: The inexperienced recruiter may assume that a person who reads many racially oriented periodicals, belongs to two or three other organizations, and likes to talk about personalities and activities in these organizations is a good prospect. Usually that isn't true. The person who has made a hobby of the White resistance "movement" may be persuaded to expand the scope of his hobby by joining the National Alliance, but in most cases he isn't the sort of member we want.
The hobbyist is a person who joins an organization primarily for recreational purposes and has little or no understanding of service, commitment, or loyalty. He may pay his dues every month, but he can never be entrusted with organizational responsibility, and we usually won't want him to come in contact with our other members.
Like the talker, he has difficulty with the idea of responsibility. Whether he understands it or not, his most basic motive is to amuse himself, and his decisions often can be traced to this motive. He will choose to do what is exciting or interesting or titillating rather than what is prudent or useful.
The hobbyist usually lacks a sense of discrimination. To him any organization which asserts its commitment to the cause of White survival and progress is part of the "movement" and is worthy of respect, regardless of how infantile its actions or ill-planned its program; and any person who mouths the right slogans is regarded as a "comrade," regardless of character or other personal qualities.
There are several telltale signs that often permit a hobbyist to be spotted immediately, or that should at least lead the recruiter to be wary:
• Wearing of exotic uniform pieces or insignia is a dead giveaway. Hobbyists are at heart game-players, dabblers in make-believe. Wearing an old Afrika Korps cap or a swastika lapel pin helps a hobbyist to feel that he is playing the game. Non-exotic uniform pieces — camouflage fatigues or combat boots in inappropriate situations — also may indicate hobbyism.
• Coming to a meeting with non-relevant "movement" publications in hand is a standard hobbyist failing. The hobbyist likes to play "show and tell." He hopes that the material he has brought will make him the center of attention and provide a titillating subject for conversation. It does not occur to him — and it wouldn't make any difference if it did — that he is distracting other members and defocusing their attention from the task of the National Alliance.
• Fascination with what is happening in the "movement," instead of in the National Alliance, is a hobbyist characteristic. The "movement," consisting as it does of scores of organizations, provides a much larger arena for the hobbyist to play his games. It doesn't matter how inconsequential these other organizations are, since it's all a game of make-believe anyway. The fellow who is bubbling over with information about the latest pratfalls of some Imperial Wizard or the details of a feud between two newsletter publishers is probably a hobbyist.
The gung-ho loudmouth: Not to be confused with the talker, who is usually of a passive disposition, the gung-ho loudmouth is a would-be activist who shoots from the lip. He likes to let off steam by proposing direct action against the enemies of White civilization, immediately if not sooner. He'll pick up a newspaper, point to a news item about some outrageous act by Blacks or Jews or the government, and exclaim, "What are we going to do about that? Why are we just talking and publishing books? The time has come for action. Let's go get those SOBs!"
His idea of "action" is something which will cause a public stir and get the Alliance mentioned on the evening news. He wants excitement. He wants to get in some licks. Often he imagines that he has had a "success" if he has been able to provoke an angry confrontation with some member of the public who has taken exception to a piece of Alliance material or to something the loudmouth has said. Sometimes he imagines that he has leadership potential which has been overlooked by the leaders of the National Alliance, and that the rank and file will gather around him if he talks and acts the way he thinks a leader should talk and act, based on his careful observation of many of Hollywood's most dramatic and exciting action films.
Of course, there is a time for action of the sort this fellow wants. Some of the activities Local Units engage in may make the evening news. Most of the Alliance's activities don't make headlines, however. Most don't involve street action. Most seem like pretty tame stuff to the gung-ho loudmouth. The recruiter must try to decide whether his prospect is capable of calming down and becoming a disciplined Alliance member when he understands the Alliance's program better, or whether he is someone who is absolutely set on street activity for its own sake. In the latter case, if there is a Local Unit in the area which regularly engages in street activity, perhaps it can put a gung-ho recruit to good use; but if there isn't, this fellow probably should be left to make his own headlines without getting the Alliance involved. As a member he would only cause morale problems — and perhaps legal problems — for other members with whom he came in contact.
The amoral person: There is a regrettable tendency to excuse a wide variety of reprehensible activity on the part of persons claiming to be in sympathy with us, so long as the activity is directed toward people not in sympathy with us. Shoplifting, for example, may be excused on the grounds that the store is part of a chain owned by capitalists who are "part of the System." A theft may be passed off as a "revolutionary act." The truth of the matter is that in nearly every case such activity is the result of purely selfish motivation, and the person who steals something he wants from a capitalist chain is likely to steal from his fellow members or from the National Alliance. There will be a time for genuine revolutionary acts, but we don't want to recruit persons who use ideology as an excuse for selfish or irresponsible behavior which we wouldn't tolerate in a post-revolutionary society.
The freak: Persons with severe character or personality defects — psychopaths, homosexuals, habitual criminals — tend to gravitate to the fringes of society. They are likely to be shunned by people in the mainstream, and they look for company wherever they will be accepted. Often this also is the case with people whose defects are not so severe as the aforementioned but who simply are not able to cope well outside of an institutional setting. Freaks are the bane of every organization with an ideology or a program which puts it at odds with the mainstream. They should be avoided like the plague.
Most National Alliance members do not realize how many severely defective White people there are in American society. The ones who shuffle along the sidewalk mumbling to themselves, their brains ruined by decades of heavy drinking, are only the tip of the iceberg. People who believe that government agents follow them everywhere and spy on them, or that Jews are trying to control them by beaming electromagnetic radiation at their heads from an apartment across the street, or that they are the reincarnation of Adolf Hitler, or that they are receiving guidance from an extraterrestrial mentor are legion. Freaks probably make up something between five and ten per cent of the White population in the United States. At a rally or convention of a typical Politically Incorrect group the percentage will run even higher, and the freaks will be much more noticeable, because they feel themselves among friends and don't need to pretend to be normal.
Fortunately for the National Alliance there are many liberal-leftist fringe groups which welcome homosexuals and some other categories of freaks, so that our task of filtering them out of the pool of potential recruits is made easier. And there are hundreds of "New Age" groups to draw off the people with some of the more bizarre hallucinations about reincarnation or extraterrestrial guidance. Likewise, our known intolerance toward non-copers tends to keep ne'er-do-wells, alcoholics, drug abusers, and perennial food stamp recipients away from our doorstep. Nevertheless, the recruiter must always be on the alert for recruits with severe character defects or personality disorders. There has been far too much tolerance for freaks among White racial groups in the past. They are, on the average, a larger liability than an asset to any organization which admits them to its ranks.
The constitutional loser: There are people who may not fall easily into any of the categories listed above, but who nevertheless are severely defective. One indication of such a person may be a history of personal failure. Most of us fail occasionally, but we try again, and eventually we succeed. The constitutional (or "born") loser is a person who, because of defective character, fails at most things.
The most common defect in a loser is an inability to criticize or blame himself — and, therefore, an inability to improve himself. When a loser fails at something, it is never his fault, but always someone else's. He never asks himself, "What did I do wrong? How can I overcome the weakness which caused this failure, so that I can do better next time?" Instead he looks for someone else or some external condition to blame for his failure.
Unfortunately, constitutional losers may be hard to identify at a first meeting. Some of them are personable, occasionally even charming. Some are moderately intelligent. Often they are willing workers in a team or group setting. One clue to look for, besides a history of failure, is excessive negativism: The person who is always complaining about everything and everybody is likely to be a loser. Another clue is a manipulative or parasitic personality: the person who habitually tries to get other people to do things for him by flattery or "stroking" is likely to be a person who is not accustomed to doing things for himself. Finally, any person who seems able to function well only in an institutional or group setting should be suspect: Whether the setting is the U.S. Army or a group of bosom buddies, all too often the person needs a support group around him and is at a loss when left on his own.
The danger in having a constitutional loser in the National Alliance is not that he is likely to fail at an assigned task, but that he certainly will blame the National Alliance or its leadership rather than himself when he does fail at something — even at a marriage or some other strictly personal endeavor — and henceforth will be hostile. When a loser leaves the National Alliance, either voluntarily or involuntarily, in his mind it will not be the consequence of his own shortcomings but those of the National Alliance; it will be the National Alliance which has failed him, rather than the other way around. And to vindicate himself he will do anything he can to damage the National Alliance; if he can make it fail, then his personal failure is not so painfully apparent, and he can even see himself as a person with enough foresight to get off a sinking ship while there was still time. Hell hath no fury like that of a loser trying to avoid blaming himself for his failure.
* * *