The Slow-Boiling War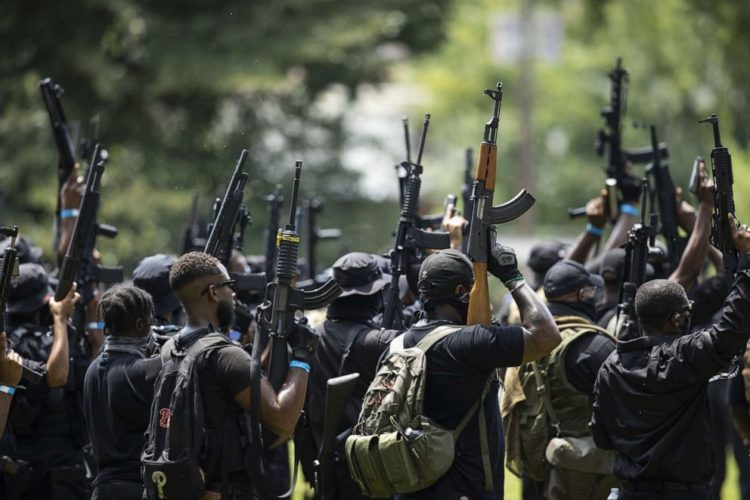 by David Sims
ON SATURDAY, 25 July 2020, a large group of Blacks, armed with assault rifles and long guns, marched with weapons at the ready down the streets of Louisville, Kentucky. The armed Blacks were members of the "Not F___ing Around Coalition" (NFAC) [We at NV don't use such language, but they do. — Ed.]. As is common when Blacks handle guns, there was, indeed, a bit of F.A. when one of the Blacks accidentally squeezed the trigger on his gun and, with a bang, injured three of his brothas, who had to go to the hospital.
Misleading pictures of White militiamen are appearing on Twitter and in the mainstream media, adjacent to stories about the NFAC shooting in Louisville. The intent of this juxtaposition, of course, is to suggest that the shooting was done by someone White, when, in fact, it was done by someone Black.
Later on that same day, in Austin, Texas, an as-yet unidentified motorist found his way blocked by a Black Lives Matter protest group. He drove toward the group while sounding the horn of his car. Most of the BLM group scattered out of the way because the driver showed no sign of slowing down. But one of the BLM marchers, a White race traitor named Garrett Foster, walked straight toward the car and reportedly aimed his gun at the driver, and several of the other marchers did fire shots at the car. The driver returned fire and killed Foster, then sped away.
The driver, once away from the BLM protesters, called 911 and reported the incident. The police came out and questioned the driver, who said that he shot Foster because Foster was bringing his rifle to bear upon him and because other people had fired shots at his car. The police are investigating, but the driver was not jailed.
* * *
Source: Author