"Mute White People" Instagram/Giphy Meme Shows Elite's Intermediate Goal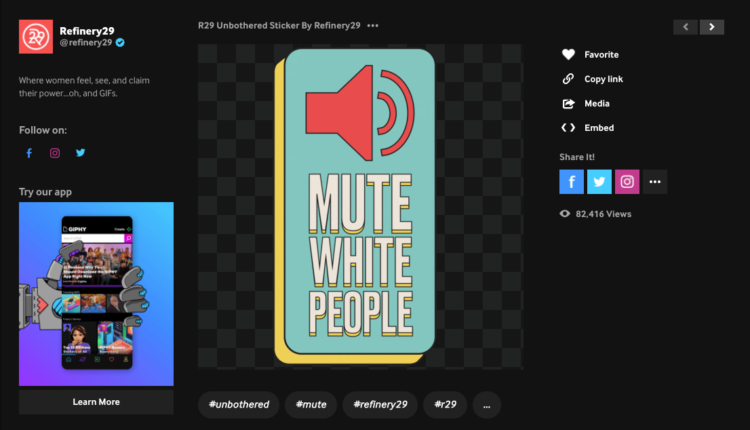 And we all know what the billionaire Jewish-led elite's long-term goal is.
A NEW anti-White "sticker" went viral this week on Instagram (before it was finally withdrawn) and has proclaimed Jewish Big Tech's racially selective censorship agenda in an unmistakable way. The sticker is officially called the "unbothered" sticker and says in large block letters "mute White people."
The sticker was created by a firm called "Refinery29" who uploaded the GIF to the GIPHY platform for people to use and it therefore automatically became available on Instagram "stories." Both GIPHY and Instagram are owned by Facebook, which in turn is owned by the Jew Mark Zuckerberg.
Refinery29 is a media company that's aimed at young women and has several GIFs on GIPHY, many of which make political and cultural statements.
GIPHY's moderation page suggests that all GIFs (usually small and usually animated graphic files) that are on the platform have had to go through a moderation process. "To ensure that GIPHY stickers will always be fun and safe no matter where you see them, we have an enhanced moderation process for approving stickers into our library," the page reads. GIPHY used to allow uploads of amusing or creative GIFs from users, including some which made pro-White political statements, which sometimes became quite popular. Those days are no more, and the upload of pro-White images has been banned and existing images relentlessly removed.
The appearance of the sticker on Instagram, especially from a verified GIPHY contributor, has been getting a lot of attention. Political commentator Ashley StClair called the sticker "racist."
Donald Trump Jr sarcastically said, "Remember, it's not racist if it's racist against white people."
The appearance of the GIF has highlighted a double standard in the way Big Tech platforms moderate. There are questions about whether the sticker would have passed the moderation process if it were aimed at any other race, and it's for this reason it's getting criticism — more so than for the message of the sticker itself.
There has been an incredible suppression of free speech across social media in recent times, especially around issues such as race, and it is now glaringly obvious that statements against White people aren't as heavily policed.
Reddit, for example, faced backlash in the last month when it said that "hate speech" would be allowed if directed at those who are in the "majority." Reddit soon backtracked once they faced pushback.
* * *
Source: based on an article at Reclaim the Net