Heritage and Destiny Magazine: New Issue, Number 96, Just Published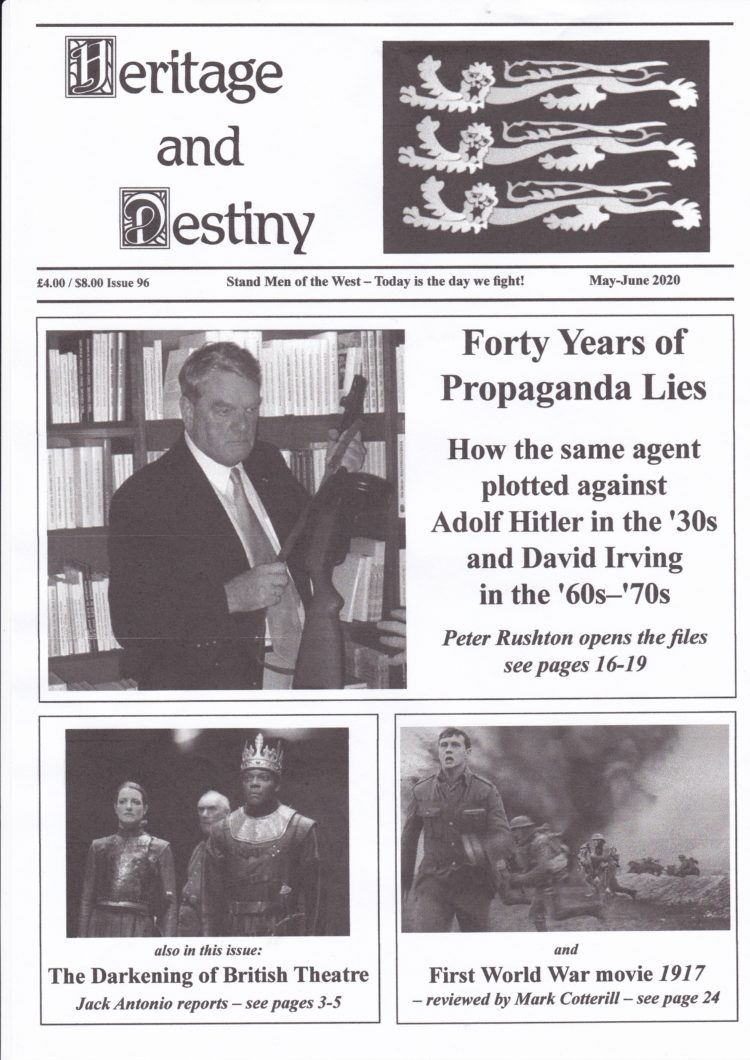 THE NEW ISSUE (#96) of Heritage and Destiny magazine is out now. Due to the Covid-19 virus we ran a couple of weeks late. However, we now have the magazines back from our printer. The 26-page, May – June 2020 issue, has as its lead.:
Forty Years of Propaganda Lies
How the same agent plotted against Adolf Hitler in the '30s and David Irving in the '60s – '70s – Peter Rushton opens the files
Issue 96
May-June 2020
Contents include:
Editorial – by Mark Cotterill
Fade to Black – The darkening of our screens and its part in the theft of our past and our future – by Jack Antonio.
Obituary – Allan Robertson (1966-2020) – by Peter Rushton.
Observed Differences – or Less Scientific Sexism – Simon Sheppard says that if men show vulnerability, women attack.
How London's Propaganda Warriors Targeted David Irving – Part I – by Peter Rushton.
Book Review: Mad Hatter, by Amanda Hale – reviewed by Robert Best.
Obituary – Carl Harley (1930-2020) – by Bill Baillie.
Book Review: The White Nationalist Manifesto – by Dr. Greg Johnson – reviewed by James Knight.
Old Poet's Corner – Shot at Dawn, by Eddy Morrison.
Model on Trial – Peter Rushton reports on the upcoming trial of Lady Michèle Renouf.
TV Review: The Man in the High Castle – Part IV – reviewed by Ian Freeman
Movie Review: 1917 – reviewed by Mark Cotterill.
Two pages of readers' letters
Movement News – Latest analysis of the nationalist movement – by Peter Rushton
If you would like a sample copy please send £5.00 /$10.00 or for a year's (6 issues) subscription, send £28.00 (UK) – $52.00 (USA) – £35.00/$52.00 (Rest of world).
Write to Heritage and Destiny, 40 Birkett Drive, Ribbleton, Preston PR2 6HE UK — or use the email link at http://www.heritageanddestiny.com/contact-us
* * *
Source: Heritage and Destiny