Corona: Flattening the Curve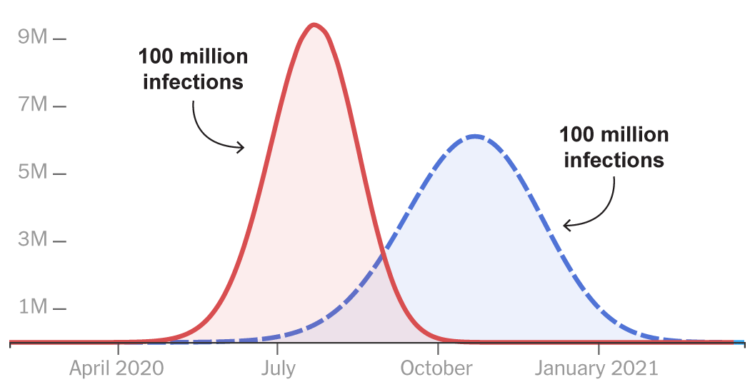 by Giuseppe Furioso and G. Michael Burns
THE CURRENT Washington strategy of dealing with the coronavirus is to try and "flatten the curve" — i.e., stretch out the number of those infected so as not to overwhelm the medical system. This approach will not reduce the number of cases but will simply drag out the same numbers over a longer period of time. Think back to your calculus classes; the area under the curve will remain the same. Short of a cure, which is quite unlikely [vaccines are not a cure and, for example, the flu vaccine is notoriously ineffective and dangerous anyway], large numbers of people are going to get the virus and a percentage of those are going to die from it whether at home or in a hospital. My understanding is that medical intervention will only ease the symptoms, but not lower the death rate to any meaningful degree.
Currently the only cure for the disease is to get it and survive it — something that is true for most diseases of this type. It is my understanding that "flattening the curve" will not significantly change the numbers who eventually get the disease and those that will die from it — so why are we disrupting the economy with these draconian measures to forestall a body count that seems inevitable?
"Flattening the curve" will not bring us any closer to developing a cure. Why not let the disease run its course?
The virus will become a significant cause of death, true (mainly for the elderly and already infirm) — not unlike cancer and heart disease for which we have taken no such heroic social or economic measures. But cancer and heart disease are not communicable diseases, one might legitimately argue — but they are to a degree preventable: Why not outlaw smoking, alcohol, and unhealthy agribusiness foods — and save an even larger number of lives than we are likely to save with the coronavirus edicts from above?
The current economic meltdown we are in is a direct result of the strategy of trying to "flatten the curve" — it's a piecemeal strategy that in the end will solve nothing and produce more harm than good. However, the System producing harm for our people is normal — and good from the perspective of educating our Folk about the nature of that System.
Some of the inevitable takeaways from this situation are good for our people: What is killing some of us and what took our economy down? An externality. Something from outside of our borders that easily came through our open gates. The concept of making things in America, rather than outsourcing almost everything to China, now appears wiser than ever. This crisis is in part a result of globalism. Not only does the economic standard of living go down with jobs going away, national security and the personal health of Americans ends up being put in peril all because of globalism. And the behaviors of non-Whites (the sickening "bush meat" habits of Africans and even the relatively civilized Chinese, worse even than American animal agriculture which is bad enough) are now in play. "Social distancing" is now a term in daily use. As National Alliance Chairman Will Williams says, racial distancing is the next logical step in that train of thought — all to the good!
* * *
Source: Authors and National Vanguard correspondents