Trump Blows Mandate to Enforce Immigration Law — Democratic Will of America Overruled — Historic Nation Sentenced to Death
Below are excerpts from an essay by Greg Johnson which argues that American White Nationalists should position ourselves as the real, uncompromised, unvarnished representatives of the National Populism that got Trump elected rather than personally declare war on Trump himself.
While I don't endorse everything Johnson says in his article — and in particular don't agree with the notion that Trump is guaranteed to lose his 2020 reelection bid — Johnson does make an important case against Third World immigration as totally undemocratic election tampering which I thought ought to be formatted as a standalone piece. — Dissident Millennial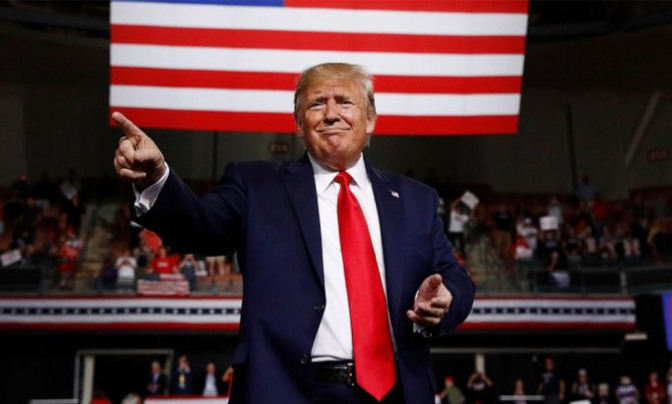 Wignats Whirr for War
by Greg Johnson
FOUR YEARS AGO, when Donald Trump glided down the golden escalator at Trump Tower and declared his candidacy for President of the United States, he broke the Republican gentleman's agreement never to talk about the negative consequences of immigration and globalization.
Trump's America First, National Populist stances on immigration, globalization, and foreign policy resonated with millions of Americans: Republicans, independents, and even Democrats. Enough to win him the nomination and the Presidency. . .
So what happened to the Trump presidency? Obviously, he encountered forces stronger than his convictions about what is necessary to save America. Many of these forces are external. Blackmail cannot be ruled out. Historians will be puzzling out the enigma of Trump well into the next century.
But whatever forces were brought to bear, in the end Trump had to decide to go along with them. He went along with the Republican donor class. He went along with the Jewish lobby. He had a chance to save America, but instead he chose to go along with the parasites that are killing it. Trump ultimately allowed himself to be swallowed by the swamp. . .
Trump was not the last chance for white people in North America. But he was the last chance to salvage the United States of America, from sea to shining sea. For more than half a century, the Left has been scheming to create a one-party Democratic dictatorship by flooding the country with black and brown people, who vote disproportionately for Democrats.
Third World immigration is election tampering.
If Trump had built the wall, deported millions of illegal aliens, eliminated systematic Democratic voter fraud, and reversed white demographic decline, he could have saved America as a prosperous, First World country. He could also have saved the American system of two-party democracy.
But Trump failed. Trump will be the last Republican President. And he will be a one-term President. Already, there are probably not enough sane white people in America to reelect him. What comes next is a Democratic one-party state that will resemble Mexico: a violent, corrupt, squalid, and socialistic non-white society ruled by a tiny white and Jewish elite of ultra-rich sociopaths mouthing Left-wing slogans.
Imagine a Beto stamping on a brown face, forever.
There is, however, still a chance to avoid that. It is a slim chance. But it is worth taking. White Nationalists could rally the nearly 60 million people who voted for Trump and begin the process of creating a homeland for whites in North America.
Only a few people learn from history. Even fewer learn from reason. Most people learn only from experience, and the most vivid lessons come from suffering. White Nationalists have been warning our people for years that our livelihoods, our nation, and our future are being stolen from us through race replacement immigration, which not only reduces wages and wrecks communities but is also a form of demographic gerrymandering.
Demographic displacement invalidates democracy. The whole point of democracy is to make the elites serve the interests of the people. If the elites fail the people, the people dissolve the government and elect a new one that will faithfully serve their interests.
Democracy becomes a sham when elites conspire to stay in power by rigging elections. One form of election-rigging is to stuff ballot boxes with fake votes. Another form is to register people who are not qualified to vote, including dead people and non-citizens. (It is tragic that many people will vote Republican their whole lives, then die and become Democrats.)
But the most insidious form of election tampering is for the government to dissolve the people and elect a new one through demographic replacement.
On election night, 2020, 60 million white Americans are going to finally experience what we have been warning them about for decades. They are going to see their country stolen from them through non-white immigration. They are going to see the beginning of the Democratic one-party dictatorship.
But when America becomes a banana republic, and democracy becomes an obvious sham, then why should white Americans abide by the results? Why should they allow their nation to be stolen from them? Why shouldn't they take it back?
* * *
Source: Counter-Currents Publishing