Rise of the Brainwashers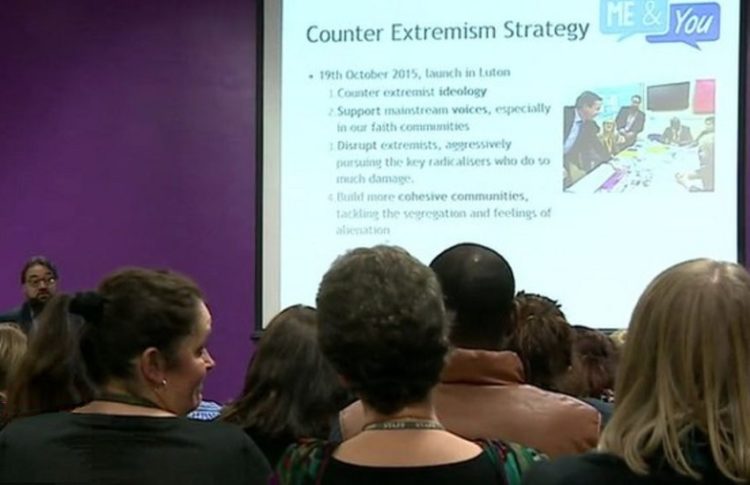 I DOUBT IF EVEN his dearest friends pretend that Nick Griffin is still flavour of the month on the nationalist Right, and he certainly has to bear his share of the blame for the collapse of the BNP on his watch. Nevertheless, I still have a sneaking regard for a highly intelligent man who was one of the best speakers and writers that modern British nationalism has produced, so every now and then I take a look at his "British Unity" site to see what he has to say about things in the news. A tweet from Nick dated the 11th of this month caught my eye: "Stating the simple facts that mass immigration has changed the face of Britain and that those who wish to preserve their own ancestral blood line should marry within their own group is now 'extremism' warranting brainwashing."
This was something that he'd picked up from the Daily Mail, so of course I went straight to the same article. It was about the government's "Prevent" strategy designed to steer people away from the kind of extremism which leads to terrorism. Some of you may have seen the article in the Mail (and maybe even added one or two of the caustic comments!) but for those of you who have not previously read it, here are some extracts:
"…..figures show that those troubled students who were deradicalized through the bespoke Channel Programme (part of the Prevent strategy) totalled 165 for the year. Ninety one (55%) were far-Right extremist students and fifty seven (34%) were Islamic extremist cases. (In 2026/17 Islamist cases were 56% and far-Right cases 32%)."

"William Baldet, a Prevent Officer and a senior fellow at the Centre for Analysis of the Radical Right, said: 'there are two things here, firstly there is more far-Right extremism around as society lurches more towards the Right in America and Europe. Secondly, there is more awareness of far-right extremism in schools by teachers…..'"

"Prevent experts say that the type of far-Right extremism that students show in schools and colleges is more 'identitarian'. This describes the far-right belief that Britain's racial map is changing irrevocably with more immigration, and advocates that White British people must live with and marry 'their own kind', while Black and Asian Britons should do likewise."

"Prevent officials believe that very few pupils show signs of White Neo-Nazi extremism, which wants Britain for Whites only and often advocates attacks on non-Whites."
Nick Griffin's comment quoted above is spot on. How can it be 'extremist' to believe in things which until quite recently were mainstream opinions and are still the views of not inconsiderable sections of the population? How can it be so extremist that it warrants the brainwashing of those of our young who still have the courage to believe in the old truths? I am no friend of conspiracy theories, but it strikes me as odd that the loud squeals about Prevent which have been emitted by Moslem groups have been followed by the rapid discovery of all these "far-Right extremists" lurking — hitherto unsuspected — in our schools and colleges.
It is surely significant that Prevent has found "very few" pupils who express views which might lead on to real terrorism — attacks on non-Whites. Yet searching out views which might develop into terrorism, and preventing them from doing so, is the very purpose of the Prevent strategy! So why this focus on pupils who only express harmless, but unfashionable, opposition to mixed relationships? Perhaps Prevent feels the need to justify its existence.
It is also surely significant that only White youngsters are subjected to this inquisition — no-one questions the right of young Orthodox Jews, or Moslems, or Hindus to insist on marrying within their own communities or suggests that that insistence might lead on to terrorism. Why? Because it would be insensitive and offensive to do so. But it is not considered insensitive and offensive to question the right of young Whites to do the same! This is another proof, if one were needed, that the political, cultural, social and media elite which governs the lives of the White population is incapable of understanding that that population is a community with a racial and cultural identity of its own, which has as much right to be valued and protected as the identities of the various ethnic minority communities.
Still, there is some comfort to be had from all this. It's likely that the increasing numbers of "racially aware" youngsters who are reported to Prevent by their teachers or lecturers are only the tip of the iceberg. And that in turn should also act as a stimulus to us to prepare a simple and easily digestible statement of racialist thought — a racialist catechism — available on every pro-White website.
And one other thing — how flattering and encouraging to know that we of the "far-Right" are so important, and so dangerous to the "bien-pensants", that we warrant the foundation of a "Centre for Analysis of the Radical Right"!
* * *
Source: Western Spring