900,000 Fake "Asylum" Cases Overwhelming US Court System following Border Invasion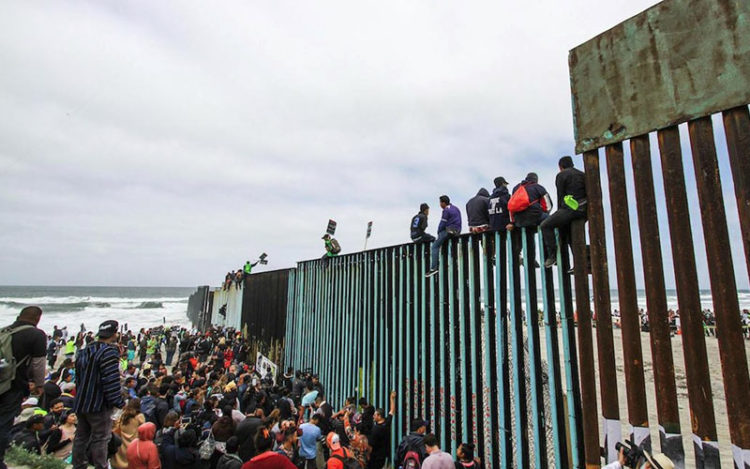 THE ONGOING MASS Third World invasion of America over the Mexico border has resulted in a 900,000 backlog in fake "asylum" applications clogging up the court system — meaning that the non-Whites making up such claims will get to live in the US for years before their cases are even heard, official figures have shown.
According to figures released by the Homeland Security Department and the Executive Office for Immigration Review, the "many cases that lack merit occupy a large portion of limited docket time and absorb scarce government resources, exacerbating the immigration-court backlog and diverting attention from other meritorious cases.
"Indeed, despite DOJ deploying the largest number of immigration judges in history and completing historic numbers of cases, a significant backlog remains. There are more than 900,000 pending cases in immigration courts, at least 436,000 of which include an asylum application," the report said.
Other facts to emerge from the latest figures show that:
* Approximately 234,534 aliens in FY 2018 who presented at a port of entry or were apprehended at the border were referred to expedited-removal proceedings.
* In FY 2018, U.S. Citizenship and Immigration Services (USCIS) received 99,035 "credible-fear" claims from aliens subject to expedited removal, a 175-percent increase from five years earlier and a 1,883-percent increase from ten years earlier.
* In the first four months of FY 2019, USCIS received more than 35,000 "credible-fear" claims. If that trend continues, the agency could receive 105,000 credible-fear claims this year.
* The total number of aliens referred by DHS for credible-fear screening increased from fewer than 5,000 in FY 2008 to, as noted, more than 99,000 in FY 2018. Over the past decade, the overall percentage of aliens who were subject to expedited removal and who were referred for a credible-fear interview by DHS jumped from approximately five percent to more than 40 percent.
* In FY 2018, DHS asylum officers found over 75 percent of the aliens who they interviewed to have a credible fear of persecution or torture. Those aliens were placed in removal proceedings to file an asylum application in immigration court. Immigration judges overturn approximately 20 percent of the negative credible-fear determinations made by asylum officers (an additional five percent of the total credible fear claims), finding those aliens also to have a credible fear. This means that 80 percent of aliens who were interviewed for credible fear received a positive credible-fear finding.
* Despite the fact that aliens who received a positive credible-fear finding were placed in removal proceedings in order to apply for asylum, from FY 2016 through FY 2018, approximately 40 percent of aliens who received a positive determination have failed to file an asylum application.
* According to EOIR, among aliens who received a positive credible-fear determination between FY 2016 and FY 2018, only 12,062 aliens — an average of 4,021 per year — were granted asylum. This figure represents just 14 percent of all completed asylum cases, and about 36 percent of asylum cases decided on the merits. In other words, 86 percent of the aliens who have received positive credible fear referrals but whose cases have been decided were not granted asylum.
* "Recent initiatives to track family unit [FMU] cases revealed that close to 82 percent of completed cases have resulted in an in absentia order of removal."
* In the past, aliens coming unlawfully to the United States along the Southwest border were predominantly single adult males from Mexico, who usually were removed or voluntarily departed this country within 48 hours, if they had no claim to remain in the United States. As of January 2019, more than 60 percent of aliens coming unlawfully to the United States are FMUs and unaccompanied alien children (UAC). Some 60 percent are other than Mexican nationals (OTMs).
* In FY 2017, U.S. Customs and Border Protection (CBP) apprehended 94,285 FMUs units from the Northern Triangle countries of El Salvador, Guatemala, and Honduras at the Southwest border. Of those family units, 99 percent were still in the United States as of January 2019.
* * *
Source: New Observer