"Y'all Let This Happen"
PLEASE watch the following amazing video. Be sure to save a copy; this sort of footage has a habit of disappearing off JewTube.
Welcome to Burger Kang. A giant and grotesque poster for fried chicken immediately sets the tone for what is to come. Obese nightmare animals with their clothes falling off brawl in the crumbling ruins of a dying nation. "Anybody dial the coppers?" wonders a debased White as we get a glimpse of the coming all against all. When the handouts stop, when the rule of law collapses, when our mighty ally Israel fails to swoop in and save us, this is what will remain. You'll call the "coppers" and get a dial tone. We hear various animal noises as identical dark and bloated hominids clash outside a globohomo semi-food concern.
I'm starting to realize just how completely wrong the "racists" behind intelligence research are. All races are equal (Whites bad, Jews chosen). IQ has little, if any, predictive value when it comes to successful interactions with a complex and technological society. There are plenty of other indicators of human value. Barkevious might have a great sense of humor, alarmingly white teeth, or the ability to put a ball through a suspended loop. "Diversity," defined as fewer Whites in everything, is a mighty strength. We're going to kick China's butt and fight endless wars to defend noble and blameless Israel. Some of the groids involved pull the Jesse Owens act while speculation regarding contacting the "five oh" continues.
"They hurtin' him, y'all." Dinner timin' gone wrong. Through the miracle of the information highway we can watch the shocking negro pathology from relative safety. Oh brave new world, that has such simians in it. The record low unemployment, the prison amnesty, and 100 billion shekels into the "African-American" crevasse is really helping; can't you see it?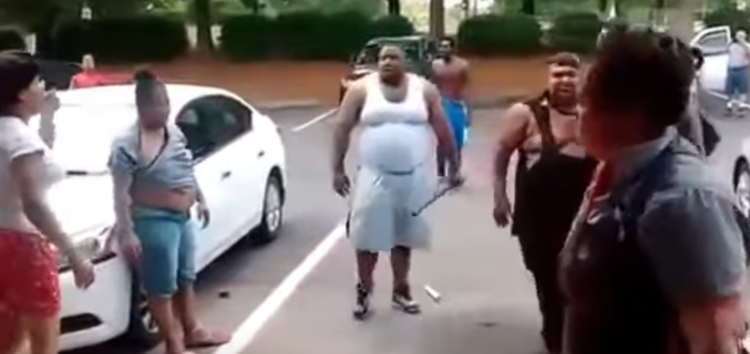 More debate regarding the merits of calling the po-po follows. Maybe one of you should just do it? No, it's more useful to argue back and forth, achieve nothing, and ignore reality. What is this, a congressional hearing on White nationalism? We discuss the pros and cons of getting your head "busted open." "Stop lookin' amazed!" Yeah, no kidding. This is typical behavior from dangerous inferiors in a dead nation. Unless you get all your information from the electronic synagogue and live in a gated community, you should be very familiar with the encroaching rot of genetic determinism. One of the weak, ineffectual, and doomed Whites finally gets on the "sail fawn" to "snitch" while his friend jokingly suggests he should assert his authority as head burger flipper and go stop the monkeyshines. 
You need to be armed.
After a brief lull, the Liberia-style all against all continues. A poorly-formed racial inferior brandishes a chair, but the brilliant tactic of flinging it at its fellow not-so-great apes fails when the improvised missile gets promptly thrown back. Now this tar monster knows how Rommel felt at El-Alamein. "Let me know if a gun comes out." Yeah, I think it will be pretty obvious, but I'll try to signal to you or something while I'm diving for cover. Instead, it's time for an inanimate rod, the real hero of this incredible self-inflicted dark age. There's a sickening clang as it connects with the thick skull of a living fossil. We hold these truths to be self-evident…
A mule of the world suggests that if some other Aunt Jemima had been "keeping her damn legs closed" it might have prevented this. Yeah, I can't really disagree.
We need to defeat socialism and these new elected aliens who fail to support Israel. Did I mention that the Donkey Party are the real "racists?" There's more chimping, but I've seen enough for today. R.I.P. America.
* * *
Source: Modern Heretic