The Jeffrey Epstein Rabbit Hole Goes a Lot Deeper Than You Think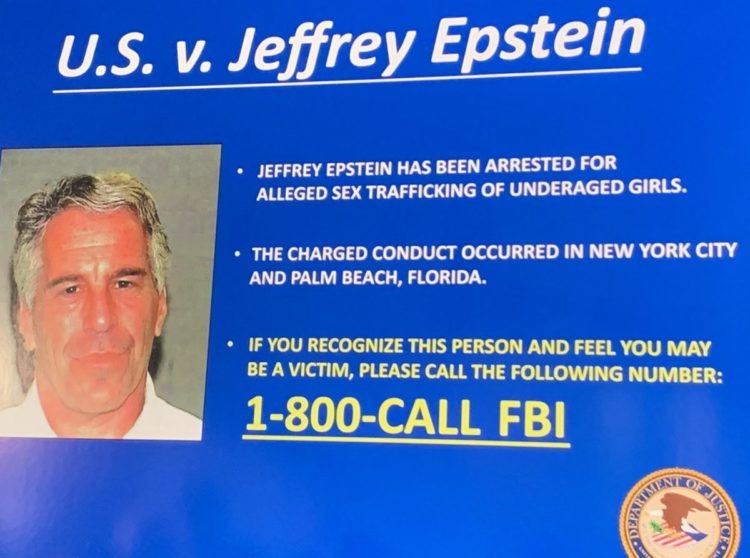 Family of top Epstein associate had links to the Mossad.
LIKE MANY of you, I've been following the Jeffrey Epstein story with horror, disgust and open eyes for several years. While it's always been a creepy, twisted and completely bizarre saga, I was unaware of just how inexplicable and strange it is until I did some more digging earlier today.
I put a bunch of information together in a Twitter thread, and rather than reinvent the wheel, here it is:
The more I learn about Jeffrey Epstein and his pedo ring, the more bizarre links I uncover. I'm going to review three of them here.

1) Alex Acosta, the man who arranged for Epstein to get off the hook in Florida, is now Trump's Labor Secretary.

2) The man who hired Epstein when he was 20 years old to be a math teacher at NYC elite private school Dalton was Donald Barr, the father of William Barr, the current Attorney General of the United States.

Weird.

3) Finally, and this one is a giant rabbit hole, relates to Ghislaine Maxwell, the woman accused of being Epstein's madam. Her father was Robert Maxwell…go ahead and do some digging into this guy. https://en.wikipedia.org/wiki/Robert_Maxwell …
Here's how Robert Maxwell died:

"On 5 November 1991, Maxwell was last in contact with the crew of his yacht, the Lady Ghislaine, at 4:25 a.m. local time, but was found to be missing later in the morning. Maxwell was presumed to have fallen overboard from the vessel, which was cruising off the Canary Islands, and his naked body was subsequently recovered from the Atlantic Ocean. The official ruling at an inquest held in December 1991 was death by a heart attack combined with accidental drowning."
Also, before his death Robert Maxwell was was under investigation for war crimes:
The media baron Robert Maxwell was under investigation for war crimes just before he drowned in 1991, it emerged today. theguardian.com
Finally, Robert Maxwell was accused of having links to Israeli spy agency Mossad by Pulitzer Prize winning journalist Seymour Hersh.

There is a lot going on here. I hope people are watching Epstein and Maxwell closely to prevent any further "suicides."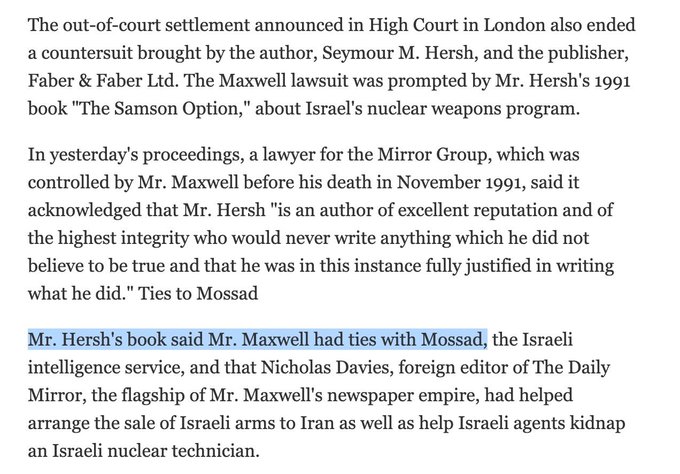 It seems like the whole Epstein thing was an elaborate professional blackmail operation intended to ensnare the rich and powerful. But who was really behind it, who was really bankrolling Epstein? We really need to get to the bottom of this and then the dominos really fall.
Seems obvious Epstein was intentionally trying to get as many wealthy and powerful people as possible ensnared in his sick web. This wasn't just about his sick desires, but about getting blackmail on global big hitters. It's imperative we find out why. There's a reason.
This thing looks as if it was run like a professional operation/business. Just a hunch, but I wouldn't be surprised if he was a front person.
I keep hearing the same thing from people. Everything about Epstein is bizarre.

"Epstein had caught the attention of the press when he had flown Bill Clinton on his jet to Africa. No one knew who he was or understood how he'd made his money."

Nope, not strange at all.

Read this article:

"One was the hidden source of his wealth—he claimed he'd fueled a lifestyle of vast homes, a private jet, and endless travel by managing the money of billionaires and taking a commission, a story that no one I spoke to believed."
https://www.thedailybeast.com/i-tried-to-warn-you-about-sleazy-billionaire-jeffrey-epstein-in-2003
"Epstein's friends speculated that retailer Les Wexner was the real source of Epstein's wealth, Wexner (who called him 'my friend Jeffrey') never commented on this."
"I opened the first box, and there was Epstein's deposition in a civil case explaining in his own testimony that he had indeed been guilty of a "reg d violation" while at Bear Stearns and that he'd been asked to leave the investment firm."

Here's how Alan Dershowitz came to know Jeffrey Epstein:

"His social profile began to improve in 1996 upon meeting the financier Jeffrey Epstein through Lynn Forester de Rothschild, a Martha's Vineyard friend."
https://www.bostonmagazine.com/news/2016/12/11/alan-dershowitz/2/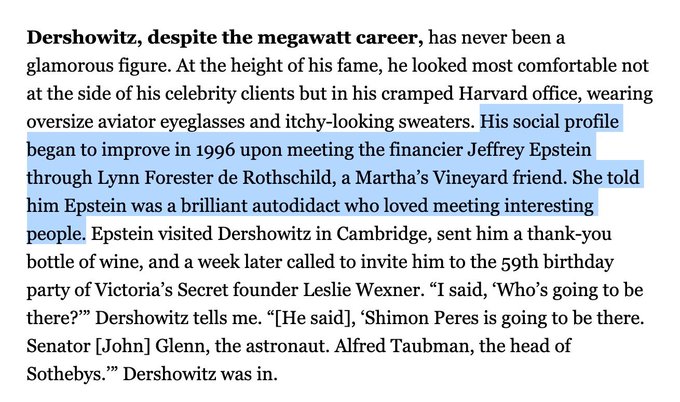 It looks as if Jeffrey Epstein's real job was to obtain blackmail on some of the world's most wealthy and powerful players, and in this sense he was a huge success. The much bigger question is whether he was doing this primarily for himself or if he was a frontman for other players to whom such information would be priceless.
The reason I put this together is to expose as many people as possible to this bizarre information. I hope journalists and criminal investigators dig deep into all this stuff (and more) in order to truly get to the bottom of who Jeffrey Epstein is, where his money came from and who, if anyone, he answers to.
There may be a lot more here than meets the eye.
* * *
Source: Liberty Blitzkrieg