Regime Holding "Hearing" on White Nationalism Tuesday
INTRODUCTION by Erwache and Chris Rossetti: The Judiciary Committee of the US Congress meets tomorrow at 10am to discuss criminalizing White dissent. It is a crime in itself that Whites, like myself and the readers of National Vanguard, are being falsely linked to terrorism without having any such history or even anything remotely resembling such history.
Here's a letter from Eliot Engel, a Jewish congressman who routinely poses with Israeli flags, urging Trump's ultrazionist Secretary of State Mike Pompeo to criminalize White nationalism:
WASHINGTON — Representative Eliot L. Engel, Chairman of the House Foreign Affairs Committee, today urged the State Department to make addressing the global threat of white nationalist terrorism a foreign policy priority. In a letter to Secretary Pompeo, Chairman Engel called on the Department to designate the perpetrator of the recent attacks in New Zealand as a terrorist and called for a briefing to Congress on efforts to grapple with white nationalist terrorism.

"Just as with Islamist terrorism, we must target white nationalist terrorism, and the networks and ideologies which underpin it globally to safeguard the United States, our allies, and our interests," wrote Engel.

Full text of the letter can be found here and below:

Dear Mr. Secretary:

I write regarding the clear and growing transnational threat posed by white nationalist terrorism, as exemplified most recently by the horrific terrorist attacks in Christchurch, New Zealand and last fall by the shocking and ghastly attack on a synagogue in Pittsburgh. The perpetrator of the horrific massacre in New Zealand is part of a wider, international movement built on a hateful and extremist ideology. In the same way that Islamist terrorists have looked to figures in al-Qaeda and the Islamic State for inspiration, the terrorist responsible for the attacks in Christchurch drew on the extremist ideas and actions of white nationalists like the Norwegian terrorist responsible for killing almost eighty people in 2011. White nationalist attacks have occurred in other countries as well, including Germany, Sweden, and the United Kingdom. In fact, the United Kingdom designated the neo-Nazi National Action group as a terrorist organization in 2016.

The New Zealand attacker also declared in his own manifesto to have read the writings of the terrorist who was responsible for the attack at the Emanuel African Methodist Episcopal Church in Charleston, South Carolina in 2015. White nationalist terrorism clearly draws on international ideologies and networks of like-minded individuals and thus is not simply a domestic danger for the United States. In short, this is a serious and growing international problem that demands international solutions. Just as with Islamist terrorism, we must target white nationalist terrorism, and the networks and ideologies which underpin it, globally in order to safeguard the United States, our allies, and our interests.

I request a briefing within two weeks of your receipt of this letter from senior officials in the Bureaus of Counterterrorism and Intelligence and Research that provides the State Department's assessment of the global threat from white nationalist terrorism, including its potential to inspire or otherwise abet attacks around the world, including the United States. As part of this briefing, I also would like an update of current State Department efforts to counter white nationalist terrorism globally and how these efforts will be enhanced. Specifically, I am interested in learning more about the sharing of information with allies regarding the white nationalism terrorism threat, and best practices for countering it. In addition, I would like an assessment of how the Department will adapt or expand existing programs or create new ones to address the global threat from white nationalist terrorism and its ideology without hampering current efforts to combat the Islamic State, al-Qaeda, or other threats to the United States.

In addition to this briefing, I formally request that the State Department use the authority granted under Executive Order 13224 to designate the perpetrator of the New Zealand attack as a Specially Designated Global Terrorist, as well as to develop a list of other potential white nationalist terrorist individuals or organizations who might meet the threshold for designation.

White nationalist terrorism threatens the United States domestically and internationally, and I think we all understand that our country cannot sit by while another attack like the ones in Pittsburgh, Charleston, New Zealand, and Norway leaves more victims in its wake. Now is the time to combat this scourge with a multifaceted approach — one which includes a global component in which the State Department must be a key player.

Thank you for your attention to this important matter. I look forward to your urgent response.

Sincerely,

Eliot L. Engel
Chairman
House Foreign Affairs Committee
This is a massive violation of our civil rights.
The number of people killed by White nationalists per year over the last half-century is certainly in the single digits, far below the number of people killed by hospital errors or animal bites. When will Jewish nationalism — which kills more people than that every single day and which is responsible, through its stranglehold on the US government, for the forever wars in the Middle East which have killed millions — be investigated?
When will these crimes, and crimes against Whites by non-Whites, be investigated?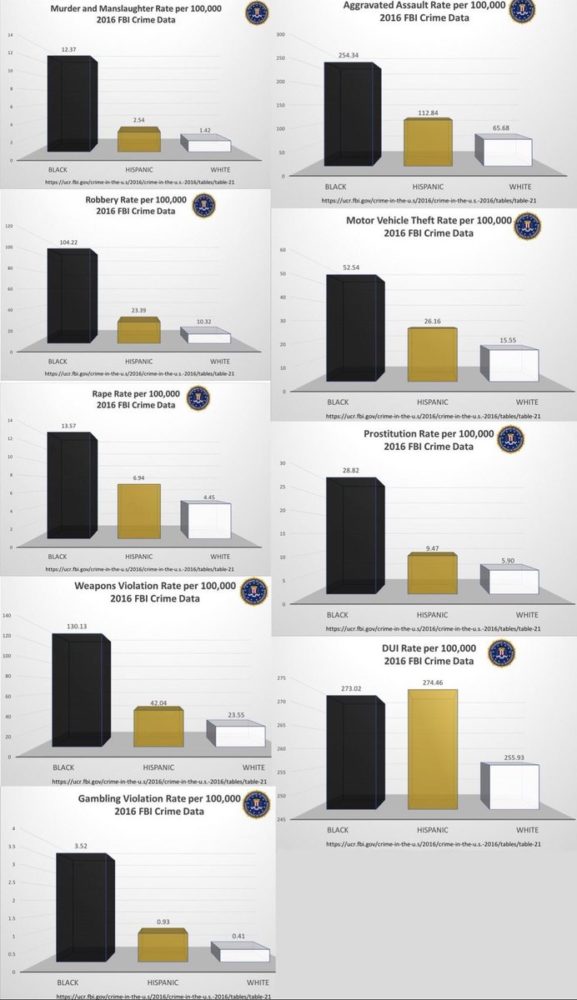 Here's the official announcement of the "hearing":
Washington, D.C. – On April 9, 2019 at 10:00 a.m., the House Judiciary Committee will hold a hearing on hate crimes and the rise of white nationalism. This hearing will examine hate crimes, the impact white nationalist groups have on American communities and the spread of white identity ideology. The hearing will also foster ideas about what social media companies can do to stem white nationalist propaganda and hate speech online. 

Date: April 9, 2019

Time: 10:00 a.m.

Location: 2141 Rayburn House Office Building

Washington D.C.

Livestream: The hearing will stream live here.

Background: Communities of color and religious minorities have long been subject to discrimination and have been targeted by groups who affiliate with ideologies of hate. White identity groups have a long history of oppressing racial and religious minorities and promote individual expressions of violence with the aim of preserving white racial and political hegemony. Social media platforms have served as world-wide conduits to spread vitriolic hate messages into every home and country. The deadly 2017 "Unite the Right" white nationalist rally in Charlottesville, Virginia served as a frightening reminder of the current threat white nationalism and hate groups pose to the nation. 

Last Congress, Democrats in Congress sent letters to the Administration to demand answers about hate crimes, the targeted surveillance of minority communities, and the growing threat of white supremacy and right wing extremism. To date, the Administration has provided little or no substantive response to these requests.

On February 3, 2017, House Judiciary Committee Ranking Member John Conyers, House Homeland Security Committee Ranking Member Bennie Thompson, and House Foreign Affairs Committee Ranking Member Eliot Engel sent a letter to Acting Attorney General Dana Boente requesting answers to reports that President Trump intended to overhaul the government Countering Violent Extremism program in a manner that would target and single out Muslim Americans.

On February 22, 2017, Representative Stephanie Murphy and 150 Members of Congress sent a letter to Attorney General Jeff Sessions, Secretary John Kelly, and FBI Director James Comey, urging federal agencies to address threats to Jewish organizations.

On June 7, 2017, the Congressional Black Caucus Chairman Cedric Richmond sent a letter to Attorney General Jeff Sessions and FBI Acting Director Andrew McCabe, calling for the dedication of additional resources to hate crime investigations and prosecutions.

On August 2, 2018, Ranking Member Nadler and Representative Lofgren sent a letter to President Trump asking how and why he issued false statements concerning terrorism-related offenses when addressing the country before a joint session of Congress.

On November 27, 2018, Ranking Member Nadler sent a letter to Department of Justice (DOJ) acting Attorney General Matthew Whitaker, Department of Homeland Security (DHS) Secretary Kirstjen Nielsen, and Federal Bureau of Investigation (FBI) Director Christopher Wray, notifying them of his expectation that they will address unanswered requests that Democratic Members of Congress have made concerning the increasing number of hate crimes, the targeted surveillance of minority communities, and the growing threat of white supremacy and right wing extremism.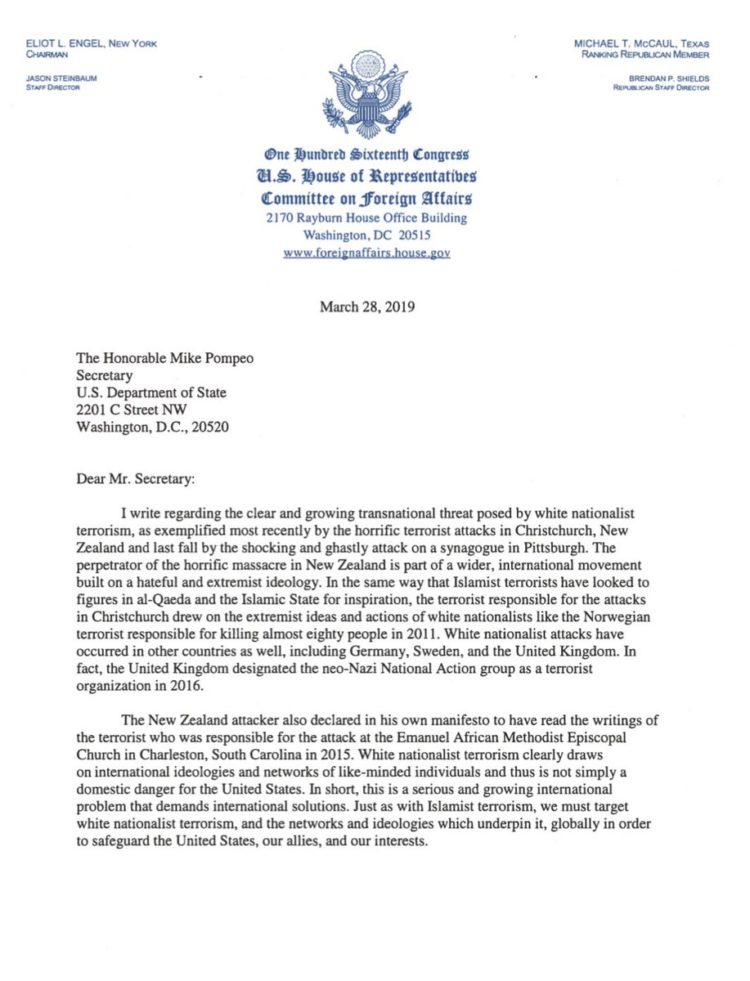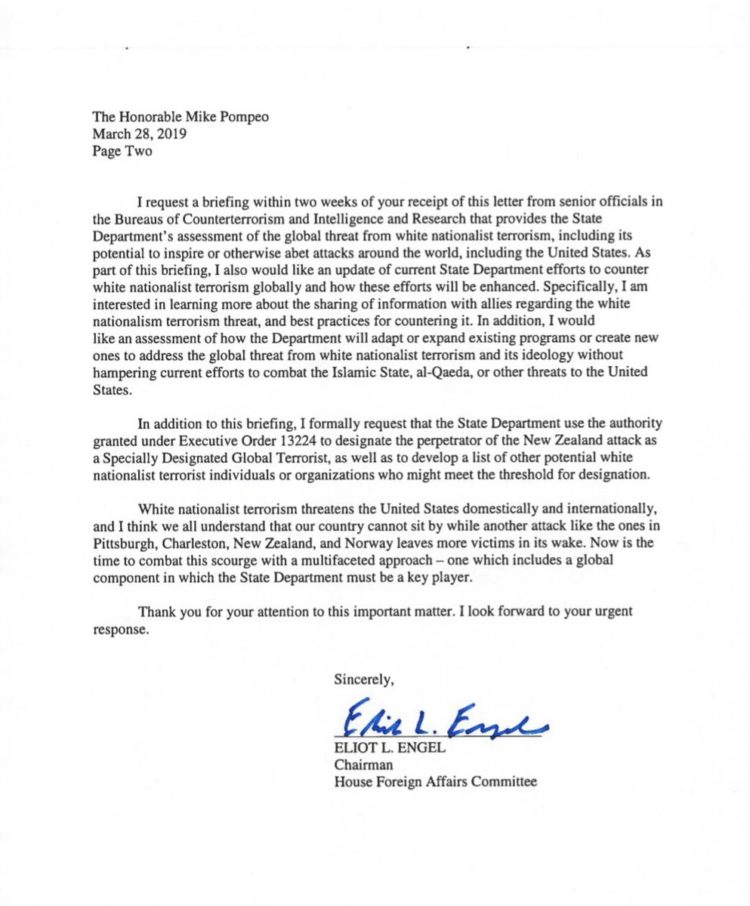 * * *
Source: US House Committee on the Judiciary; Erwache; Chris Rossetti