Orwell Alert — Sexual Bolshevism Takes Over U.K. Advertising
An important point to keep in mind regarding the story below is that apparently all of the major U.K. advertisers agreed to submit to the censorship imposed by the "Advertising Standards Authority". Now why on earth would any company whose sole responsibility it is to sell products voluntarily surrender the necessary marketing authority to do just that?
This incredible phenomenon is a perfect example of how the alleged distinction between the state, private industry, and non-governmental organizations has been blurred to the point of meaninglessness in the post-modern West. — Dissident Millennial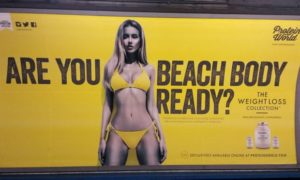 UK advertising watchdog to crack down on sexist stereotypes
Ads will no longer be allowed to depict men and women in gender-stereotypical roles
by Jim Waterson — December 13, 2018
Adverts showing a woman struggling to park a car or a man refusing to do housework while his wife cooks dinner will be banned from next year as part of an industry-wide crackdown on sexist stereotypes.
Under the new rules, British companies will no longer be able to create promotions that depict men and women engaged in gender-stereotypical activities, amid fears that such depictions are contributing to pay inequality and causing psychological harm.
Adverts will no longer be able to show a person failing to achieve a task specifically because of their gender, such as a man unable to change a nappy or a woman unable to do DIY. . .
The Advertising Standards Authority will enforce the new code from June 2019. Members of the public will be able to report adverts to the regulator if they feel they breach the code. . .
The ASA operates a system of self-regulation but all major advertisers have signed up to its code of practice. The new rules were developed following a consultation process partly prompted by the outcry over adverts in 2015 for the slimming product Protein World, which promised to make women "beach body ready". The regulator concluded that the adverts did not explicitly break its rules but they were later banned for unrelated health reasons.
Other examples of adverts that will be banned include those that belittle men for carrying out stereotypically "female" roles or tasks; adverts that emphasise the contrast between a boy's stereotypical personality and a girl's; and adverts aimed at new mothers that suggests that looking attractive or keeping a home pristine is a priority for their emotional wellbeing.
However, the ASA emphasised that adverts featuring glamorous, attractive, successful or healthy people – such as many of the perfume adverts currently on screens in the run-up to Christmas – would still be allowed, providing they do not reinforce harmful stereotypes.
There is no ban on adverts featuring only people of one gender, while promotions that mock gender stereotypes in order to bring about changes in society will also be allowed.
* * *
Source: The Guardian