Baltimore: Black Mayor's "Squeegee Boys" Out of Control, Need "Guards"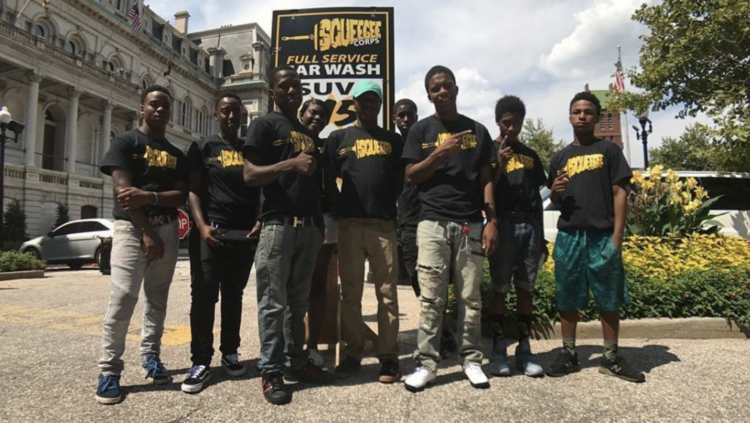 We could have been colonizing other worlds. Instead, we are subsidizing and endlessly dealing with the intractable pathologies of primitives.
BALTIMORE IS a 70 percent Black city.
Back in 1918, it was nearly 90 percent White and a world class city.
Now, with Whites less than 25 percent of the overall population in Baltimore (America's most dangerous and violent city), the Black-controlled local government is "working to help Black teens with employment" via the "Squeegee Corps."
A long-term nuisance behavior — a more in-your-face version of begging, and not that far from theft by intimidation — has now been given the status of a "job" yet another Black city where hope is gone.To put it bluntly, young Blacks will engage in pop-up car washes and clean the car windows of drivers stopped at traffic signals in the city.
How has it turned out? [Will Unarmed Guards Help The City? People Took To Twitter Thursday Night About The Squeegee Kids, CBS Baltimore, 10-13-18]:
 The squeegee kids are going to have some company starting as early as next week.

After concerns arose about some of the kids being "aggressive"toward drivers, the Downtown Partnership will begin placing unarmed security guards at busy intersections as early as next week to calm interactions between "squeegee kids" and drivers, according to our media partners The Baltimore Sun.

This comes after a video went viral of a "squeegee kid" hitting a windshield of a car that refused his windshield service.

The partnership will spend roughly $3,000 a week on guards along President and Conway streets during the morning and evening rush hours, Fowler said, according to the Sun.

Baltimore residents took to Twitter to react to the new initiative, even directly speaking to Mayor Catherine Pugh on her Twitter account.

Mayor Pugh said she is working to create a jobs program specifically for the "squeegee kids". She was seen approaching one boy earlier this year.

However, the jobs program will not be an expansion of the Squeegee Corps she launched last year to get kids out of the intersections and working in "pop-up" car washes, according to the Sun.
As darkness falls, Western civilization is extinguished. More empirical evidence the architects of the marketing slogan "diversity is a strength" were the greatest liars of all time.
Just another reminder when Jim Crow and restrictive covenants were the law in Baltimore, our civilization flourished and Blacks weren't terrorizing each other (and everyone else) at rates ensuring the city secured the ignominious 'most dangerous city in America' title.
It's a title Africans in America were instrumental in securing for Baltimore, even as statues to dead White males are vandalized or torn down in the city.
* * *
Source: Stuff Black People Don't Like