A Sign of the Times: Beautiful White Co-ed Murdered by Criminal Negro Ex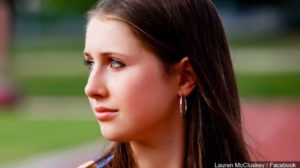 by Dissident Millennial
THERE'S BEEN some politically-correct handwringing in the media lately over the murder of a beautiful White co-ed by a 37-year-old Black criminal with whom she'd had a brief affair.
Slain University of Utah athlete had told school of ex-boyfriend's harassment

by Matt Bonesteel and Cindy Boren | Washington Post

Lauren McCluskey, the University of Utah track and field athlete who was found shot to death Monday night in a car outside a campus residence hall, had broken off her relationship with the prime suspect when she discovered that he was a registered sex offender.

Melvin Rowland, 37, was found dead of a self-inflicted gunshot wound inside a church near downtown Salt Lake City and McCluskey's mother told university police that he had been harassing her 21-year-old daughter since their Oct. 9 breakup. . .

In a statement released Tuesday morning, McCluskey's mother, Jill, described her daughter's final moments.

"[Monday] night a little before 9 p.m., she was returning to her university apartment from her night class and talking to me on the phone," she said. "Suddenly, I heard her yell, "No, no, no!" I thought she might have been in a car accident. That was the last I heard from her. My husband called 911. I kept the line open, and in a few minutes, a young woman picked up the phone and said all of Lauren's things were on the ground." . . .

"He lied to her about his name, his age, and his criminal history," she said in the statement obtained by Shara Park of KSL-TV. "Lauren was informed by a friend about his criminal history, and she ended the relationship with her killer on October 9, 2018. He had borrowed her car, and she requested for the University of Utah police [to] accompany her on October 10, 2018 to get the car back. She blocked his and his friends' phone numbers and complained to University of Utah police that she was being harassed." . . .
Amidst all of the coverage of this incident, however, no mainstream media reporter saw fit to point out the glaring racial angle of this murder, but alas, a picture says a thousand words.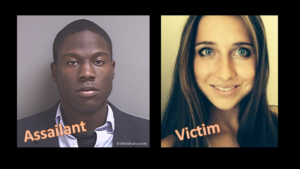 There's more.
Killer allegedly threatened to post compromising photos of Utah student

| CBS/AP — October 26, 2018

SALT LAKE CITY — A sex offender parolee who killed a University of Utah student whom he briefly dated allegedly threatened to post compromising pictures of the couple online. Melvin Rowland, 37, demanded that Lauren McCluskey send him money to stop him from doing so, authorities said Thursday. . .

The killing of McCluskey, a track athlete at the school, came weeks after she broke off her month-long relationship with Rowland and filed a complaint with campus police alleging he had demanded money in exchange for not posting compromising pictures of the couple online. She had sent $1,000 to an account in hopes of preserving her reputation. . .

Police were investigating the case as sexual extortion and knew Rowland was a sex offender but not that he was on parole. . .

McCluskey met Rowland at a bar where he was working security and started dating him. He visited her often in her dorm and made friends with other students in the building.

"He was very, very good at getting people to trust him," Brophy said. "Lauren was no different."
The first question that comes to mind upon seeing this story is, "How in the world is this even possible? What kind of society are we living in for this to even be conceivable?"
While the controlled media would like to blame Lauren's death on the negligence of the University of Utah police, the truth is that her slaying is really an indictment of the entire culture of liberal insanity that has spread like a plague throughout the West over the past several decades.
In any dignified White nation, an affair between a 21-year-old co-ed and a 37-year-old Negro would be totally out of the question, and it would not need to be explained to anyone why that is.
In the autistic world of indiscriminate liberalism, however, apparently no one (other than one concerned friend of Lauren's) saw anything unusual or alarming about Lauren's relationship with her future killer. In fact, had Lauren not been murdered, most liberals and conservative cucks would probably celebrate her dating of a Black man as a victory for "tolerance" and "civil rights".
Now imagine if Lauren had grown up in a different country, one with a proud White culture like America used to have. How would her life have turned out differently? Well, for starters, if Lauren had been raised in a traditional nation with a sound educational system, she would've been imbued with a healthy sense of racial identity that would've precluded her from ever entertaining a Negro sociopath like Melvin Rowland in the first place. Moreover, in a sane country, Lauren would've lived to become a wife and mother rather than get murdered in tabloid fashion before even starting a family.
So what lessons are to be drawn from this multicultural disaster?
Well, first off, the biggest takeaway from this story is that the whole concept of "women's rights" and "women's liberation" has proven once again to be terribly destructive. In this particular case, Lauren was the-cream-of-the-crop in the dating market. A gorgeous star-athlete and honors-student with the world at her feet, Lauren could've had virtually any guy she wanted. However, instead of choosing from any number of men of her own race who would've been thrilled to be with her, Lauren decided to give herself to a 37-year-old Black criminal she met at a bar. This does not speak well of women's innate judgment or of their capacity to choose suitable partners.
Thus the hard lesson to be drawn from this fiasco is that granting women complete sexual freedom simply allows them to destroy themselves. Women are not equal to men. Women need strong patriarchal guidance and protection from would-be predators and their own worst instincts. As such, "women's liberation" is a bad idea, and the fetish that the controlled media have made both of non-Whites and of promiscuity in general is responsible for ruining Lauren's life along with the lives of countless untold girls just like her.
R.I.P. Lauren McCluskey and the descendants she'll never have.
See Also
Coalition of the Fringes: Diversity, Feminism, and the Rape of the White Race
Sexual Liberation and Racial Suicide
* * *
Source: Author