They Leave Nothing to Chance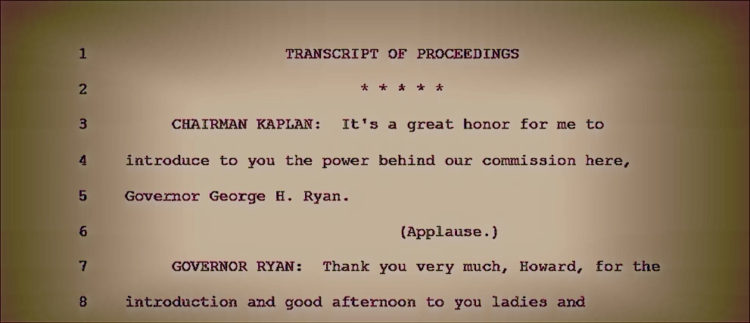 That's why it's called totalitarianism…
by John I. Johnson
DO YOU REMEMBER Matt Hale — the leader of the pro-White Church of the Creator who was denied his law license — and was eventually railroaded into essentially life imprisonment by a paid government infiltrator? Even if you are familiar with that case, you probably did not know that Hale had been "watched" by the System for many years, long before he rose to any fame and prominence — essentially from the moment he first uttered a Politically Incorrect statement.
The following excerpt about Matt Hale, drawn from the March 7, 2000 transcript of "town meeting proceedings" held in Springfield, Illinois by the Illinois Governor's Commission on Discrimination and Hate Crimes eighteen years ago (the actions alluded to extend much farther back than that — all the way to Hale's undergraduate, high school, and even junior high days), should forcefully drive home to any intelligent reader the depth and effectiveness of institutionalized anti-White hatred in the West, and the thoroughness and obsessiveness with which Jewry and government monitor and destroy not only existing White leadership, but also systematically track inchoate resistance (White youth), with the intent of identifying and neutralizing potential future leaders. With the arrogance and malevolence of those who believe they've been "chosen by God" to control others, Jewry and government are determined to commit genocide of the White populace everywhere on earth by any means necessary.
http://www.state.il.us/cdhc/PDF/030700.PDF
BEFORE THE STATE OF ILLINOIS GOVERNOR'S COMMISSION ON DISCRIMINATION AND HATE CRIMES
TOWN MEETING PROCEEDINGS
March 7, 2000 3:00 p.m.
Howlett Building Auditorium
Springfield, Illinois
COMMISSION MEMBERS
Mr. Howard Kaplan, Chairman
Ms. Sheri Mecklenburg
Mr. Patrick Baikauskas ["I've been active in the gay and lesbian community in Springfield before moving to Chicago and am also involved in the effort for AIDS in Springfield as well as Chicago, and I in real life work at the Illinois Department of Public Aid." (from PDF p. 10) Baikauskas has also run for public office as "an open gay."]
Mr. Larry Elowe
Ms. Camille Taylor
Rev. Christopher Bullock
Mr. Rick Garcia [Homosexual]
Representative Sidney Mathias
Representative Ira Silverstein
OTHERS PRESENT
Lt. Col. Andre Parker
Ms. Janet Richmond
Mr. John Johnston
Ms. Neyna Johnson
Mr. Carlos Salazar
Ms. Carole Heffernan, Coordinator
* * * * *
From PDF pp. 11-12:
COMMISSIONER TAYLOR: Good afternoon. I'm Camille Taylor. I'm a teacher for the Unit 5 School District in Normal, Illinois. And I'm on the future leaders committee. That committee will focus on issues that affect young people.
* * * * *
From PDF pp. 21-22:
SPEAKER: I'd like to know, in your travels around the state, what has been your reaction from the community concerning Matt Hale?
COMMISSIONER TAYLOR: I happen to be in a program — there was a panel in Peoria. The news was, like, last summer. It was not too long after the commission first met. And in the town of East Peoria where Matt Hale lives, they were at that point prompted to form a human relations commission.
Now, I found that very interesting from the standpoint that the town that I come from in Bloomington, we've had a human relations commission for probably 23 years. Normal, the neighboring town, has had one for about 20 years.
And the mayor of East Peoria was in the program that I was on. And he was saying that they have been tracking Matt Hale since he was in high school and he had been passing out literature even in junior high and high school and they knew his activities but he had not crossed the line in terms of doing anything illegal, but they had been watching him for several years.
And then when he went to Bradley University, they watched him then while he was a student doing the same kinds of things.
* * *
Source: Author