Latvian Communist Party Under Fire for Election Poster Showing "Future of EU"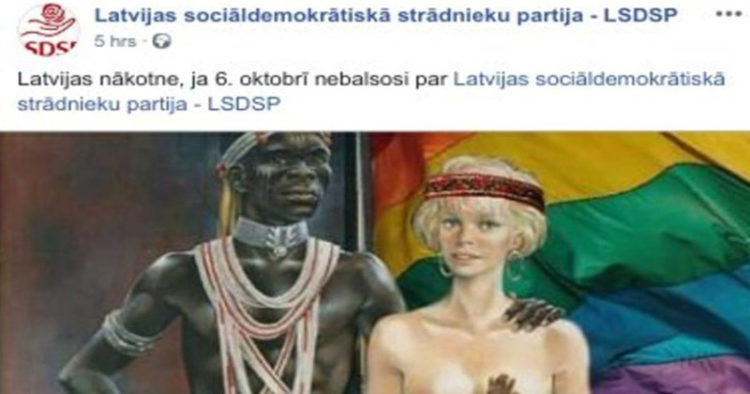 The Social Democratic Workers Party of Latvia (LSDSP) — a communist party dating back to 1918 — has been reported to that country's security police for possible prosecution following the publication of an election poster depicting the EU as an African tribesman, Latvia as a White woman nursing a mulatto baby, all set against a homosexual flag.
IN ADDITION TO THE tribesman, the blond woman, and the homosexual flag, the image also shows the national flag of Latvia and a former logo of the national tax agency. The text accompanying the image read "The future of Latvia if, on October 6, nobody will vote for the Latvian Social Democratic Workers' Party — LSDSP."
According to a report in the Latvian media, the State Police (VP) has handed over the results of its investigation to the Security Police (DP) for further action after the information about the political advertisement published by the party on Facebook.
The image — which has caused uproar in Latvia amongst the party's fellow leftists, started last weekend when the LSDSP posted the picture on Facebook ahead of the October parliamentary elections.
The image is in fact a slight change from the original artwork "The Modern Family" created in 1988 by the German nationalist artist and Luftwaffe veteran Herbert Smagon.
* * *
Source: Daily Archives