Russians March Hundreds of Miles to Honor Royal Family Killed by Communist Jews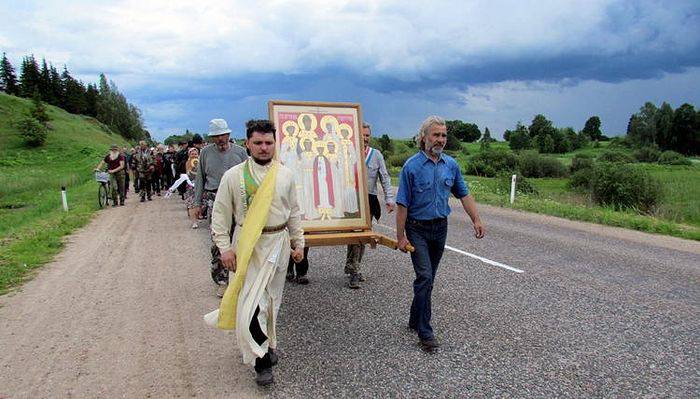 A PROCESSION FROM Tobolsk to Ekaterinburg in honor of the centenary of the martyrdom of Tsar Nicholas II and his family began on Saturday.
The faithful will cover a distance of 435 miles in a month and a half, TASS reports.
His Eminence Dimitry of Tobolsk and Tyumen offered some parting words, and then the procession began with about 100 people at the start. "People can join in during the procession. We will be moving from Tobolsk to Alapaevsk and Ekaterinburg. The people will change, and the weather and conditions will change," said Andrei Bardizh, the organizer of the memorial march.
Arrival in Ekaterinburg is scheduled for the morning of July 14. According to tradition, the Vigil and Divine Liturgy for the feast of the Royal Martyrs will be held on the night of July 16-17, after which there will be a procession to Ganina Yama, the mine where the remains of the holy Royal Martyrs were dumped after they were buried.
A monastery in honor of the Royal Martyrs stands on that spot today.
Pilgrims from Crimea, Belarus, Siberia, the Urals, Pskov, and other regions of Russia are expected to take part in the procession. It is being held with the participation of the Tobolsk, Kamensk, and Ekaterinburg Dioceses.
Meanwhile, an 1,800-mile, four-month procession in honor of the Royal Martyrs previously began in Pskov on March 16, and will also end in Ekaterinburg on the feast of the Royal Martyrs.
More than 1,500 took part in a procession in Ekaterinburg on April 30 in honor of the centenary of the arrival of the Royal Family from exile in Tobolsk.
The city of Ekaterinburg is hosting more than 70 events throughout 2018 in honor of the holy Royal Martyrs, who were brutally murdered in the Ipatiev House in Ekaterinburg, where the Church on the Blood now stands.
* * *
Source: Russian Faith