The Capitalist/DC Regime Hybrid Healthcare System Is Perfect in Every Way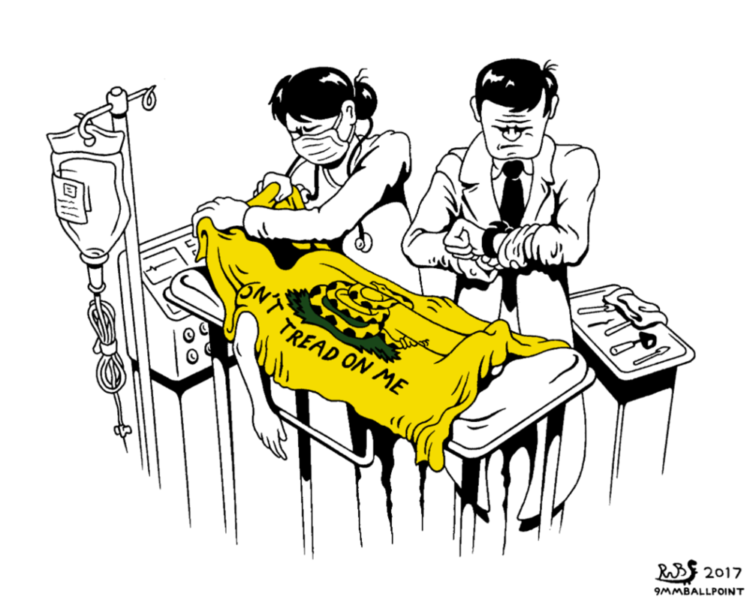 by David Sims
ACCORDING TO Vox.com, "On October 19, 2016, Jessica Pell fainted and hit her head on a nearby table, cutting her ear. She went to the emergency room at Hoboken University Medical Center, where she was given an ice pack. She received no other treatment. She never received any diagnosis. But a bill arrived in the mail for $5,751…. These bills show the steep costs that emergency rooms can charge just for walking through their doors. The $300 fee that [another patient was] charged is typically called a 'facility fee,' the price of entering the facility regardless of what happens afterward."
Those hospital "facility fees" sound like a cover charge: money you have to pay just for walking in the door. Fancy restaurants sometimes have cover charges in case somebody comes in and occupies a table, but doesn't order much besides a drink.
But the hospital ER has no such excuse.
It's as if you walked into a restaurant, looked at a menu, noticed that the price of an order of french fries was $200, decided to eat somewhere else instead, and left. Then the fancy restaurant sends you a bill for $2,000 just because you were briefly inside the place.
That's the kind of thing the hospitals are doing with these "facility fees." I suspect that illegal immigrants don't have to pay them. [Usually the illegals, like many Blacks, never pay anything and aren't even expected to pay anything. Therefore Whitey's bills become massively inflated. You must subsidize the non-Whites' free medical care when you pay your hospital bills — assuming you're gullible enough to actually pay them. Don't! — Ed.] I also suspect that the reason you would be charged a "facility fee" or other exorbitant charges is that the illegal immigrants aren't paying for their own treatments at the emergency room. Their costs are being redirected to you, by any means necessary.
* * *
Source: Author