The Diversity Toll Rises: On the Florida Bridge Collapse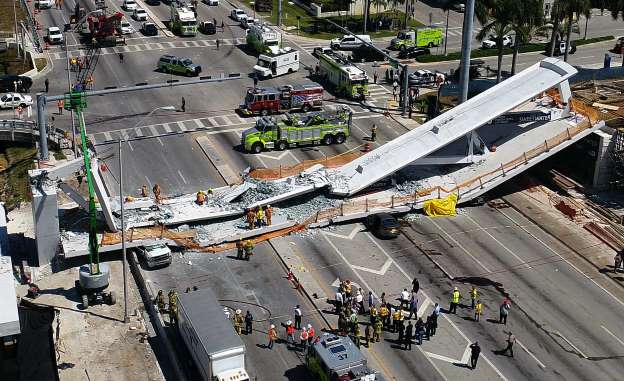 by Dissident Millennial
JUST DAYS after receiving the news of a British mother losing multiple limbs on account of an incompetent, multicultural U.K. hospital staff dedicated to "diversity," today we find out that the company responsible for yesterday's notorious Miami-area bridge collapse had billed itself as a "Certified Minority Owned Firm" in order to receive major U.S. government contracts. In other words, this incredible, epic, fatal disaster was just yet another easily preventable, affirmative-action catastrophe. The question then remains, which is more important in terms of what we should prioritize: human lives or diversity?
The Cost of Diversity: Florida Bridge Collapse Company a "Certified Minority Owned Firm"

James Kirkpatrick | VDARE

Nothing says "Third World country" like collapsing infrastructure. In the "Capital of Latin America," a pedestrian bridge collapsed near Florida International University in Miami, killing several people. . .

How could this have happened? Well, the firm which built the bridge is a construction company owned by a "prominent Cuban-American family" which has won a number of government contracts, despite being cited for shoddy workmanship in the past. . .

How does such a company repeatedly obtain such great government contracts? Simple. As a press release boasting about doing construction work at Guantanamo Bay Naval Base makes clear, MCM is "certified as a minority-owned firm with the Southern Florida Minority Supplier Development Council." [Munilla Construction Management (MCM) wins $66M Contract to Build School at Guantanamo Bay Naval Base, Construction Dive, July 27, 2016] Interestingly, when MCM landed this contract, board member Pedro Munilla rhapsodized about getting to work in "our homeland," by which he meant Cuba, not the United States. . .
Here's CCTV footage of the moment the bridge collapses.
A YouTube commenter left the following remarks under the video which I find amusing; I'll correct a few errors:
Was the bridge ever stress-tested to see if it could take the weight? Did it go through health and safety checks? This happened in the United States, not some poor Third World country. You would think this bridge would have been tested — strict testing. . . .

We have bridges which are hundreds of years old which can take the weight of lorries trains and buses. We've got this bridge which lasted one week — which only holds the weight of pedestrians. What a joke of construction — are we going backwards, not forwards? We need to take a leaf from our ancestors; we are losing our skills.​ . . .
That about says it all, doesn't it?
* * *
Source: Author