Non-White Invasion of Italy: African Migrants Have Seized 100 Buildings in Rome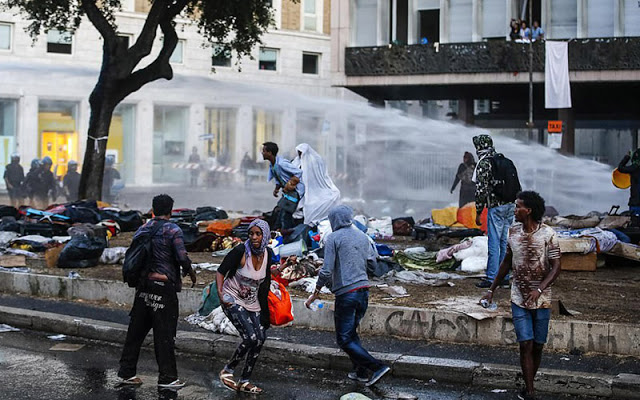 AFRICAN INVADERS pretending to be refugees have seized more than 100 buildings in Rome and are illegally squatting in them, the populist mayor of Rome, Virginia Raggi, has admitted in the wake of recent riots, carried out by sub-Saharans who had been living in Italy for the past five years.
Raggi added that the city government was now looking into the possibility of housing the thousands of African scroungers — who demand food, housing and welfare payments after illegally landing in Europe — in buildings confiscated from criminal cartels such as the Mafia.
Mayor Virginia Raggi said city officials were mapping out the confiscated real estate to determine if any buildings were suitable for temporary housing.
Police in the city used water cannons against the Africans — mostly from Eritrea and Ethiopia — who had been camped out on a central piazza after being evicted from a building they had occupied since 2013.
Last week's riots in the Italian capital were the worst since the non-White invasion of Italy started. More than 800 of the fake refugees threw rocks and bottles at police, while overturning trash cans, and setting fire to mattresses in the Indipendenza square, only a block away from Rome's main railway station.
TV footage showed the African invaders attacking police.
Police said they intervened because of intelligence that the Africans planned to use gas canisters and Molotov cocktails after they occupied the square in defiance of an order to leave an office building in which they had been squatting for 5 years.
Most of the squatters were Eritrean and had actually been granted "asylum" by the Italian government. However, they had refused to accept the accommodation offered to them by the city, preferring instead to stay in their self-created slums.
The Africans had put cooking gas tanks on the railing of a first-floor balcony, apparently ready to be opened to be used as makeshift flamethrowers, or dropped onto the square, Reuters reported.
Matteo Salvini, head of the League political party, Tweeted his unequivocal support of police, saying "Go boys: Evictions, order, cleaning up and EXPULSIONS! Italians are with you."
* * *
Source: Daily Archive