Arthur Jones, Formerly of NSWPP, Wins Illinois Republican Congressional Primary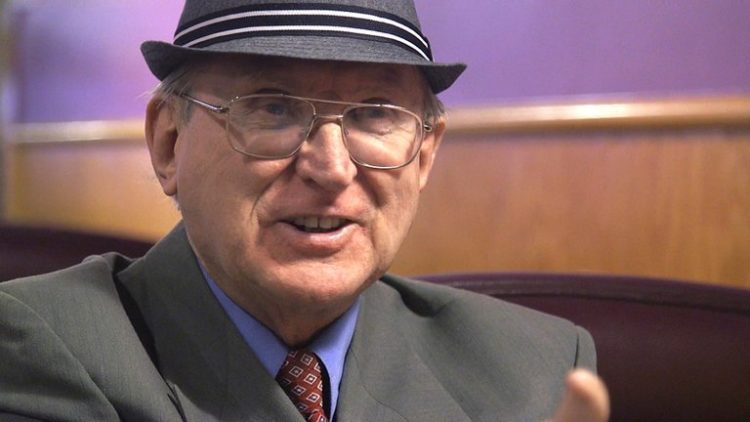 We will not come to power through the current political process, but we will come to power — and campaigns can sometimes serve an educational purpose.
ARTHUR JONES, described by the New York Times as a "Holocaust denier" and described as a "Nazi" by the Illinois Republican Party, won the Republican primary on Tuesday in the state's Third Congressional District, a heavily Democratic district that includes part of Chicago and its suburbs, according to The Associated Press.
Mr. Jones, 70, unsuccessfully sought the nomination five times before, and his victory on Tuesday was a foregone conclusion after the Republican Party failed to draft another candidate to enter the race against him.
The Illinois Republican Party has sought to distance itself from Mr. Jones in recent weeks, blanketing the district with campaign fliers and robocalls urging voters to "stop Illinois Nazis," according to a robocall script provided by the party. Mr. Jones said he had received three robocalls himself.
"Arthur Jones is not a real Republican — he is a Nazi whose disgusting, bigoted views have no place in our nation's discourse," Tim Schneider, the Illinois Republican Party chairman, said in a statement. He said the party had urged voters "to skip over his name when they go to the polls" and moving forward planned on "vehemently opposing Jones with real campaign dollars."
A spokesman for the Illinois Republican Party said those dollars would be used to support an independent candidate in the November general election. Party leaders are in talks with several potential candidates, the spokesman said, but have not yet decided which one to endorse.
The Third Congressional District of Illinois has not been represented by a Republican since 1975, and few people, besides Mr. Jones, believe he has a chance of winning the general election in November. Daniel Lipinski, a Democrat, has represented the district in Congress since 2005.
Lipinski narrowly won the Democratic primary between Representative Lipinski and an even farther-left challenger, Marie Newman, 53. Both have denounced Mr. Jones.
Mr. Lipinski, 51, called Mr. Jones's beliefs "bigoted and anti-Semitic" and said they "personally disgust me because I believe that every individual has a God-given right to be treated with dignity."
Erik Wallenius, Ms. Newman's campaign manager, said Mr. Jones's views were "abhorrent and have no place in the Third District, or anywhere."
Mr. Jones says of his own campaign on his Web site:
I am running for this office because I am concerned about the future of our country. I am not now, nor have I ever been a follower of any political party, though I am a registered Republican.

Like most of you, I vote for the man or woman whom I believe to be the best person for the job. In my case, I truly believe I have had the most challenging experiences in my life to prepare me for this office.

I know what it is to do hard, honest and dirty work. For over three years I worked in a foundry as a chipper and grinder. I belonged to three unions, so I know the needs of American workers.

Injury to my back forced me to begin a career in sales. For the past 25 years, I have been a straight commission sales representative for some of the largest insurance companies in America. And in all that time, there has never been one complaint lodged against me with the Illinois State Department of Insurance.

And that is because I give all of my clients personal service whenever they have need of it. When I'm elected, I will bring that same personal service to all the people of this state.

Finally, I am a veteran of modern war with all its horrors. I served my country willingly and honorably in the Viet Nam war as a combat infantryman with the U.S. Army from 1969-1971.

I believe my experience in business, my survival in war and my courage in politics has made me into the kind of leader that can make a real impact on the criminal and wasteful ways of Washington.
Mr. Jones is a former member of the American Nazi Party and has been active in pro-White circles for years. As a student at the University of Wisconsin, Mr. Jones said, he founded a conservative campus newspaper and attended meetings of both the Young Republicans and a Nationalist Socialist student group.
He later ran for mayor of Milwaukee as a member of the National Socialist White People's Party in 1976. He finished fourth in the nonpartisan primary, receiving roughly 5,000 votes, and moved to Illinois the following year, he said.
Unfortunately, Mr. Jones does some political backpedaling: "This stuff about being a Nazi, that's in the past," Mr. Jones said on Monday. Such backpedaling hardly seems necessary in the current atmosphere of rising White awareness.
Mr. Jones' campaign Web site contains a page devoted to the "Holocaust," which he said in an interview was "a greatly overblown non-event" and "an international extortion racket."
Jonathan Greenblatt, the chief executive of the Jewish pressure group, the crime-linked Anti-Defamation League (ADL), is extremely distressed by Mr. Jones and others whom the league calls "extremists" running for public office this year. He pointed to Paul Nehlen, who has criticized Jewish power and whose primary bid against the House speaker, Paul D. Ryan, was denounced by the Wisconsin Republican Party last month, and Joe Arpaio, the immigration hard-liner pardoned by President Trump, who said in January that he was running for United States Senate in Arizona.
"[W]e have intolerance really infecting our political process," Mr. Greenblatt said. "Intolerance" — along with "hate" and "racism" — is a term often used by Jewish groups to describe racial consciousness and concern for their race's well-being among Whites.
* * *
Source: New York Times, wire services, and National Vanguard correspondents